Our season preview series continues this week with the starting rotation, though the format will change just slightly. Since there's no clear starter/backup/depth lineage when it comes to starting pitchers, we'll instead look at each type of pitcher — ace, number two, back-end, etc. — at different levels.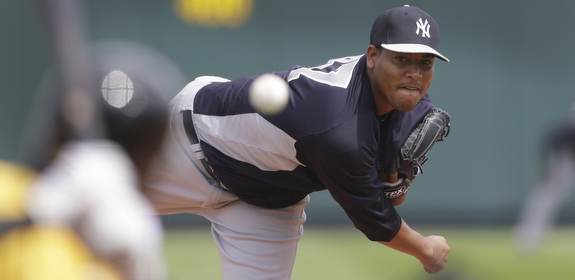 Fifth starters are usually among the most discussed members of pitching staff because they tend to stink and we're always talking about replacing them. A lot of Backup Quarterback Syndrome goes around as well — the guy in Triple-A can't possible be any worse, right? Well, yeah. He can. Given how much the Yankees will rely on their pitching staff to keep them in the race this summer, they'll need their fifth starter(s) to pitch like someone far better than typical back-end cannon fodder.
The Candidates
For the first time in a while, the Yankees have two legitimate fifth starter candidates. I'm not talking about guys who we think could be fifth starters, I mean guys who have actually pitched in the big leagues and have some kind of track record. Pretty much every team has some mid-20s college draftee in Triple-A who fans think could step right into the rotation and the Yankees are no different. Big league experience is a separator for New York this summer.
The more senior of the two fifth starter candidates is 26-year-old Ivan Nova, who followed up his strong rookie season (3.70 ERA and 4.01 FIP in 165.1 innings) with a nightmare sophomore campaign (5.02 ERA and 4.60 FIP in 170.1 innings) last summer. He led baseball in extra-base hits allowed (87) and was second among qualified starters in opponent's ISO (.223) and OPS+ (130). Despite very promising improvements in the strikeout (8.08 K/9 and 20.5 K%) and walk (2.96 BB/9 and 7.5 BB%) rate departments, Nova's performance suffered because every one of his mistakes were punished. His lack of deception led to pretty much every hittable pitch being hit and hit hard.
In an effort to correct that problem, Nova and pitching coach Larry Rothschild have worked on a new, shorter arm action this spring. Mariano Rivera has also been in Nova's ear and making sure he knows he has work hard to remain in the show. The right-hander has pitched well in camp — five runs with nine strikeouts and two walks in 14 innings across four starts — but we all know that doesn't mean much in the grand scheme of things. It is certainly better than getting pounded of course, especially since Ivan's rough spring last year (8.06 ERA in 22.1 innings) was a sign of things to come.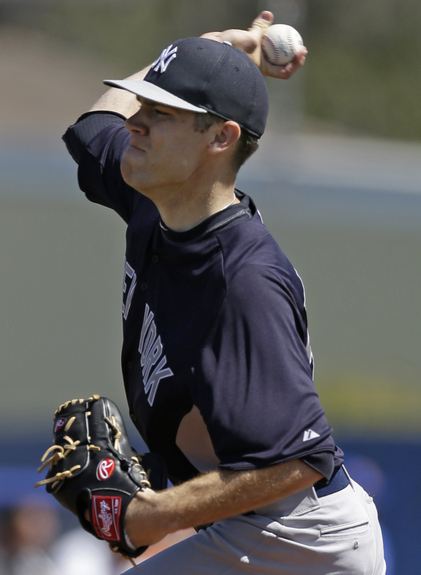 The less experience of the two fifth starter candidates is 26-year-old David Phelps, who put up a solid 3.34 ERA and 4.32 FIP in 99.2 innings as a swingman last summer. He pitched to a 2.76 ERA in 22 relief appearances and a 3.77 ERA in 11 starts, but it's worth noting he always seemed to be on a pitch count as a starter because he'd just been yanked out of the bullpen. Phelps posted strong strikeout (8.67 K/9 and 23.2 K%) and walk (3.43 BB/9 and 9.2 BB%) rates, but was a little fly ball (42.9% grounders) and homer (1.26 HR/9 and 13.6% HR/FB). Given the constant back-and-forth between the bullpen and rotation and the fact that he was a rookie pitcher in a small park in the AL East, there's no doubt Phelps impressed last year.
The right-hander showed up to camp early and has been ahead of his fellow pitchers — and opposing hitters — pretty much all spring. Prior to last night's shellacking he'd allowed five runs with a dozen strikeouts and four walks in 19 innings this spring, a performance that was basically right in line with Nova's. If the Yankees are truly deciding their fifth starter based on Grapefruit League performance, there's no clear-cut favorite right now. Of course, the Yankees have a history of fake Spring Training competitions and there's a good chance all of this fifth starter stuff is a farce.
Based on nothing in particular, I believe the job is Nova's to lose. The Yankees know he can handle starting every five days physically and have already seen what he can do when he's commanding the ball. They should figure out whey Nova was unable to carry his success from the second half of 2011 over into 2012, and that's probably not something he could do in the bullpen. Phelps was never in the rotation for more than one continuous months last year, so who knows what he'll do over the a full season starting every five days. The Yankees need certainty from their rotation this year and Phelps is more of a question mark.
That said, both of these guys are going to get an opportunity — probably many, really — to start this year. Phil Hughes' back is already acting up and there's a chance he'll start the season on the DL. CC Sabathia is coming off offseason elbow surgery and Andy Pettitte hasn't thrown more than 130 innings in four years. Almost no team ever makes it through the season with just five starters, so the smart money is on both Nova and Phelps making a whole bunch of starts this year. If Nova wins the job in camp but doesn't pitch well during the regular season, I don't think the Yankees would hesitate much to replace him. This fifth starter competition might be a year-long thing.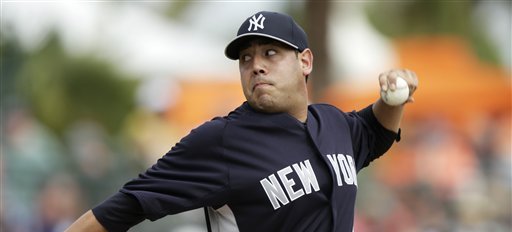 Knocking on the Door
The Yankees have a few back-end types slated for the Triple-A Scranton rotation, specifically righties Brett Marshall and Adam Warren and lefty Vidal Nuno. Marshall and Warren were discussed in earlier season preview posts, but the 25-year-old Nuno has opened eyes in camp by allowing one run in 17.1 total innings. The Yankees plucked him out an independent league two years ago and the left-hander told Chad Jennings the team's minor league coaching staff with helping him develop a cutter and changeup, which he now considers his two best pitchers. Nuno is a soft-tosser without much margin for error, which can be a scary thing in a small ballpark, but he's made a name for himself this spring and that's pretty much the best thing he could have done. He never had any chance to make the team.
The Top Prospect
We've talked about most of them these past few days — Marshall, Warren, Nuno, Matt Tracy, Nik Turley, etc. — so there's not much to add here. Most fifth starters tend to be prospects who fell short of a higher ceiling, so there is not such thing as a true "top" fifth starter prospects. It's almost like being a DH. It's a fallback spot more than anything. The Yankees have some nice rotation inventory in the upper level of the minors but few (none?) of those project to be real impact starters in the show. I guess that makes they fifth starter prospects by default.
The Deep Sleeper
I'm going to take this opportunity to highlight 20-year-old left-hander Chaz Hebert, who signed for $148k as the team's 27th round pick in 2011. He didn't crack my preseason top 30 prospects list, but he took step forward in his development last summer and posted a 2.52 ERA (2.44 FIP) with 30 strikeouts and just four walks in 25 innings for the rookie level Gulf Coast league affiliate. He's a low-90s fastball guy with a hilariously slow A.J. Griffin-esque mid-60s curveball, something he'll have to firm up to succeed at the higher levels. Hebert is more sleeper than legit prospect, but command of the fastball and a novelty breaking ball can get you pretty far in life.
* * *
The Yankees are fortunate to have two legitimate fifth starter candidates at the big league level and plenty of back-of-the-rotation depth in the Triple-A. You'd rather have projected aces obviously, but New York is in a much *much) better place pitching-wise now that it was six or seven years ago. They haven't had to scramble for a Shawn Chacon or Aaron Small type for a few seasons now and that doesn't figure to change now. Phelps and Nova give the team some options and competition is generally a good thing — those two will hopefully push each other all season long.