Our season preview series wraps up this week with a look at the bullpen, the bench, and miscellaneous leftovers. Opening Day is one week from today.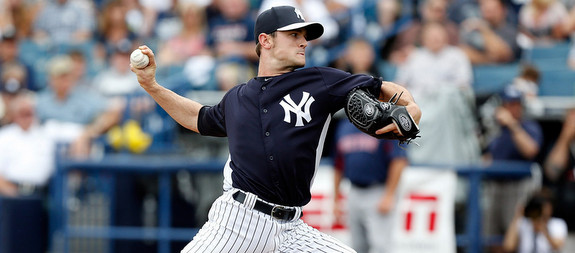 Mariano Rivera is worthy of his own post, but he is just one of many when it comes to the bullpen. The Yankees used 17 different relievers last season, including ten for at least ten appearances. That is pretty much par for the course these days — they used 26 (!) different relievers in 2011 and 18 in 2010 — since no team ever makes it through the season without injuries or underperformance. In fact, the Yankees have already lost one reliever (Clay Rapada) to the DL and the season hasn't even started yet. He is the first injured bullpener, but he won't be the last.
The Setup Man
Over the last two seasons, soon-to-be 28-year-old David Robertson has emerged as one of the very best relievers in all of baseball. He's pitched to a 1.84 ERA (2.15 FIP) with a 12.79 K/9 (34.8 K%) since 2011, all of which are top five marks among big league relievers. Robertson managed to curtail his career-long walk issue last season — career-best 2.82 BB/9 and 7.7 BB%, including just five walks in his last 33 innings — but I'm going to need to see him do it again before I buy that as real improvement. His track record of iffy command is too long to be washed away in one (half) season.
With Rivera back and Rafael Soriano gone, Robertson is the unquestioned Eighth Inning Guy™ and backup closer whenever Mo needs a day to rest. That means we're unlikely to see him brought into mid-to-late-inning jams to clean up the mess, which is where he and his strikeout-heavy ways are best deployed. Regardless, Robertson is an extremely valuable reliever who will see a ton of high-leverage work. Outside of Rivera, he's the most important pitcher in the bullpen.
The Lefty Specialist
The Yankees have had enough injury problems this spring, but one player who seems to have survived the bug is Boone Logan. The 28-year-old dealt with a barking elbow for a few weeks and didn't get into a game until last week, but he appears to be on track for Opening Day. Logan threw a career-high 55.1 innings in a league-leading 80 appearances last summer, which may or may not have contributed to the elbow issue. Given his extremely slider usage — 51.4% (!) last year, the third straight year his usage increased — it would be foolish to think the workload didn't contribute to the elbow problem somewhat.
Anyway, Logan has quietly emerged as a high strikeout left-hander these last two years, posting a 10.58 K/9 and 26.9 K% since the start of 2011. Despite the strikeouts, he hasn't been especially effective against same-side hitters, limiting them to a .240/.309/.413 (.314 wOBA) line over the last two years. That's nothing special for a primary lefty specialist — Rapada has been far more effective against left-handers — but he redeems himself (somewhat) by being more than a true specialist. Righties have hit just .243/.355/.386 (.315 wOBA) against him these last two years, so Girardi can run Logan out there for a full inning if need be. He's definitely useful, though perhaps miscast as a late-inning guy.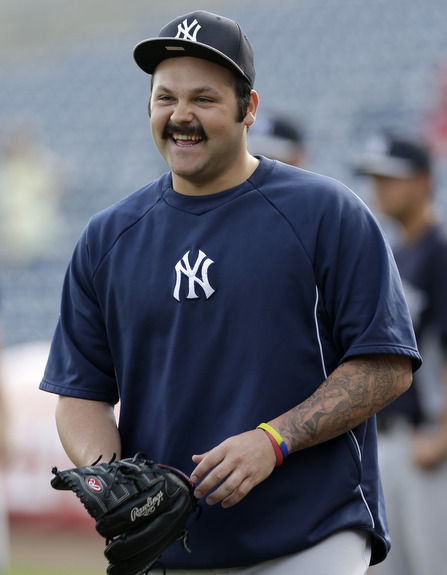 The Middle Men
It has been two years since either Joba Chamberlain or David Aardsma has had a full, healthy season. Both had Tommy John surgery in 2011 and both had another major injury as well — Joba his ankle and Aardsma his hip —  and both were pretty darn effective before the injuries. The Yankees will count on both as their pre-eighth inning righties this year, mixing and matching with Logan and Rapada (when healthy).
All of the team's relievers are cut from a similar cloth and these two are no different. Both Joba and Aardsma are high strikeout guys with swing-and-miss offspeed pitches, the question is just how effective they will be following the injuries. Chamberlain, 27, was pretty bad in the second half last year before finishing strong while the 31-year-old Aardsma made one late-September appearance and nothing more. They could be awesome, they could be awful, they could be something in-between. I'm guessing we'll see a bit of all three at times this summer.
Rapada, 32, will start the season on the DL due to shoulder bursitis and there is no timetable for his return. He's been crazy effective against lefties in his relatively short big league career (.231 wOBA against), though righties have hit him hard (.453 wOBA). As a soft-tossing, low-arm slot guy with a funky delivery, he's a true specialist. But damn is he good at what he does.
The Long Man
When Spring Training started, it was assumed the loser of the Ivan Nova/David Phelps fifth starter competition would move to the bullpen and serve as the long man. Phil Hughes' back injury is likely to land him on the DL coming Opening Day, meaning both Nova and Phelps will be in the rotation to start the year. Long man replacements include 25-year-old right-hander Adam Warren and 25-year-old left-hander Vidal Nuno, the latter of whom has gotten talked up as a potential Rapada placement. He's been, by far, the more impressive pitcher in Grapefruit League play. Either way, the long reliever job will go to Nova or Phelps whenever Hughes returns, which could be as soon as the second turn through the rotation.
Knocking on the Door
Beyond Warren and Nuno — starters by trade who are relief candidates by default — the Yankees have a number of legit bullpen backup plans slated for Triple-A. The two most obvious candidates are right-handers Shawn Kelley, 28, and Cody Eppley, 27, both of whom are on the 40-man roster, have big league experience, and have minor league options. Kelley is a traditional fastball/slider/strikeout guy while Eppley is low-slot sinker/slider/ground ball righty specialist. There's a good chance one of these two — likely Kelley because Eppley was been terrible in camp — will crack the Opening Day roster as a Hughes/Rapada replacement. Right-hander David Herndon, 27, will be in the big league mix once he finishes rehabbing from Tommy John surgery at midseason.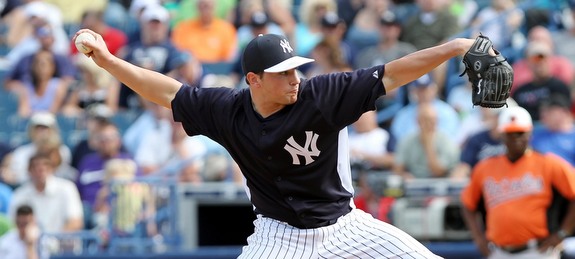 Among the bullpen prospects scheduled to open the season with Triple-A Scranton are 22-year-old slider machine Mark Montgomery, the team's top relief prospect. He ranked tenth on my preseason top 30 prospects list and should make his big league debut at some point this season. Montgomery gets compared to Robertson but that isn't particularly fair even though he's also an undersized strikeout fiend with a trademark breaking ball. No need to set yourself up for disappointment like that. Remember, it took Robertson two years before he finally stuck in the show and three before he became truly dominant.
Right-hander Chase Whitley, 23, and left-hander Francisco Rondon, 24, will both be in the Triple-A bullpen and one phone call away as well. Whitley is a three-pitch guy who projects more as a middle reliever than a late-inning arm, but he's a very high probability guy. Rondon opened some eyes in camp by flashing a knockout slider after being added to the 40-man roster in November. He needs to work on his command and get some Triple-A experience before being a big league option, however. Whitley is pretty much ready to go.
The Top Prospects
Montgomery is New York's top relief prospect at the moment, but right-handers Nick Goody and Corey Black deserve a mention as well. The 21-year-old Goody posted a 1.12 ERA (~0.89 FIP) with 52 strikeouts and just nine walks in 32 innings after signing as the team's sixth round pick last year. The 21-year-old Black pitched to a 3.08 ERA (~2.70 FIP) in 52.2 innings after being the team's fourth rounder last summer, but the Yankees have him working as a starter at the moment. He is expected to move into a relief role in due time if he doesn't firm up his offspeed pitches. Both Goody (#21) and Black (#24) cracked my preseason top 30 and both are expected to open the year with High-A Tampa.
* * *
The Yankees have had consistently strong bullpens during the Girardi era, due in part to his willingness to spread the workload around rather than overwork one or two guys. The front office has (mostly) gotten away from big money relievers and focused on adding depth and power arms. Girardi got away from his strength last year because of injury (Rivera, Joba, Robertson for a month) and ineffectiveness (Cory Wade), instead relying heavily on his primary late-inning guys. That will hopefully change this year and the team will get back to having a deep and diverse bullpen, something they'll need given the diminished offense.