Opening Day might remain the holiest of days for baseball fans, but there are other dates to celebrate. Pitchers and catchers reporting, though essentially eventless, serves as a concrete reminder that baseball is coming. Another date that stands out for many fans: the first spring training games. For all of us, it's our first chance to see our boys in uniform.
We all have different rituals and celebrations that go along with these dates. For the first game of spring training, I celebrate by installing the latest version of MLB At Bat on my smartphone. Since switching (back) to Android last fall, I had the pleasure this year of adding the MLB widget to my home screen. Since we're a few days away from real baseball, it seems like as good a time as any to dig into the latest At Bat and see what it brings to the table.
Just to be clear up front, my review is based on the Galaxy S3. As long as you have Android 4.0 Ice Cream Sandwich or higher, though, it should function almost exactly the same whether you're using Motorola, LG, or HTC phones.
Favorite team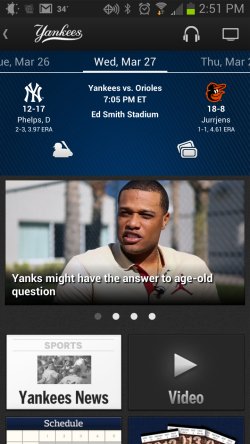 MLB knows its fans. While many of us enjoy action from all around the league, most fans prefer to monitor the home town team above others. As always At Bat allows you to choose your favorite and then places them atop the scoreboard. They also become the default score on your widget. It might seem small and simple, but it's a key feature.
The team homepage received a facelift this year, and so far has been an excellent hub for updates. In addition to the next-game information, it has a featured box with stories and video — and there don't appear to be any pre-roll ads before the video. Below that there's a full video clip section, with news, schedule, shop, tickets, and stadium information. Finally, there is a section to check the current roster and standings.
The team homescreen is somewhat reminiscent of Windows 8 on smartphones. It's all based on tiles, and there are plenty of tiles you can scroll. I haven't used this feature in the past, but I plan to this year for sure. Information about matchups, video clips, and quick schedule access make it a sensible hub.
Scoreboard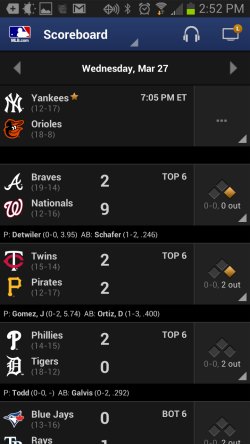 When you click into At Bat, your default screen is the league scoreboard. Atop you'll see the Yankees game for the day, if they have one, followed by the rest of the league in start-time order. Again, this is fairly standard, as is the ability to flip to different dates. You'll get the situation, too, including bases, counts, and outs. Click on that diamond, and you'll see options for Gameday, audio, video, and box score.
While the scoreboard screen is nothing new, it is remarkable for the amount of information it displays in a single screen. The default refresh rate (more on that in a moment) means you'll be up-to-date, almost to the second. Easy access to various ways of enjoying the game makes this the perfect default screen. It's a big winner for At Bat this year.
Gameday, audio, and video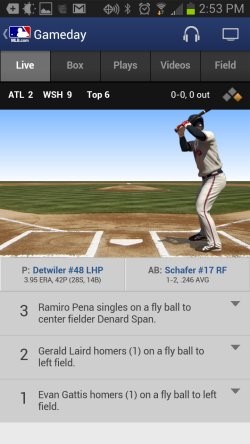 I'm digging the Gameday interface this year, which includes a useful navigation bar at the top*. Flipping among the live Gameday broadcast, the box score, the play-by-play, videos, and the defensive alignment is quick and simple. When connected to WiFi and 4G LTE networks there is hardly any load time.
*This might or might not be new on Android; I was using the iOS version last year.
Other than that, Gameday is pretty straight forward, as it always has been. It's been pretty crappy for spring games from what I've noticed, but it should get plenty better once the real games start.
As always, you can hook up your MLB.com account to At Bat and get the audio and video streams of every game. Again, with 4G LTE running the S3 the video feeds are better than ever. I imagine this is the same on most LTE-enabled phones. The larger screen size of modern smartphones also adds to the effect. While watching a game on the 4.8-inch scree of the S3 is far from ideal, it's light years better than the 3.5-inch screen of the iPhone (pre-5).
News, standings, and more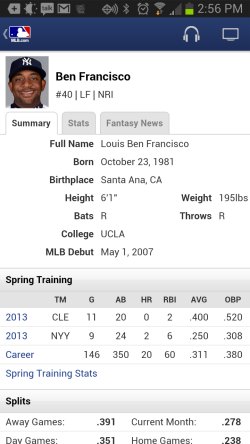 One thing you might notice when using At Bat is that the menu button does not function at all. I've grown very accustomed to using that virtual button to bring up menus full of settings, but At Bat has done away with that. Instead their menu is entirely contained in the top navigation bar (which also contains listings for audio and video). From here you can access the array of MLB.com offerings, including news, standings, video, stats, and more.
The stats screen could certainly use some work, but of course that's coming from a guy who used to write for FanGraphs. It's not that I need wOBA inside the At Bat app. Hardly. Instead, I'd rather see a better display method for the stats. Under the stats pages you can check leaders in a huge number of categories, including OPS. In other words, not great, but serviceable.
The individual player pages, on the other hand, leave much to be desired. While they have neat little things like last 10 games and splits, the whole layout is just not useful. The only stats they give you are games played, at-bats, home runs, RBI, average, and OBP. That goes for both the summary page and the stats-specific page. I understand MLB caters to a more general crowd, but having at least the traditional AVG/OBP/SLG would be a huge help. Then again, with people using this for fantasy purposes, and with economy of space being an issue, it's understandable why it works this way. That doesn't mean I have to like it.
Optimal settings
Before I installed At Bat and added the scoreboard widget to my home page, I'd get almost two days' worth of battery out of a single charge on my S3. Ever since installing, I get about 20 hours' worth before having to recharge. That's because of the settings on the At Bat widget. If battery life is a concern for you, you might want to go update those settings.
There are separate refresh rate settings for scoreboard and the widget, so you can keep the scoreboard updating every 15 seconds while you have the app open. You can refresh the widget every 15, 30, or 60 seconds. The 30-second option seems to save a decent amount of battery life, but practically you can probably deal with once-a-minute updates.
While it's off by default, I also recommend you turn off the Gameday Scout option. It claims to provide "color commentary on gameday discussing statistical trends and tendencies," but anyone who has seen it knows otherwise. A typical "scout" observation: "Phil Hughes is having trouble finding his control, as he has walked two this inning and has three balls on Lind." Ya think?
Free, but not
While the MLB At Bat for Android app is free to download at Google Play, it does require a $19.99 subscription. That gets you all the features except live video. You'll need a MLB.tv Premium subscription to get that. It's the one purchase I know I'll make every year.