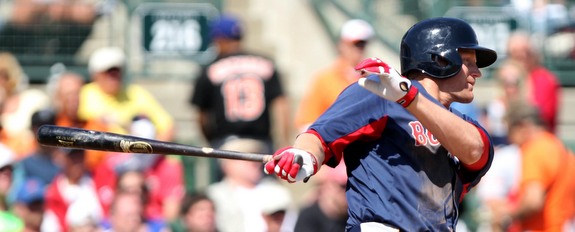 5:33pm: Overbay told Andy McCullough that he can opt out of his contract on Friday. So yeah, the Yankees basically have three days to determine if he's a fit for their roster.
4:14pm: Back to the scrap heap the Yankees go. The club has signed Lyle Overbay to a minor league contract, reports Erik Boland. The team has confirmed the signing. He should be in camp soon, as in tomorrow. The Red Sox released the first baseman earlier on Tuesday and the Yankees will not need to make a 40-man roster move.
Overbay, 36, hit .259/.331/.397 (91 wRC+) with two homers in 131 plate appearances for the Diamondbacks and Braves last season. Over the last three seasons he's hit .241/.322/.401 (97 wRC+) in nearly 1,200 plate appearances with a big platoon split: 100 wRC+ against righties compared to a 84 wRC+ against lefties. Overbay has always been an all-fields gap-to-gap guy who might not benefit much from Yankee Stadium's short right field porch despite being a lefty. He can play a solid first base, however.
Juan Rivera seemed to have the inside track on the first base job in the wake of Mark Teixeira's wrist injury, so at the very least Overbay gives him some competition before the start of the season. The Yankees do have an open bench spot at the moment and could carry both guys in a platoon, but they will need some versatility on the bench. They don't have enough bench spots to accommodate all of these platoons they seem to want to use.