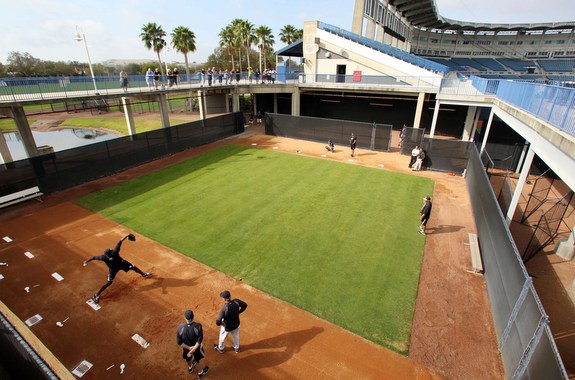 Got a trio of injury updates to pass along…
Michael Pineda (shoulder) will throw 50 pitches in an Extended Spring Training game tomorrow. Brian Cashman has said they want to stretch him out to 65 pitches before sending him out on an official rehab assignment. Seems like the earliest possible return is late-June. [Jack Curry]
Travis Hafner (shoulder) will take batting practice before tonight's game. If that goes well, he will be available off the bench as a pinch-hitter. The Yankees will face left-hander Mark Buehrle on Friday, so I guess the earliest Pronk will return to the lineup is Saturday. [Meredith Marakovits]
Joba Chamberlain (oblique) is not yet ready to come off the DL. He'll make at least one more minor league rehab appearance with Triple-A Scranton. The Yankees swapped Brett Marshall for Dellin Betances today, just to add a fresh arm to the bullpen. [Bryan Hoch]
Update: Chad Jennings has lots more injury news, so let's recap…
Derek Jeter (ankle) was checked out recently and although he's healing well, he's still not ready to do any sort of baseball activities. He could shed his walking boot soon, however.
Ivan Nova (triceps) will pitch in a minor league game on Monday. He felt some discomfort in his back last week, near his left shoulder, so he's been setback a bit.
Alex Rodriguez (hip) hit off a tee and soft toss the other day. It's slow and stud with him, a minor league rehab assignment is still a long ways off.
Kevin Youkilis (back) has also been hitting off a tee and soft toss, and he's expected to take batting practice soon. Seems like David Adams' audition at third base will last for at least a few weeks.