The injuries are really starting to the catch up to the Yankees offense, as the club failed to score more than three runs for the seventh time in the last eleven games. You can't win like that, not playing in a small ballpark in the AL East. The Mariners won Thursday's rubber game by the score of 3-2.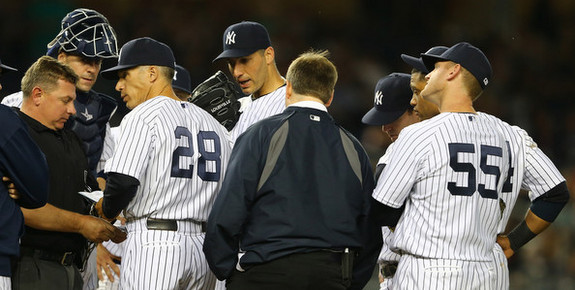 Pettitte's Back Hurting, Again
Andy Pettitte leaving the game with a tight left trap is the major story of the game obviously, and we have no idea how long it's been bothering him. He wasn't particularly sharp before leaving the game, throwing 48 of 79 pitches were strikes (61%) and falling behind in the count quite a bit. That could easily be the result of the trap tightness, but Andy hasn't really been on top of his game for a few starts now. He hasn't been bad, just a little off.
Pettitte held the Mariners to two runs on four hits and three walks in 4.2 innings, and both runs scored with two outs. Not just with two outs, with two outs and two strikes. Not just with two outs and two strikes, with two outs and two strikes and the hits came from Dustin Ackley (66 wRC+) and Brendan Ryan (6 wRC+). I don't think it's asking too much of a pitcher to finish those guys off in two-strike counts with men on-base. It took a great catch from Ichiro Suzuki to save some runs in the first inning as well.
The Batting Order Strikes, Twice
In 22 of the team's first 40 games, Robinson Cano batted second. It was glorious, he batted with a ton of men on-base and squeezed in an few extra two-out at-bats during a rally at the end of an inning. On Thursday, Jayson Nix batted second against a right-handed pitcher for whatever reason. The batting order doesn't mean a ton over the 162-game season, but in this individual game, it cost the Yankees on two occasions.
First, with the Mariners up by one, Nix batted with two outs and runners at the corners in the fifth inning. He popped out in a 1-2 count to end the inning. Second, with the Mariners still up by one, Nix batted with the tying run at third and one out in the ninth inning. He struck out, swinging and missing at three Tom Wilhelmsen fastballs. Instead of having Cano bat in those situations, the Yankees had their … eighth? best hitter at the plate. There's no guarantee Robbie would have come through, especially given his recent slump, but I think we all would have preferred to see him up in those spots. Nix finished the night with a -.403 WPA, the worst by a Yankees position player and the seventh worst by any position player in MLB this year.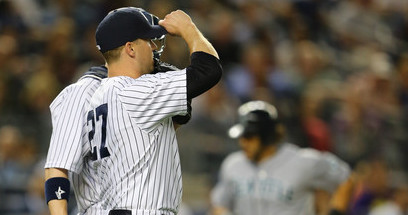 Leftovers
Curtis Granderson, who was batting way down in the sixth spot for some reason, had three of the team's eight hits. The top five hitters in the lineup went a combined 2-for-21 with two walks and eight strikeouts. That ain't good. Brett Gardner singled and stole two bases in the ninth, but he also struck out looking with men on first and second with no outs in the seventh. He's in a real bad funk. Ichiro, by the way, snapped out of an 0-for-22 slump with a single to center. He's dangerously close to Tony Womackian levels of offensive production.
The bullpen did a pretty solid job in relief of Pettitte, allowing just one run 4.1 innings. That one run was the game-loser though, a solo homer by Mike Morse off Shawn Kelley. Kelley struck out five of the eight men he faced, giving him 30 strikeouts (and four walks) in 17.1 innings. Silly. Boone Logan retired all four men he faced and Adam Warren chipped in a scoreless ninth. At some point the Yankees have to start scoring more runs, the pitching staff is doing it's job.
Remember yesterday when I said I wish I could look up the last time the Yankees had five players make their big league debut within the first 40 games of the season? Chad Jennings dug up the answer. It was 1995, when Pettitte, Mariano Rivera, Derek Jeter, Brian Boehringer, and Jeff Patterson did it. Impressive group.
Box Score, WPA Graph & Standings
Box score and video highlights? MLB.com. Nerdy stats? FanGraphs. Updated standings? ESPN.

Source: FanGraphs
Up Next
The Blue Jays are coming to town for a three-game weekend series, and they're playing a whole lot better right now than they were the last time they were in the Bronx. Hiroki Kuroda and Mark Buehrle is your series opening pitching matchup on Friday night. Check out RAB Tickets if you want to catch the game in person.