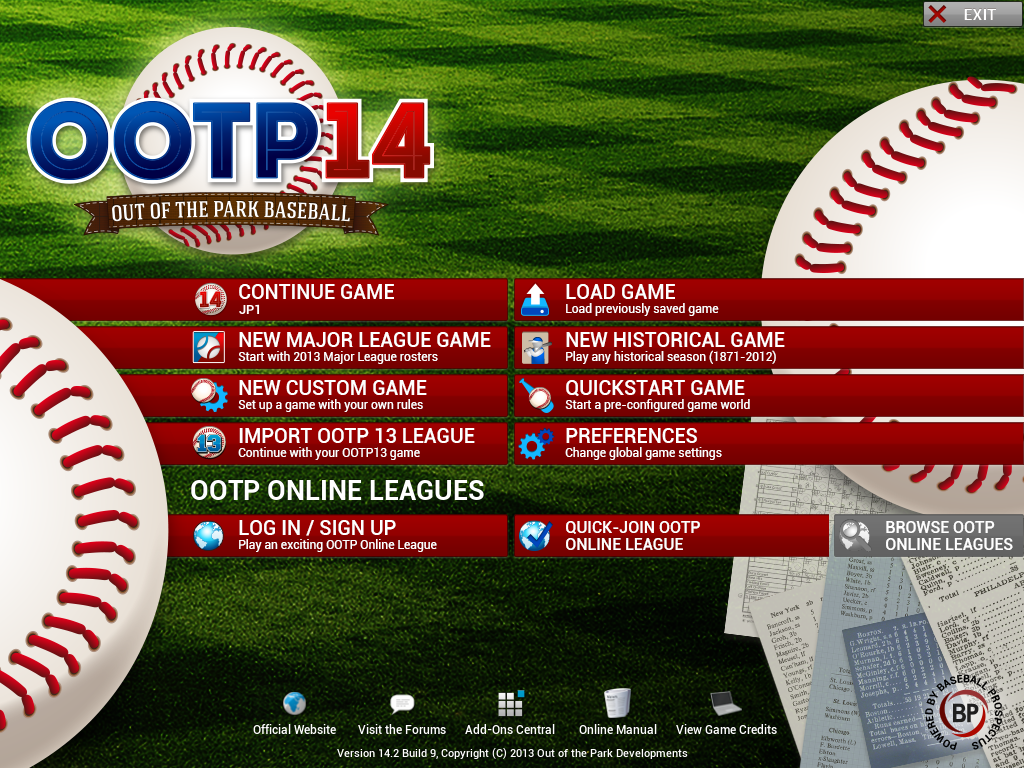 (click all images for larger views)
Since my birthday falls a few weeks after Opening Day, I'm frequently treated to early baseball-related gifts. My parents, for instance, renew my MLB.tv subscription every year in early March. My future wife, since she works at a video game store, pre-orders me MLB The Show. While I've gotten plenty of use out of MLB.tv this year, the copy of The Show has collected plenty of dust. As of this writing I haven't played it in at least a month, probably more.
A friend of mine puts it best when he says, "Baseball and video games but not baseball video games." I might have disagreed a few years ago, but in the recent past I've grown tired of The Show. The games take forever to play, and it takes a certain endurance to get through a season. Even then, once you do get through a season the off-season stuff — the stuff that nerdy baseball fans like me are supposed to enjoy — is full of flaws. There is little joy in building a team in The Show.
For years I'd heard about a computer-based baseball simulation engine called Out Of The Park Baseball. I never bought it, though, mostly because I already had The Show or the 2K game or MVP. Why spend money on a second baseball video game, especially one where you can't actually play the games? Yet the curiosity always lingered. So last year, seeking a way to kill time before bed, I bought a version for my iPad. It definitely kept me occupied in times of boredom, so when the folks at OOTP offered me a review copy of their full computer-based program this year I jumped on the opportunity.
What baseball fans will love about OOTP is its attention to detail. You take charge of a major league franchise and are tasked with managing its entire system, from the majors down to an international complex. Each team's owner has a personality, which affects budgets and other concerns. In other words, you have guidelines within which you must operate, just as a real-life GM would. The result is a game that should keep armchair GMs satisfied for hours on end.
Complete rosters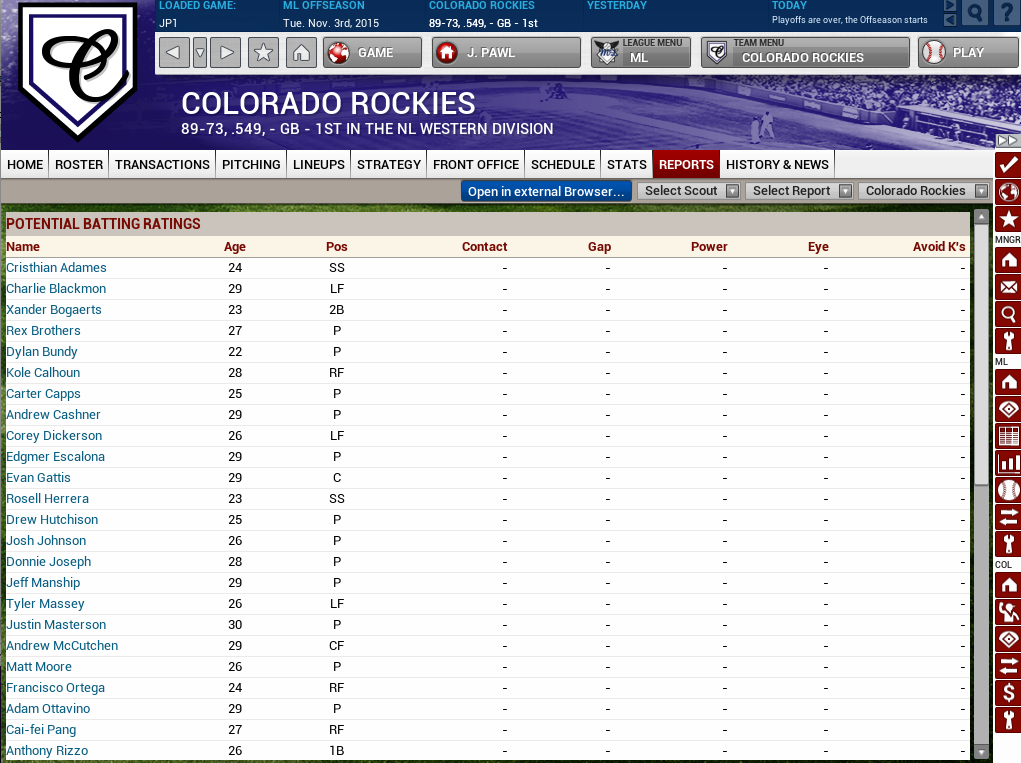 MLB The Show is practical with its rosters. Each organization has a major league team and two minor league levels, with a reserve of players dubbed A-level. That's fine and good, since the emphasis in The Show is actual gameplay. In OOTP you take charge of hundreds of players at every level of the minors, and the minor league levels are quite accurate. You'll have a AAA, AA, A+, A, short-season A, and Rookie ball teams (though there doesn't appear to be much of a differentiation between A+ and A).
Throughout the season you'll have to promote and demote these players, accounting for their performances, their morales, and their potentials. If that seems like a gargantuan task, it certainly is. Thankfully, you can also modify your settings and let the computer take over many of those tasks. Letting the computer take care of the day-to-day lineups at both the MLB and minor league levels will save you plenty of time and frustration. As long as you control who is on the roster, that's usually enough.
Subjective ratings
OOTP rates its players on what amounts to a scale of 1 to 10, representing their rating with stars. Half a star is really a rating of 1, and five stars is a rating of 10. Each player has both an actual talent rating and a potential rating. Both are subject to change at any time, which is pretty realistic. After all, a player with a 10 potential who doesn't pan out will see his potential decline. But a player with a two-star actual rating and a 10-star potential could be a future star.
What stands out in OOTP is the subjectiveness of the ratings. Each team has a scouting director, and ratings are based on that specific person. You can toggle between your scouting director's ratings and OOTP's internal ratings, but it's not as though OOTP's ratings are the "true" ratings. This essentially means that your scouting director is the most important aspect of your organization. Find a good one and you'll uncover hidden gems around the league and trade for them on the cheap. Employ a poor one and you'll grow frustrated that your five-star potential player is hitting .200 in AA.
Personnel and front office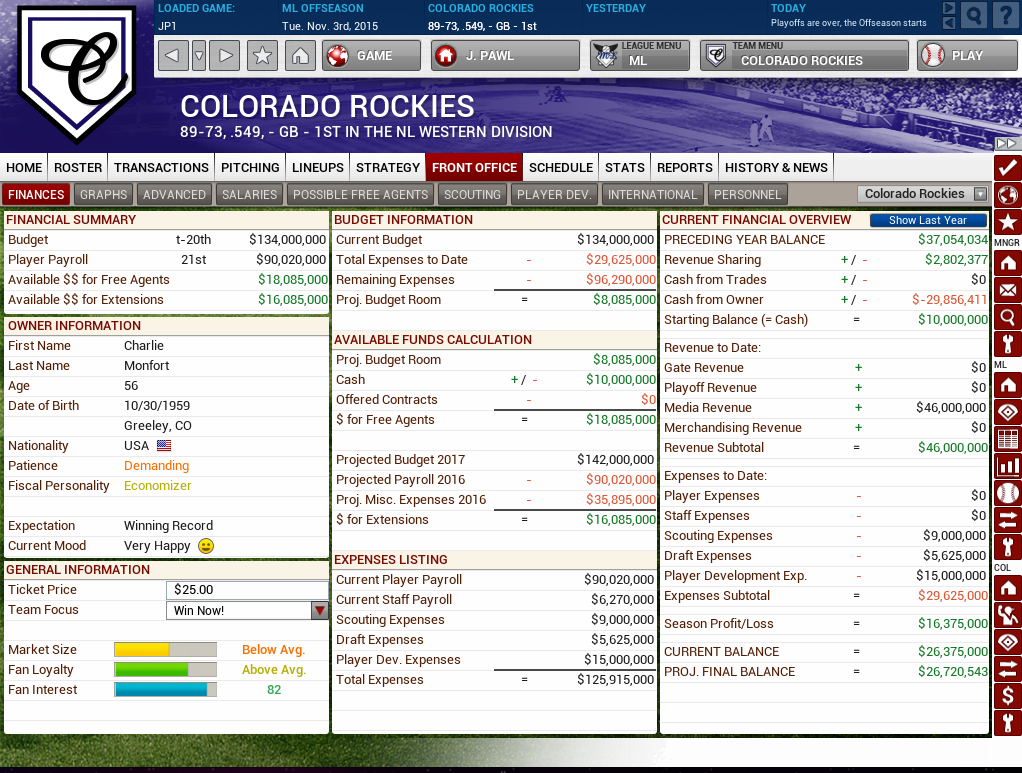 Just as in the bigs, you have to hire coaching staffs at every level of the minors. These coaches all have different ability ratings: teach hitting, teach pitching, and teach fielding, in addition to handle veterans, handle rookies, and handle players. Pick the wrong personnel and you can ruin player development and performance. Given the long process of finding personnel actually interested in working for your minor league teams, this can be maddening. (See nitpicks below.)
While you don't do everything a GM does, you do have full control of baseball operations. This means setting scouting budgets, working within your given budget, and keeping tabs on basically every aspect of the organization. And make no mistake: just because you win doesn't mean your owner will increase your budget. For two straights seasons my owner had expectations of a mere winning record. In both seasons I made the playoffs. The results? Budget increases of under $200,000.
On the franchise level you can also set your team strategy. This includes overview stuff, like favoring prospects or veterans, offense or defense, etc. You can also set strategy for nearly every aspect of in-game play. This goes into ridiculous detail, letting you set strategy for innings 1-3, 4-6, and 7-9 in nine different trailing or leading scenarios. Want a manager that plays it by the SABR book? You can make sure that he does that at every juncture.
(Almost) Realistic trade engine
In many sports video games, you can trade quantity for quality. Throw in enough mediocre players and a team will trade you a star. Anyone who played MVP 2004 knows this; you can assemble an All-Star team in that game with little effort by trading two or three meh players for Albert Pujols. In OOTP there is still a level of quantity for quality, but it's not nearly as egregious.
There is no way you can get a four-star player, for instance, without including a three-star player or a five-star prospect. Even then, you'll have to throw in more. One feature I love is the "make this work now" button. Click it, and the computer will run through your roster and find players the computer will accept. But don't expect that to be some scrub. Almost always it will be a player of high ability or potential, at least in the computer's eyes. Every once in a while you might get lucky and they'll choose a player that they like but your scouting director does not.
You can also choose to shop around your players. That searches the league and finds one-to-one offers for the player. In very few instances will you find a good deal here, but it's a quality starting point. It at least shows what teams might be interested, and the kinds of players they're willing to sacrifice. Just don't try to pry a four-star starter from a team in win-now mode, or try to dump an expensive player on a team in rebuilding mode. The computer takes that into account, too.
Draft and international free agents
The OOTP engine handles the MLB draft and international signing period pretty accurately. In early June you'll draft from the created pool of amateur talent. Each player has a certain bonus demand, sometimes slot but more often a quite higher number. Teams have to work within their draft pool budgets, and players tend not to sign unless you meet their demands.
The international process can be a huge pain in the ass. Again, you're dealing with your scouting director's subjective ratings, and very few of the available players have high potential (both from your scouting director and OOTP's ratings). That means a ton of teams compete for the top talent, almost always pushing the top players' bonuses above your international budget. And yes, there are penalties for exceeding your pool, so if you make that big signing this year you're limited the next year.
(Not to mention, you'll get weeks of emails letting you know that another team made a better offer. So you go in and top that offer, only to be notified a day later that you have to increase it again. This goes on for weeks, sometimes into mid-August.)
Reports galore
At almost any time you can get a report on any aspect of your franchise or league. Looking for the top minor league systems? That's an easy option in the league menu. You can go quite further, though, and assess the strength of each team's system. The report takes seriously three minutes to generate, but it lets you know where every team ranks at every position.
The two most useful reports, in my mind, are the Minor League Report and the Player Development Report. The former runs through all of your minor league rosters and provides quick-take stats and notes. The notes let you know if a player is over his head or due for promotion. The latter lets you know about changes in your players' abilities and potentials. It comes out a few times a year, and it can be a frustrating experience. No one wants to see their five-star first-round draft pick drop to a four-star potential. But it's better to know that and have a better understanding of your organization.
Realistic injuries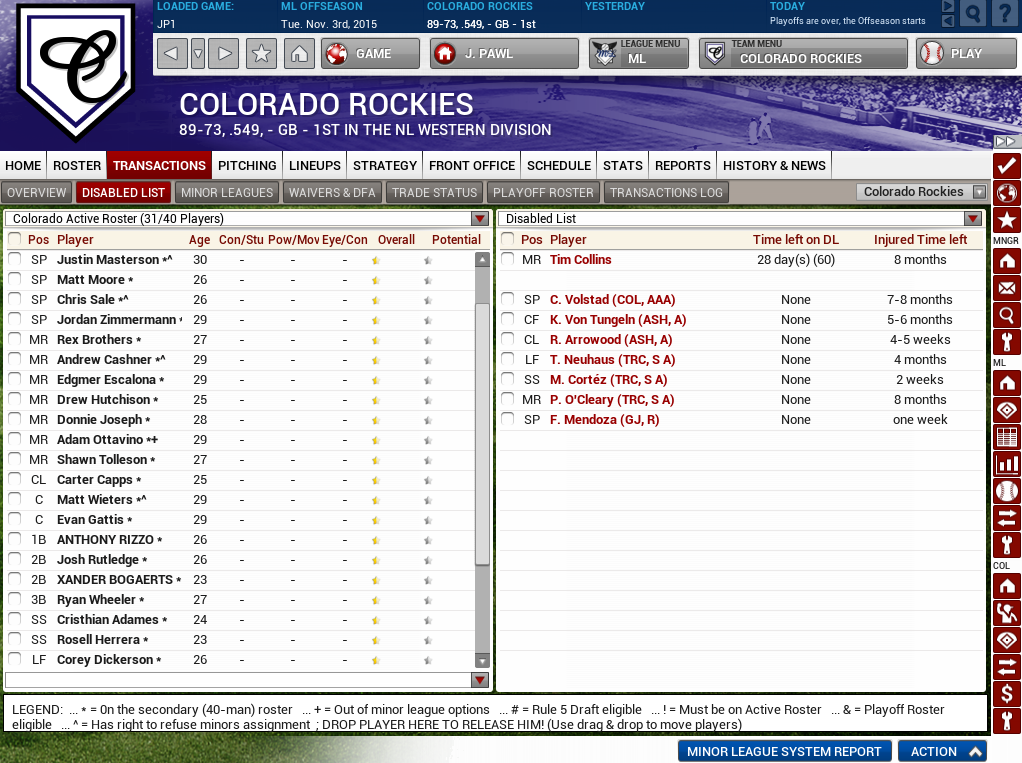 I needn't pontificate on injuries to Yankees fans. In the past two years in particular we've seen nearly every starter on both sides of the ball land on the disabled list.* Chances are you won't see every starter on your OOTP team hit the DL, but if my experience is any indication you will have to deal with at least a dozen DL trips every year. In many instances those will be 60-day DL trips, and if they occur in late in the year they certainly can wrap around into the next season.
* Robinson Cano, Russell Martin, Boone Logan, Rafael Soriano, Nick Swisher, and Ichiro Suzuki are the only starters of consequence who avoided the DL in the last two years. Swisher, if I remember correctly, missed some time with nagging injuries last year. Phil Hughes did technically start this season on the DL, though he didn't really miss a start. Note, too, that only two of those players have spent all of 2012 and 2013 with the Yanks.
In my second season two starters required Tommy John surgery. The worst injury, though, I blame on my future wife. One moment she was playfully mocking me for "playing with my ones and zeroes team." The next moment my ace starter went down with a torn something or other, putting him out nine months — meaning the playoffs and a sizable chunk of the following season.
Nitpicks
A game with such attention to detail sets a perhaps unrealistic level of expectations. There are a number of small quarrels I've had with the game playing through my three seasons. Clearly they weren't deal breakers for me, but I'd have enjoyed it a bit more if I had these little features.
Lineup and rotation suggestions. If you want to get through some seasons and rebuild a team, you pretty much have to let the computer set your daily lineups and pitching rotation. It's not a big deal for the most part. The computer tends to put your best hitters in the middle of the lineup. Yet there are some instances when I want to bench a certain player, or swap pitchers in the rotation and bullpen. But as long as the computer controls those aspects, you can't do that. That means you have to either deal with the computer's lineups, or else control lineups and rotations manually, which will slow down your season.
Computer trade proposals. It's great that the computer can initiate a trade with you. Ideally, it opens up opportunities to improve your roster. But the computer proposes the most outlandish trades. They're all incredibly one-sided, to the point where you don't even want to negotiate. No, I won't trade you two five-star prospects for your three-star third baseman making $15 million per season.
Minor league personnel. Need to fill your short-season A hitting coach position? Good luck. It doesn't appear that the available personnel is listed in any particular order, so you never know which coaches aren't willing to work for that particular level — and the lower the level the smaller the pool of willing coaches. You have to click five or six times to see if the coach is even willing, so it can be incredibly frustrating to find coaches for all of your teams.
Ridiculous detail
This review already sits at over 2,000 words, and I could probably go on for another 6,000 describing every aspect of the game. Honestly, 2,000 words is a few too many, but I feel strongly enough about OOTP that I'll let it stand. The overall notion is that the game brings ridiculous, and mostly accurate, detail to the game. You're in control to a degree I've never seen from any baseball simulation engine.
The attention to detail can be straining at times. You'll spend a lot of time tinkering when you really just want to get on with your season. And if you're like me, you'll have to put down the game for a week because you're just tired of so much control. But if you're like me you'll also come back to the game after that week away. It's just too addictive.
You can buy OOTP Baseball 14 for Windows, Mac, or Linux. It costs $39.99.