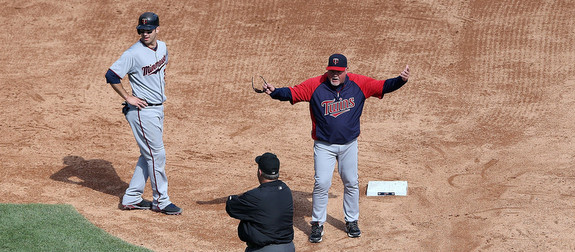 Whenever the Yankees have needed a few wins over the years — and they certainly need a few right now — they could always count on the Twins. New York has won 67 of 87 (!) games against Minnesota during the Ron Gardenhire era (including playoffs), and four of those 20 losses came against in-his-prime Johan Santana. The Bombers are also 12-3 at Target Field, which is where these four games will be played. Hopefully the domination continues.
What Have They Done Lately?
The Twinkies just split a four-game series against the Royals and have won just three of their last nine games. They sit in fourth place in the AL Central at 36-42 with a -28 run differential.
Offense
At 4.2 runs per game with a team 97 wRC+, the Twins are pretty close to a league average offense. They are currently without CF Aaron Hicks (57 wRC+), OF Darin Mastroianni (51 wRC+), and OF Wilkin Ramirez (57 wRC+), all of whom are on the DL and will not return in time for this series. OF Josh Willingham (113 wRC+) has been dealing with a knee issue and is day-to-day. He should return at some point this week if not tonight.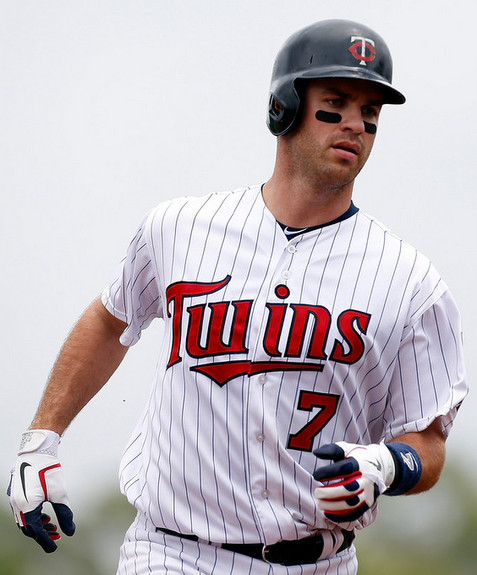 As usual, the centerpiece of the Minnesota offense is C Joe Mauer (144 wRC+), who quietly continues to be one of the best hitters in the world. 1B Justin Morneau (107 wRC+) is still productive even if he isn't the hitter he once was. Rookie OF Oswaldo Arcia (126 wRC+) has had a nice start to his big league career and 3B Trevor Plouffe (118 wRC+) has bounced back well after missing time with concussion and leg issues earlier this year. OF Clete Thomas (115 wRC+ in limited time) has stepped in as the leadoff hitter with Hicks on the DL and DH Ryan Doumit (92 wRC+) has been his typically okay but not great self.
The rest of the lineup is a bit of a mixed bag. OF Chris Parmelee (91 wRC+) has some power and SS Pedro Florimon (71 wRC+) has some speed while IF Brian Dozier (87 wRC+) has a little of both. IF Eduardo Escobar (69 wRC+) and IF Jamey Carroll (46 wRC+) round out the lot of position players. The Twins are currently using a three-man bench even with Willingham banged up.
Starting Pitching Matchups
Monday: LHP Andy Pettitte vs. LHP Scott Diamond
The Twins struck Rule 5 Draft gold with the 26-year-old Diamond in 2011 — technically, they traded for his rights in Spring Training that year and didn't have to jump through the Rule 5 hoops — as he pitched to a 3.54 ERA (3.94 FIP) in 27 starts a year ago. He opened this season on the DL after having offseason surgery to remove bone chips from his elbow, and he's since posted a 5.40 ERA (4.48 FIP) in 14 starts. His walk (1.88 BB/9 and 4.9 BB%) rate is excellent and he gets plenty of grounders (47.8%), but he misses no bats (4.23 K/9 and 11.0 K%) and will give up the long ball (1.17 HR/9 and 10.8% HR/FB). Diamond is the pitch-to-contact philosophy personified. He'll throw his upper-80s four-seam fastball almost two-thirds of the time, using it to set up his low-80s curveball and changeup. It's worth noting he's had a reverse platoon split during his entire big league career. The Yankees didn't see Diamond at all last year, but they crushed him for five runs on ten hits in a four-inning start in 2011.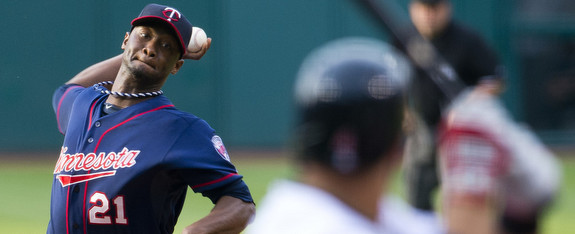 Tuesday: RHP Phil Hughes vs. RHP Sam Deduno
Deduno, who turns 30 tomorrow, was called up a few weeks ago and has pitched to a 3.32 ERA (3.79 FIP) in seven starts. His strikeout rate (4.98 K/9 and 13.0 K%) is terrible, but he limits walks (2.91 BB/9 and 7.6 BB%) and doesn't give up any homers (0.42 HR/9 and 6.9% HR/FB) because he gets a freakin' ton of ground balls (60.7%). That's not just a small sample size thing, he has a 59.0% career ground ball rate in parts of four big league seasons. Deduno lives off his low-90s four-seamer and cutter, but he also throws a ton of low-80s curveballs and a handful of low-80s changeups. It's worth noting he has a decent-sized reverse platoon split — lefties have gotten him for a .307 wOBA in his career, righties a .351 wOBA — which might have to do with the cutter. Deduno started a game against the Yankees late last year, but he was forced from the game after just 1.2 scoreless innings with an eye issue.
Wednesday: LHP CC Sabathia vs. RHP P.J. Walters
The Twins have really had to scrape the bottom of the pitching barrel this year. The 28-year-old Walters has a 6.03 ERA (5.24 FIP) in seven starts, and he comes with the low strikeout rate (4.98 K/9 and 11.8 K%) required of all Minnesota starters. He doesn't really limit walks (3.93 BB/9 and 9.3 BB%) and he has been homer prone (1.31 HR/9 and 11.6% HR/FB) because he doesn't get a ton of grounders (42.4%). A trio of upper-80s fastballs — two-seamer, four-seamer, cutter — set up a mid-70s slider that he throws more than 30% of the time. He'll use a low-80s changeup on occasion. Walters has never faced the Yankees despite spending parts of each of the last five seasons in the show.
Thursday: RHP David Phelps vs. RHP Kyle Gibson
Minnesota called up their top pitching prospect last week, and he held Kansas City to two runs in six innings while striking out five and walking zero. A fine debut, to be sure. Before the call-up, the 25-year-old Gibson had a 3.11 ERA (2.96 FIP) in 15 Triple-A starts with good peripherals: 7.67 K/9 (21.3 K%), 2.72 BB/9 (7.6 BB%), 0.39 HR/9, and 58% grounders. He works primarily off a low-90s four-seamer that sets the stage for his mid-80s changeup and nasty low-80s slider. That's the pitch that got him drafted 22nd overall in the 2009 draft. Obviously the Yankees have never faced Gibson before, but I suppose it's worth noting Zoilo Almonte and David Adams saw him in Triple-A back in April.

Bullpen Status
The Royals roughed up Kevin Correia yesterday, so Gardenhire had to get four innings from his bullpen. Closer LHP Glen Perkins (1.88 FIP) did not pitch but setup man RHP Jared Burton (3.91 FIP) did. Long man RHP Ryan Pressly (3.27 FIP) threw two innings and middle man RHP Josh Roenicke (5.22 FIP) threw one as well. LHP Brian Duensing (2.95 FIP) and LHP Caleb Thielbar (2.74 FIP) are the matchup guys while RHP Anthony Swarzak (3.25 FIP) and RHP Casey Fien (3.09 FIP) round out the eight-man bullpen. It's a sneaky good pen. Not great, but effective.
The Yankees are in good shape as far as their relievers go, and in fact we've reached the point where Mariano Rivera and David Robertson need get some work in. Neither guy has pitched since last Tuesday, and Rivera hasn't even warmed up since then. Robertson warmed up on Wednesday, that's it. Check out our Bullpen Workload page for exact recent reliever usage details. For the latest and greatest on the Twins, check out Twinkie Town and Aaron Gleeman.