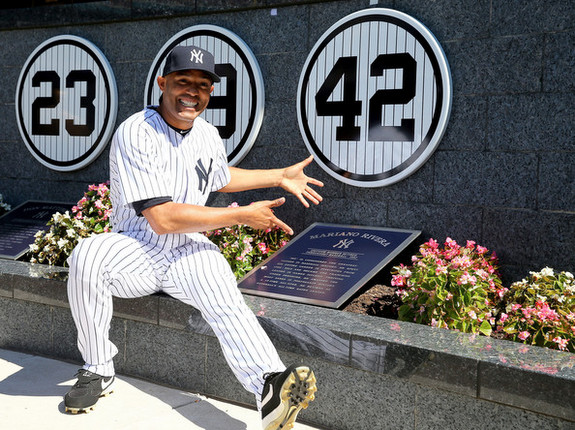 Mariano Rivera will conclude his remarkable career very soon. The farewell tour has basically come to an end. Unfortunately, once he leaves, he'll take his patented cutter with him. The greatest closer of all time will presumably hang up his mitt on his own terms, and upon retirement, will instantly join the epic names of Yankee lore. The last #42 in Major League Baseball will depart from the game with dignity and grace. New York fans – baseball fans everywhere, really – will collectively mourn as a man of such notable modesty off the field leaves behind a career that can really only be defined as stellar on it. Statisticians, baseball analysts, fans, and bloggers alike will try to do Mariano's numbers justice, but they'll all fall short. His achievements speak for themselves at this point. Two decades of sustained dominance is simply nuts.
So, rather than dissecting Mo's career (or even trying to digest it for that matter), I want to write about a bit of nostalgia that recently came to mind. The game I remembered occurred back in August of 2010. The Yankees were squaring off against their divisional rival, the Red Sox, naturally. I remember it being one of those dog-days of summer where it was swelteringly hot out; it was the kind of utterly disgusting heat that caused the $10 stadium beer (that should have, at the very least, been ice cold) to taste warm and unsatisfying almost immediately. Our legs felt like they were peeling off the outfield bleachers —  which not coincidentally, was right were my wife (then girlfriend) and I were sitting — every time we shifted in our seats.
A rather ineffective John Lackey started for Boston while former-rotation-stalwart, CC Sabathia, took the mound for New York. The game went about as smoothly as it could have despite the Sox taking an early 2-0 lead after Victor Martinez homered and Mike Lowell snagged another RBI.  I believe it was Lance Berkman who worked the walk and it was Curtis Granderson who brought him home. Ramiro Pena (yeah, he was still in the lineup) ultimately drove in Granderson on a ground out. It wasn't until about midway through the game though that the combination of Robinson Cano, Nick Swisher, and Jorge Posada (yeah, they were around then too) finally broke the score open. Heading into the ninth inning, the Bombers led 5-2. Despite the blistering heat and general lack of Red Sox momentum the stadium was still full. The game wasn't over. This was late summer baseball between divisional rivals. My wife and I waited. Everyone knew what was going to happen next.
Queue the iconic Enter Sandman riffs. My wife pointed excitedly as Mariano trotted to the mound in his usual unassuming way. I watched with anticipation as I had so many times before; I had seen Mariano take the stage for the better part of my life and he's never failed to impress me with his calm demeanor on the mound. Moments later, Victor Martinez grounded out on what was probably three pitches. One out. Adrian Beltre hit a pop fly a few pitches later. Two outs. Boston fan-favorite, Mike Lowell, ended the game with a weak fly ball to center field. In anticlimactic fashion, the game was over. That was it.  The Yanks won 5-2. There were no loaded bases or late game two out heroics. The Yanks just exchanged a few high-fives between the pitcher's mound and home plate as is their custom. The Sox unceremoniously slunk back into the visitor's locker room. Frank Sinatra's New York, New York captured the speakers.
It wasn't one of Mariano's most notable performances by any means, nor was the game particularly critical to season's outcome for either ball club. It was really just the opposite actually. Mariano simply notched another save. The team benefited from one more stress free afternoon, and New York fans everywhere enjoyed another day of quality Yankee baseball. Really, it all felt quite routine. But it was special for me nevertheless. It was the first time my wife experienced the new stadium, the first time she got to check out Monument Park, and the first time she saw the World Series trophies in the Yankee Museum. More significantly, it was her first time seeing Mariano pitch live. I remember her watching his performance in disbelief. Mariano dismantled the heart of the opposing team's lineup like he's done so many times before — that is to say, with brutal efficiency.  We loved every minute of it.
As for Mo, it was just another save for the record books. There weren't any fist pumps following the third out. There weren't any silly superstitious antics or rituals.  There were no invisible arrows flung into the atmosphere, excited shrieks, or violent fist pumps. There was only Mo's humbling ability to shut opposing batters down and bring happiness to Yankees fans everywhere.  From the moment he made his presence on the field known, it was basically a foregone conclusion that he was going to do his job, and do it as well as he always had. But that's the beauty of Mo, really. He's a security blanket like no other. He brings peace of mind to everyone. Hell, even the opponents seem to take solace in knowing that if they fail against Mo, it'll be because they're supposed to.  On the rare occasions where things go astray, we find ourselves more bewildered than disappointed.
Mariano Rivera, as he had done so many times before, finalized another awesome experience that afternoon at The Stadium and on that particular occasion, my wife and I got to experience it in person together for the first time. I doubt that we will ever get to see someone perform so brilliantly and so constantly in our life time again.  There have been so many memorable Mariano moments both before and after that game against the Red Sox, many of which are certainly far more significant to the team's glorious history. That's the one that happened to pop into my mind though, and I'm happy about that. 
Thank you for all the wonderful memories, Mariano. We'll miss you and we wish you a happy, fulfilling retirement.