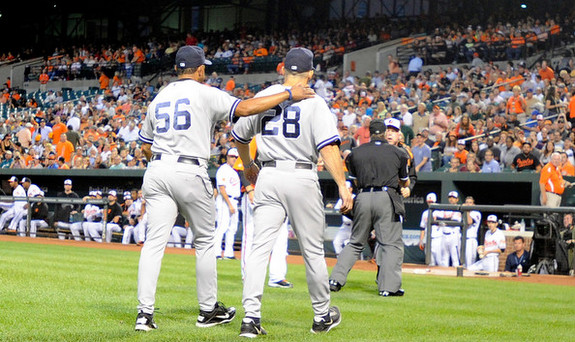 I think I'm going to have to go with the Just Win title for every game thread from now through the end of the regular season. Or at least until the Yankees are eliminated from postseason contention. The Bombers are in a bad spot right now, and while tonight's game isn't a literal must win — their wildcard tragic number is 17 — it is a must win for all intents and purposes. They have to start winning games and a lot of them. Five in a row, six of seven, nine of eleven, something like that. If not, they're going home in 19 days. It's that simple. Here's the lineup Joe Girardi is running out there against Miguel Gonzalez:
CF Brett Gardner
3B Alex Rodriguez
2B Robinson Cano
LF Alfonso Soriano
DH Curtis Granderson
1B Mark Reynolds
RF Ichiro Suzuki
SS Eduardo Nunez
C Chris Stewart
And on the mound is right-hander Ivan Nova. The Red Sox ran him into the ground last time out, forcing him to throw 96 pitches in just four innings of work. Considering the state of the bullpen, that can't happen again.
It is crazy hot in Baltimore. Crazy hot and crazy humid. July and August weather. There is no threat of rain though, so they'll have no trouble getting this game in. First pitch is scheduled for 7:05pm ET and can be seen on YES My9 locally and MLB Network nationally. Enjoy.
Injury Updates: Derek Jeter (ankle) is in a "holding pattern" and has yet to resume any kind of baseball activity. Girardi said he's pretty much day-to-day for the rest of the season … David Robertson (shoulder) threw an eleven-pitch bullpen session and felt fine. Sounds like he'll be available tomorrow night as long as everything feels the way it should when he wakes up … Boone Logan (elbow, biceps) had an MRI and it is being sent to Dr. James Andrews for a second opinion.
Roster Update: The Yankees have re-signed left-hander Mike Zagurski and he is available tonight. He had a 3.08 ERA (2.78 FIP) in 26.1 relief innings for Triple-A Scranton before opting out of his contract a few weeks ago. I guess he never did find another team willing to give him a big league spot. Zagurski gives the team some extra lefty depth with Logan out. Travis Hafner (shoulder) was transferred to the 60-day DL to clear a 40-man roster spot.