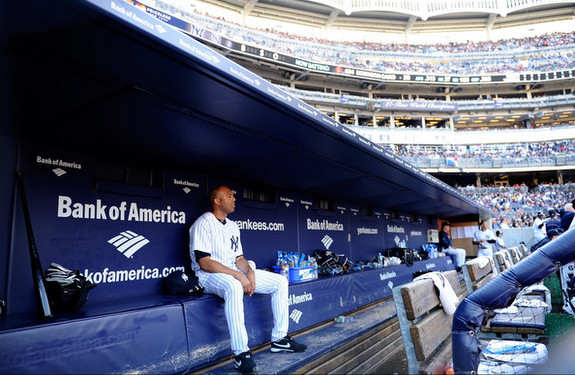 I've never really been fond of the term "Core Four." Not because it's cheesy or because I hate pretty much everything, but because I feel it's disrespectful to every other player who had a role in the dynasty years. I'm talking about guys like Bernie Williams, Tino Martinez, David Cone, Paul O'Neill — the guys who were on the field celebrating Mariano Rivera's career yesterday. Even more recent players like Hideki Matsui, Robinson Cano, and CC Sabathia deserve to be any kind of "core" talk.
The Core Four or whatever you want to call it is no more at this point. Jorge Posada retired two years ago and both Mariano Rivera and Andy Pettitte will play the final games of their careers within the next week. Derek Jeter is still hanging around and figures to return next year — I have a very, very, very hard time thinking he would go out with a disastrous 2013 being his final season — but otherwise all the on-field ties to the dynasty years are gone. Even if Jeter does return next season, it's hard to think he'll be the same player he was just last year, nevermind 1996-2001.
The homegrown core of those dynasty years is not something we're ever going to see again. Not in our lifetimes. The collection of players who came up through the farm system in the 1990s was historic, more than once in a generation stuff. Just think about it this way: if you were building a team today, from scratch, what types of the players you would target to build around? In no particular order, they'd be:
A switch-hitter center fielder who hit for average, power, and got on base.
A switch-hitting catcher with power and patience.
An elite offensive shortstop who had all the intangibles associated with being a franchise cornerstone.
A workhorse left-handed starter.
A durable reliever who was unfazed in the biggest moments.
Those are the five guys you'd want to build your team around, right? Strength up the middle and strength on the mound. Now imagine not only drafting/signing and developing those five guys all at once, but imagine all of them having careers long enough that they turned into this:
A borderline Hall of Fame center fielder.
A borderline Hall of Fame catcher.
A first ballot Hall of Fame shortstop.
A borderline Hall of Fame left-hander.
A first ballot Hall of Fame closer and the greatest reliever in baseball history.
That's the core that came up through the Yankees' farm system all at once in the 1990s. It's a historically great crop of players that you'd be thrilled to develop over the span of 25 years, nevermind in just five or six years. In recent memory, I think only the Phillies — Jimmy Rollins, Chase Utley, Ryan Howard, and Cole Hamels — come even remotely close to developing such a high-end core in the same period of time.
The development of that five-player core is not something the Yankees or anyone can repeat. You can't fire that idiot Brian Cashman and replace him with that genius Gene Michael, wait five years, then have another core with those caliber of players. It doesn't work like that. The Williams/Posada/Jeter/Pettitte/Rivera core is a combination of both great scouting and historic luck. I've been using the word historic a lot because that's what this is. There's no other way to describe these guys individually or as a five-player unit.
As amazing as that development was, you know what I find just as fascinating? With the exception of Jeter, all of those guys were dangerously close to being traded at one time or another. Bernie was rumored to be involved in separate deals for Barry Bonds, Bobby Bonilla, and Jeff Blauser, among others. The Yankees originally wanted to include Posada in the Tino Martinez trade with the Mariners before relenting and giving up Russ Davis. Mariano was almost dealt for Randy Johnson, Felix Fermin, and David Wells at different times. Pettitte was on the trade block all throughout his first tenure in pinstripes it seemed, and the most notable rumor involved the Phillies and Adam Eaton. All it would have taken was one "yes" to dismantle the core of a dynasty.
Rivera and Pettitte saying goodbye to the Yankee Stadium crowd yesterday was about more than just saying goodbye to the fans. It was saying goodbye to one of the greatest runs in franchise history, a historic era that featuring five World Series titles and seven pennants in a 14-year span. We watched Jeter reach 3,000 career hits, Pettitte claim the team's all-time strikeout crown, Bernie become the all-time leader in postseason RBI, Posada play in more playoff games than any other catcher in history, and Rivera save more games than anyone else in baseball history. It has been a privilege and an honor to watch all five of these guys — as well as anyone else who helped out during the dynasty years — but like everything else at one time or another, this great era of Yankees baseball has reached its end.