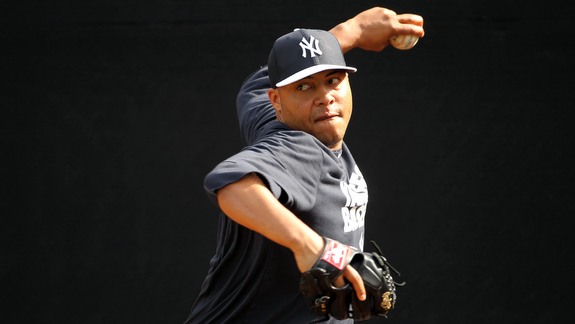 12:05pm: Mesa was giving his unconditional release, not designated for assignment. So even if he were to clear waivers, he is done with the organization. Mesa had tools, just sucks he never figured out how to make even halfway consistent contact.
11:16am: Nix was transferred to the 60-day DL and Mesa was designated for assignment to clear the two 40-man spots. Melky2.0 will be out of options next year and would have been a DFA candidate this winter. At least now he might sneak through waivers due to the injury.
10:22am: The Yankees have called up five players from Triple-A Scranton: IF David Adams, RHP Dellin Betances, LHP Cesar Cabral, RHP Brett Marshall, and C J.R. Murphy. RHP Preston Claiborne is expected to rejoin the club tomorrow, but OF Melky Mesa has a significant hamstring injury and will not be called up this month. Teams can carry up to 40 players on their active rosters as of today. It's unclear if the Yankees are planning any more call-ups after Claiborne unless there's an injury or something.
Adams, Betances, and Marshall were all up with New York earlier this season, so it's no surprise they were brought back. The Adams and Betances call-ups are pretty straight forward — they'll provide infield and bullpen depth. I wouldn't expect Betances to see any kind of high or even medium leverage innings right out of the gate. Marshall is stretched out as a starter and since he's now available as a long man, David Huff could move into a more traditional lefty specialist role alongside Boone Logan. That would be helpful down the stretch.
Cabral, 24, nearly made the team as a Rule 5 Draft pick out of Spring Training last year before fracturing his elbow. The job went to Clay Rapada instead. He has a 5.40 ERA (3.61 FIP) overall in 36.2 innings across various minor league levels since returning from the injury, but he has been better against same-side hitters (2.36 FIP and 34.7% strikeout rate) in a small sample. Cabral figures to see time as the third lefty specialist behind Logan and Huff. With Logan due to become a free agent this winter, Cabral could also be auditioning for a spot in next year's bullpen a la 2008 Phil Coke.
The 22-year-old Murphy has hit .269/.346/.426 (~118 wRC+) with 12 homers in 468 plate appearances split between Double-A Trenton and Triple-A Scranton this year. He's also thrown out 50 of 136 attempted base-stealers (37%). Yesterday we heard it was "very likely" he would be called up. Murphy, the team's second round pick in the 2009 draft, will serve as the third catcher and doesn't figure to play much as long as the Yankees remain in the wildcard race. He'll catch bullpens on the side and soak up the whole MLB experience instead.
No word yet on how the team opened 40-man roster spots for Murphy and Cabral, but the Yankees have 60-day DL candidates in Jayson Nix (hand), Zoilo Almonte (ankle), and Travis Hafner (shoulder). Both Murphy and Cabral would have been Rule 5 Draft eligible this winter, so the Yankees simply sped up the process and added them to the 40-man a few weeks early. All five call-ups are with the team and will be available for this afternoon's game.