Five questions this week, including some long-ish ones. By know you should know how to contact us, but if not, the Submit A Tip box in the sidebar is the way to go. Send us mailbag questions or anything else that way.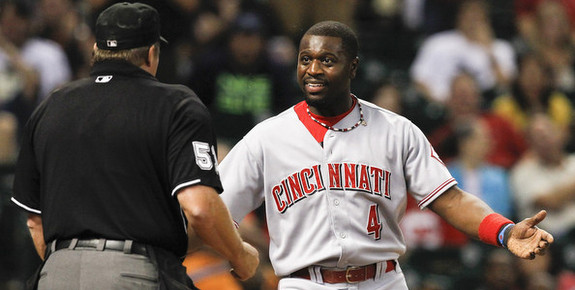 Many asked: What about Brandon Phillips?
Lots of questions about Phillips this week after it was reported the Reds are looking to move him and get out from under his contract. Apparently he's run his mouth — he called his recent contract extension a "slap in the face" in light of Joey Votto's extension — a few too many times and has worn out his welcome.
Anyway, the 32-year-old Phillips hit .261/.310/.396 (91 wRC+) with 18 homers and five stolen bases this summer, his worst offensive season in five years. His defense at second base remains very good, among the best in baseball, but the bat is starting to slow down just a bit. Here is a rather troubling graph:

Source: FanGraphs — Brandon Phillips
That is what amounts to a seven-year decline in ISO. Yeah, he did rebound a whole two points from 2010 to 2011, but that's negligible in my opinion. Two points of ISO is one extra base every 500 at-bats, so yeah, negligible. Phillips has hit 18 homers in four straight years — I mean exactly 18 homers, kinda weird — but his doubles and triples are coming down. So are his stolen bases — this was the first full season in his career he didn't swipe at least 14 bags — so maybe the power drop isn't so much as a "not hitting the ball hard" thing as it is a "not fast enough to take that extra base on balls hit into the gap anymore" thing.
Either way, Phillips is 32 years old and he has another $50M coming to him over the next four years. That's a lot of money for a player with very clear signs of decline. If Robinson Cano were to leave as a free agent — pretty much the only scenario in which I would even entertain the idea of acquiring Phillips — I'd still scour the trade market for a short-term stopgap than take on that contract. Phillips is more name than production right now and the Yankees have too much of that as it is.
Wilbur asks: What kind of contract would it take to keep Boone Logan in pinstripes? He's made it clear he wants to re-sign with the Yankees and he'll be coming off surgery to remove bone spurs, which'll drive the price down (but also raises the question of do the Yankees even want him?).
Logan had surgery a few weeks ago and is expected to start throwing in January and be ready in time for the Spring Training. It sounds like a minor procedure but there's really no such thing. There's risk anytime you cut into pitcher's elbow. CC Sabathia had a similar surgery last winter and after the awful season he just had, it's fair to wonder if the elbow cleanup had something to do with it.
As for Logan, the market for top left-handed relievers if pretty well established. On the low-end you've got Sean Burnett (two years, $8M), on the high-end you've got Scott Downs (three years, $15M), and in the middle you have Damaso Marte (two years, $12M). Logan is several years younger than Marte and Downs were when they got their contracts and roughly the same age as Burnett when he got his. Burnett had much greater injury concerns though, much much greater. In this free agent-friendly market, I think Logan should be able to pull down Marte's contract without much of a problem and maybe even land Downs'. Do the Yankees want him back? I don't know. Lefty specialist seems like an easy spot to save money with payroll coming down though.
Patrick asks: The only reliever I have any interest in is Brian Wilson. How many years and millions do you think he'll get?
Wilson, 31, joined the Dodgers in August and quickly became their setup man, allowing just one run on twelve hits and six walks in 19.2 innings between the regular season and postseason. He struck out 21 (28.8%) and got 28 ground balls (60.9%). Wilson showed his usual pre-injury stuff — a nasty mid-90s two-seamer and an upper-80s slider — so that was one hell of a late season audition following elbow surgery. He was damn impressive with Los Angeles.
With Wilson, it's necessary to look beyond the ridiculous beard and (intentionally?) insufferable personality. The Yankees need to add a late-inning arm to replace Mariano Rivera — they're losing an elite reliever either way, regardless of whether David Robertson takes over as closer or stays in the eighth — and Wilson is close to the perfect candidate. He's got power stuff and he misses bats, he's got big game and World Series experience, and he's an off the charts competitor. This is a guy who pitched through a torn elbow ligament for a while and worked his way back from not one, but two Tommy John surgeries. You don't do that without being a determined and generally tough dude, both mentally and physically.
It's tough to figure out what kind of contract Wilson will get this winter given his situation. He's a not all that old formerly elite closer who has thrown fewer than 20 innings following his second elbow reconstruction. I'd call that unique. The Rangers gave Joakim Soria two years and$8M last winter as he was coming off his second Tommy John surgery, but he was not expected back until midseason. Wilson is obviously ready to go. Joe Nathan got two years and $14.5M one year removed from Tommy John surgery after 2011. If the Yankees could get Wilson for something between those two deals, say two years and $12M, I'd definitely do it. Forget the beard and the Taco Bell commercials, he's a great fit for New York's bullpen needs if the medicals check out and they can get him at a reasonable price.
Dan asks: MLBTR is reporting that the Royals might make Billy Butler available. He's owed $8M in 2014 with a $12.5M club option in 2015. I know the last thing the Yankee need is a 1B/DH but would you consider him to DH and provide backup in case Mark Teixeira re-injures the wrist?
First things first: If the Royals are indeed making Butler available, they probably want something big in return. I doubt they're going to trade their second best hitter for a prospect or two after having the franchise's best season in 19 years. If they trade him, it'll be a win now type of move, perhaps for a starting pitcher. The Yankees don't really match up well with Kansas City. But, for the sake of argument, let's assume they do.
I am not all that interested in seeing the team spend even a moderate amount of bucks on the DH spot, and that's what Butler is. He can fake first base during interleague play and that's pretty much it. He's awful defensively and he doesn't hit for much power either. After hitting 29 homers in 2012, he dropped back down to 15 this year, in line with his 2008-2011 totals. He is a high-average, high-on-base guy and that's very valuable, but the Yankees wouldn't be acquiring David Ortiz here.
Spending $8M (and then $12.5M in 2014) for position-less, just-okay-power DH isn't something they need to do in my opinion. They have so many other holes — more important holes like catcher and the left side of the infield and the rotation — that using a good amount of resources (both into terms of players traded away and then salary) to go after Butler doesn't make much sense to me. He would make the team better next year, no doubt, but at a high cost that would limit their ability to make moves elsewhere. The Yankees could use a hitter like Butler, but they can't ignore positional needs.
Kevin asks: If there is a weak draft and the next draft is projected to be loaded, do teams intentionally draft somebody they know they aren't going to sign to essentially trade the pick in the weaker draft for another pick next year?
No, never. The only team who has something of a history of not signing top picks since the compensation system was put in place is the Blue Jays and that obviously hasn't gotten them very far. Most scouting directors (and GMs) know they might not be around to make that pick next year if they intentionally do not sign a first rounder. The prospect now is always more valuable than the pick later. Always. Plus it's impossible to judge the quality of the draft class a year in advance, so very much can change. Every club would rather make the pick now and get the player into their system as soon as possible. Waiting a year delays everything, including the ability to use that player in a trade to improve the big league. It's a very, very risky strategy. There is always high-end talent available in the first round, you just have to find it.