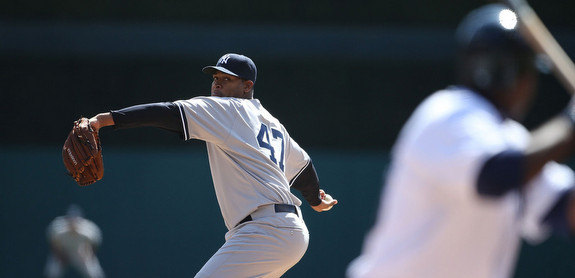 As we spend far too much time trying to figure out how the Yankees will rebuild themselves into a contender while staying under the $189M luxury tax threshold next season, there has always been one great big unknown throwing a wrench into things: arbitration salaries. These go to players with more than three years but fewer than six years of service time; the guys who have been in the league long enough to earn a decent salary but not long enough to qualify for free agency.
Arbitration salaries are very tough to pin down (or estimate, for that matter) but can be substantial in some cases, especially as the player moves closer to free agency. Thankfully, Matt Swartz developed an insanely accurate model — it's been within 5% or so overall — for projecting arbitration salaries, and the information has been available at MLBTR these last three years. Projections for the Yankees' seven arbitration-eligible players were released over the weekend:
Arbitration Eligible Players (service time in parentheses)

David Robertson, RP (5.070): $5.07MM $5.5MM projected salary
Brett Gardner, OF (5.072): $4MM
Ivan Nova, SP (3.022): $2.8MM
Shawn Kelley, RP (4.128): $1.5MM
Jayson Nix, IF (4.127): $1.4MM
Francisco Cervelli, C (3.102): $1MM
Chris Stewart, C (3.091): $1MM
Update: Here are the updated projections. Only Robertson's changed.
Nova ($2.22M raise), Robertson ($2.4M), and Gardner ($1.15M) are all projected to receive healthy raises from last season. The other four guys are projected to receive $640k salary increases or less. Nova is arbitration-eligible for the very first time, meaning he's coming off what amounts to a league minimum salary in 2013. I have to think that's a pretty great moment for a young-ish player — that first year of arbitration, when your annual salary goes from mid-six-figures to several million bucks.
Anyway, at the projected salaries, I think both Nix and Stewart are obvious non-tender candidates, meaning the Yankees should cut them loose and allow them to become free agents rather than pay that salary. Nix is a perfectly fine utility infielder who played way too much this past season, when he earned $900k. The projected $1.4M is a real stretch for me. If he's willing to re-sign with the team for $1M or so, great. If not, move on. There are better ways to spend $1.4M, especially considering the team's self-imposed budget constraints. Same goes for Stewart. No way should the Yankees pay him a seven-figure salary in 2014. That's madness.
So, assuming the Yankees non-tender Nix and Stewart but keep everyone else, their arbitration class projects to cost $14.8M next season. They currently have six players under contract with a combined $84.9M "tax hit" for 2014 and that includes Alex Rodriguez, who may or may not be suspended. It doesn't include Derek Jeter, who figures to pick up his player option. So, between the guys under contract and the arbitration-eligible players, the Yankees have eleven players slated to earn $99.7M in 2014, pending decisions by Jeter and the arbitrator overseeing A-Rod's appeal.
That leaves the team with roughly $77.3M to spend on the 29 remaining 40-man roster spots (plus leaving space for midseason additions) when you factor in ~$12M or so for player benefits, which count against the tax. If A-Rod is suspended for the entire season, it'll be $104.8M for 30 remaining roster spots. That sounds like a lot, but remember, Jeter and the inevitable Robinson Cano contract will soak up about $35M of that leftover money all by themselves. Without A-Rod but with Cano and Jeter, it's more like $70M for 28 roster spots plus midseason additions. Doable, certainly, but that $300M spending spree might be more myth that reality.