The 2013 season is over and now it's time to review all aspects of the year that was, continuing today with the best position player acquired by any team at the trade deadline.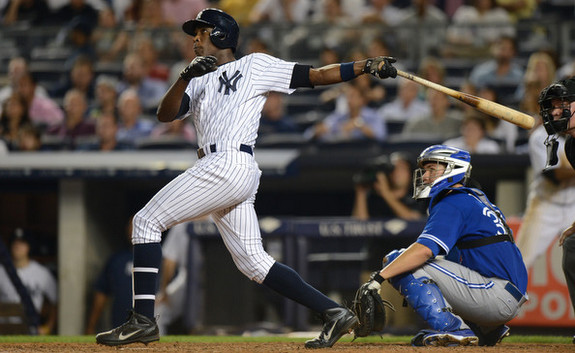 Coming into the season, I think we all knew the Yankees were not going to hit for the same kind of power they have in the past. This was even before Curtis Granderson and Mark Teixeira got hurt in Spring Training. You don't replace Nick Swisher, Russell Martin, and Alex Rodriguez with Ichiro Suzuki, Chris Stewart, and Kevin Youkilis and not expect to hit fewer homeruns. Not realistically, anyway.
Once Granderson and Teixeira (and Youkilis) got hurt, the lack of power was alarming. At one point Yankees went nine straight games without a homer, their longest such streak since going ten straight in 1984. They went four straight home games without a dinger for the first time in new Yankee Stadium history and just the third time this century. The Yankees hit 18 homers in June and just ten (!) in July, the first time they hit 18 or fewer homers during a calender month since April 1989 (min. 20 games). They managed to do it in back-to-back months. Their 78th game of the season was their 31st homer-less game, matching 2012's total. It was bad.
Aside from the lack of power in general, the biggest problem specifically was the complete lack of thump from the right side of the plate. From June 25th through July 28th, a span of 477 plate appearances, the Yankees did not get a single homer from a right-handed batter. Not one. Literally zero in 28 team games and more than a calendar month. That's just unfathomable. Triple check the numbers kind of unbelievable. And yet, it's true. The Yankees didn't have the ability to close the gap or extend the lead quickly with one swing of the bat and it cost them games all summer long.
On July 26th, after about a week's worth of rumors, team ownership pulled the trigger on a trade with the Cubs that brought Alfonso Soriano back to New York in exchange for minor leaguer right-hander Corey Black. Brian Cashman said he preferred to wait rather than trade a good but not great pitching prospect for a good but not great corner outfielder, but ownership wanted Soriano and what ownership wants, ownership gets. The Cubs ate $17.7M of the $24.5M or so left on Soriano's contract to facilitate the deal.
Just like that, the Yankees had a legitimate right-handed power source. Soriano whacked ten homers in his final 21 games with the Cubs and that carried right over into pinstripes. He went deep in his third game back with the team and 12 times in his first 32 games with New York. During a four-game rampage from August 13th through the 16th, Soriano went 13-for-18 (.722) with five homers and 18 runs driven in. That tied the all-time record for runs driven in during a four-game span in baseball history. Here's where Soriano ranked in MLB following the trade (min. 200 plate appearances for the rate stats):
| | AVG | OBP | SLG | wRC+ | HR | RBI | ISO | fWAR |
| --- | --- | --- | --- | --- | --- | --- | --- | --- |
| Soriano | 0.256 | 0.325 | 0.525 | 130 | 17 | 49 | 0.269 | 1.8 |
| MLB Rank | 81st | 63rd | 11th | 31st | 1st | 1st | 3rd | 40th |
For the cost of a good minor league arm and $6.8M in salary obligation, the Yankees acquired a top 40 position player for the remainder of the regular season. Maybe top 30 or so depending on your opinion of fWAR and all that stuff. Despite not arriving until the trade deadline, Soriano finished second on the Yankees in homers (first among righties), third in runs driven in, and sixth in total bases (115). As an added bonus, New York finally had a player who could flip a bat, pimp a homer, and a put on a nice show:
Soriano was exactly what the Yankees needed: a legitimate middle of the order hitter who could hit the ball out of the park from the right side of the plate. His defense in left field was surprisingly solid as well, especially when ranging to his right towards the foul line. I thought he struggled a little bit on balls hit to his left and into the gap, but overall he was good defender. Certainly not below-average, which is what I had expected given his reputation with the Cubbies.
Unfortunately, Soriano's heroics weren't enough to get the Yankees into the postseason. He was the only player they acquired at the trade deadline, which meant many other holes (catcher, shortstop, rotation) were left unaddressed, and that led to the club falling short of a wild-card spot. Soriano did his part though. He was more than just the team's best non-Robinson Cano hitter after the trade — he was one of the very best hitters in baseball and the team's best trade deadline pickup since David Justice back in 2000.