The 2013 season is over and now it's time to review all aspects of the year that was, continuing today with the replacement level replacement first baseman.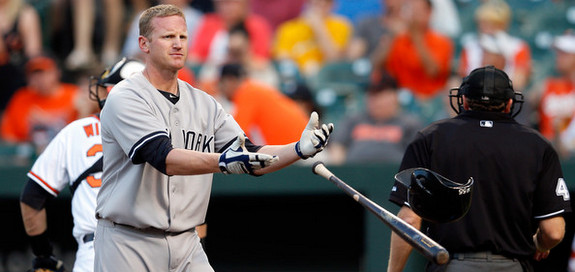 The Yankees acquired their 2013 starting first baseman with only six days to go in Spring Training. Mark Teixeira suffered a wrist injury in early-March and at the time he was expected back in mid-May, so the team only needed a stopgap for six weeks or so. The Red Sox gave their lefty bench bat spot to Mike Carp and cut Lyle Overbay loose with a week to go in camp, which is when New York pounced. He was the best available option.
Much like most of the team's veteran retread pick-ups, the 36-year-old Overbay was quite productive for the first 50 or so games of the season. He wasn't exactly hitting for average or getting on-base, but Lyle hit for a surprising amount of power and had a knack for big, late-inning hits. During an 86 plate appearances stretch in early-to-mid-May, Overbay hit .269/.318/.526 with eight doubles and four homers while pacing Robinson Cano for the team lead in runs driven in. Many of those runs he plated came in crucial situations:
April 28th: Two-run homer against R.A. Dickey to turn a one-run deficit into a one-run lead in the seven inning.
May 10th: Overbay went 4-for-5 with five runs driven in against the Royals, including a sixth inning run-scoring double that broke the tie and gave the Yankees the lead.
May 20th: Solo homer against Orioles lefty Troy Patton to break the tie and give New York a lead in seventh inning lead.
May 25th: A solo homer off Rays righty Josh Lueke gave the Yankees the lead in the 11th inning.
May 28th: Broke a scoreless tie with a run-scoring single against Matt Harvey.
From the start of the season through the game with that single against Harvey, Overbay managed a robust 0.928 WPA, meaning he chipped in close to a full win of value with timely hits despite having a mediocre .251 average overall. His numbers with runners in scoring position (.268/.367/.415 in 49 plate appearances) were okay but he was a monster in situations defined as "close and late" (.286/.407/.714 in 27 PA), though sample size caveats apply. "Close and late" plate appearances come in the seventh inning or later with a one-run lead or the tying run at least on deck, plus anything in between.
Overbay played well enough in the first two months that even after Teixeira returned from his wrist injury at the end of May, the Yankees kept his bat in the lineup by sticking him in right field, a position he had not played since rookie ball in 1999. The right field experiment lasted four games and was mostly a disaster defensively. Well, not mostly. It was an outright disaster. No one could blame Overbay though, the team was desperate for offense and he was one of their most productive players, so Joe Girardi & Co. did what they had to do to help the team win.
Teixeira re-injured his wrist during a series against the Angels in mid-June and eventually needed season-ending surgery, allowing Overbay to reclaim the first base job outright. He hit an acceptable .266/.346/.415 with five doubles and three homers in 28 games between Teixeira's injury and the All-Star break, which was fine production for an offensively starved team. Overbay carried a .251/.307/.436 (101 wRC+) batting line into the break. He was also playing strong defense, which is pretty much his calling card.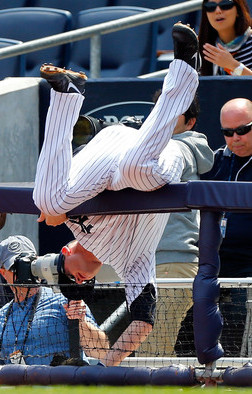 The second half is when things went really south. Because Kevin Youkilis was hurt in addition to Teixeira, the Yankees did not have a proper right-handed platoon partner for Overbay. He was out there everyday, against righties and lefties, and it completely exposed his weakness against southpaws. It also might have worn him down physically. Lyle closed out the month of July by going 10-for-42 (.238) with no walks, three doubles, and a homer (.381 SLG) in 12 games.
August was slightly better — .250/.307/.324 (72 wRC+) in 20 games — though he did have a stretch of 18 straight plate appearances without a hit towards the end of the month. September was just brutal — .163/.250/.245 (36 wRC+) line in 20 games — and by the middle of the month he'd lost his starting job to Mark Reynolds, even sitting against righties. Overbay started just ten of the team's final 19 games and four of their final eleven games. He'd hit his way out of the lineup.
That .251/.307/.436 (101 wRC+) batting line in the first half was broken down into .272/.330/.485 against righties (224 plate appearances) and .198/.247/.309 (89 plate appearances against lefties). Overbay hit just .220/.272/.314 (58 wRC+) in the second half, including .234/.292/.339 (137 plate appearances) against righties and .171/.194/.229 (36 plate appearances) against lefties. His overall season batting line was .240/.295/.393 (93 wRC+) with a huge platoon split: .258/.316/.430 (103 wRC+) against righties and .190/.232/.284 (35 wRC+) against southpaws.
Overbay is perfectly symbolic of the 2013 Yankees. He was asked to be play everyday and hit near the middle of the order after being cast aside by a contender because they didn't even have a spot for him on the bench. The only reason he got the job was because the Yankees don't have any internal solutions for, well, almost anything. Lyle did an admirable job in the first half of the season and had a bunch of big hits, but his performance was below-average overall and well-below-average compared to the typical first baseman. Stepping in after being signed less than a week before the start of the season is not easy, but Overbay was a net negative in 2013 and the very definition of replacement level (0.0 fWAR, 0.2 bWAR).