The 2013 season is over and now it's time to review all aspects of the year that was, continuing today with the designated hitter who didn't hit (and got hurt).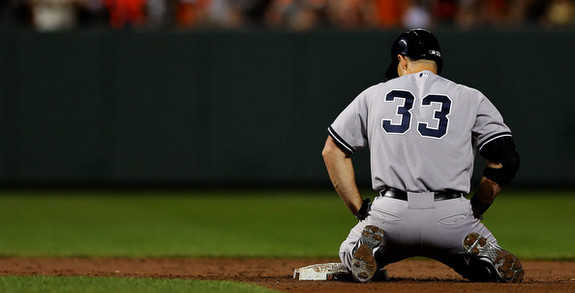 Ever since Hideki Matsui was allowed to leave and Jorge Posada called it a career, the Yankee have tried to keep their DH spot open and use it as a way to keep their regulars both fresh — "half-days off," as Joe Girardi calls it — and still in the lineup. With Derek Jeter likely coming back plus Alex Rodriguez and Mark Teixeira (and soon enough, Robinson Cano) not going anywhere thanks to their long-term contracts, expect the team to continue the rotating DH approach for the foreseeable future.
Last year the Yankees signed Raul Ibanez to serve as the left-handed half of a DH platoon and that worked well enough as long as you're willing to ignore everything before mid-September. This season the Bombers turned to another veteran lefty masher, this time former Indians slugger Travis Hafner. Unlike Ibanez, Hafner was both injury-prone and unable to play a position, even in an emergency. Still, at $2M guaranteed, it was a relatively low (financial) risk signing.
Early on, it appeared the Yankees had struck DH gold. Hafner mashed out of camp, starting the season with a seven-game hitting streak (9-for-23, .391) that included two mammoth homeruns. Pronk went on to hit four more homers with nearly as many walks (ten) as strikeouts (12) during the rest of April and he carried that performance right into May. On May 14th, through 37 team games, Hafner was hitting .260/.383/.510 (140 wRC+) and was the team's second best hitter behind Cano.
As if on cue, right when things seemed to be going well for the Yankees, Hafner's surgically repaired shoulder started barking. He received a cortisone short and missed four days with tendinitis, and he actually hit well immediately after returning, like 6-for-19 (.316) with a double and two homers well. That didn't last though. Hafner crashed and crashed hard in late-May and never recovered. In 54 team games from May 27th — the start of the home-and-home series with the Mets, in case you were wondering — through July 26th, Pronk hit .154/.218/.265 with four homers, ten walks, and 44 strikeouts.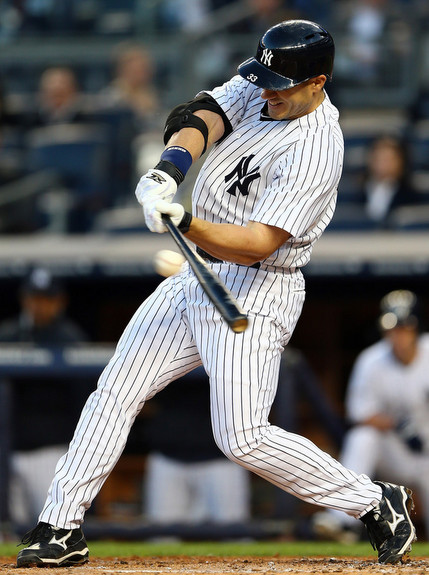 With his season batting line sitting at .205/.300/.384 (86 wRC+) through 293 plate appearances, the Yankees placed Hafner on the 15-day DL with a shoulder problem on July 27th. The move cleared a roster spot for Jeter. The bum shoulder kept Hafner out right until the final series of the season, when New York activated him only because he was healthy and they were obligated to activate him. He took an 0-for-4 (with two hit-by-pitches) in the final game of the season, his last act in pinstripes.
Including incentives, the Yankees paid Hafner a total of $3.125M for a .202/.301/.378 (86 wRC+) batting line with 12 homers in 299 plate appearances. He was brought in to mash right-handers, but he instead had no platoon split (88 vs. 85 wRC+ in favor of lefties). That's a bad thing. Pronk did take advantage of the short porch in right field though, hitting .222/.300/.452 (100 wRC+) with eight of his dozen homers at Yankee Stadium. That was pretty much his only redeeming quality, taking advantage of the short porch.
The Yankees and Brian Cashman have made it very clear they prefer hitters who hit for power and are patient at the plate, two traits that Hafner most definitely offered (on paper). It's hard to ignore how his performance went south immediately after the shoulder problem in May, so perhaps his dreadful showing for most of the summer can be blamed on injury. Then again, no one should have been surprised when Hafner got hurt. Like so many players this season, the Yankees asked Pronk to do more than he was capable of doing at this point in his career and they got burned.