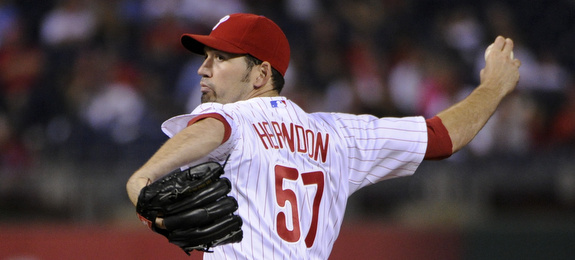 The Yankees have started the process of adding bullpen depth for next season. The team has re-signed right-hander David Herndon to a minor league contract with an invitation to Spring Training, according to his agent Joshua Kusnick. He will be Rule 5 Draft eligible in December, but if he goes unclaimed, he'll come to camp with a chance to win a bullpen spot.
Herndon, 28, blew out his elbow early in the 2012 season with the Phillies and needed Tommy John surgery. Philadelphia removed him from the 40-man roster over the winter and, after a brief detour through Toronto, he was claimed off waivers by the Yankees. New York then removed Herndon from their 40-man roster and gave him a new minor league contract after he cleared waivers and elected free agency.
After returning from his elbow reconstruction in late-June, Herndon pitched to a 2.78 ERA (~2.20 FIP) with a good strikeout rate (9.1 K/9 and 22.5 K%) and a good walk rate (2.5 BB/9 and 6.3 BB%) in 35.2 innings across 21 minor league appearances. He steadily climbed the ladder during what amounted to a rehab assignment, topping out at Triple-A Scranton.
Back in July, Ken Rosenthal heard from a scout that Herndon had been running his fastball up 94 mph during his minor league outings. He was primarily a low-90s sinker/low-80s slider reliever while with the Phillies, but he did touch 94 on occasion. If nothing else, his stuff has come back. During his three seasons in Philadelphia, Herndon was more of a ground ball guy (55.3%) than a strikeout guy (5.9 K/9 and 15.0 K%).
There's nothing exciting about signing a reclamation project like Herndon, but the Yankees have a big 40-man roster crunch and need to acquire as many quality players on minor league deals as possible to build depth, something they lacked in 2013. The bullpen is usually the easiest place to do this, at least in terms of sheer numbers, plus it's a good way to save some cash as the club looks to get under the $189M luxury tax threshold. The Yankees watched Herndon rehab and pitch in their system this year, they had to like something they saw to bring him back.