Only four questions week and they kinda suck. Nah, just kidding. I say they're good every week, so I wanted to see if anyone is actually pays attention. Remember, the Submit A Tip box in the sidebar is the best way to send us anything throughout the week.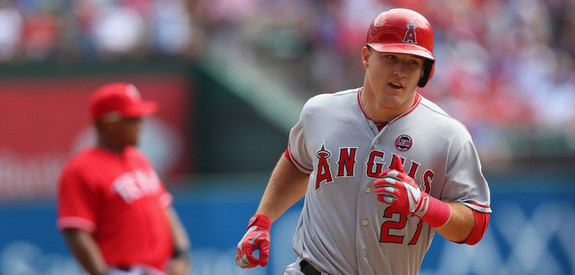 Keith asks: Since there is lots of discussion this offseason about the Yankees' minor leagues and their development of prospects, I've been kind of obsessed with the what ifs. One that particularly sticks out is Mike Trout. It's been widely reported that the Yankees scouts were on him and of course the Angels ended up drafting Trout with the Yankees compensation pick. If the Yankees don't sign Mark Teixeira and instead draft Mike Trout, would he even be in the Majors yet? Would they have found a way to screw up his development too?
First things first: if the Yankees did not sign Teixeira, their first round pick would have gone to the Brewers for CC Sabathia. If they did not sign Teixeira and Sabathia, it would have gone to the Blue Jays for A.J. Burnett. They would have had to pass on all three to keep their first rounder, and even then the Angels still would have had a pick (the compensation pick for Francisco Rodriguez) before the Yankees. Ken Rosenthal said the Halos had Trout second on their behind only Stephen Strasburg, so I assume they would have still taken him before New York had a chance at him.
Anyway, just for the sake of argument, let's assume the Yankees somehow landed Trout in the draft that year. I think that in some cases, with historically great players and generational talents like Trout, the development part almost doesn't matter. They're going to succeed no matter what because there isn't even that much developing that needs to be done, the raw talent is enough. Alex Rodriguez was like that. Barry Bonds, Ken Griffey Jr., Rickey Henderson … players like that. They're so good and physically gifted that the only thing that can stop them (other than injury) is a lack of effort and work ethic on their part. I truly believe that. Trout was so good that not even the Yankees could have screwed him up. He would have been in the show right now and still been a star.
Kevin asks: Obviously they'll try starting first but any chance Michael Pineda's future with the team is ultimately in the bullpen? It wouldn't put the stress of 170+ innings on his arm and that way they could possibly get some return on the investment.
Oh it's definitely possible his future lies in the bullpen. He kept running into a wall around the 70-ish pitch mark during his minor league starts this year, and after such a major shoulder surgery, there's a chance he may not be able to hold up for 100+ pitches anymore. I'm not sold on the idea that relieving on an unpredictable schedule is less stressful than having a routine and starting every five days, but a move to the bullpen is the next logical step if the starting thing proves to be too much for Pineda.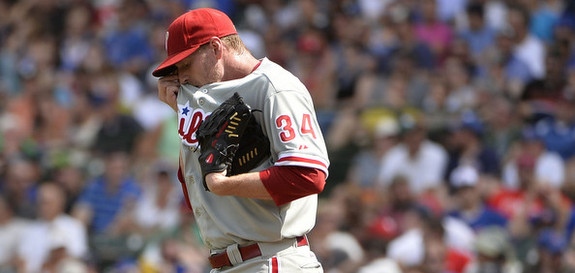 Ryan asks: What are your thoughts on Roy Halladay? Even though he is older and had the injury, I think the Yankees should sign him. Still has the stuff and experience, similarly to David Cone when they signed him.
I strongly disagree there. He doesn't have the stuff. He might as he gets further away from the shoulder surgery in May, but Halladay was a shell of his former self late in the season. It wasn't even Jamie Moyer stuff. No life on his fastball, loopy breaking balls, no command … it was ugly. He looked no part of a big league pitcher. Watching him pitch like that in September made it hard to believe he was the best pitcher in the world as recently as 2011.
The Yankees can't help themselves when it comes to once-great big name players, so I do expect them to kick the tires on Halladay this winter. He has AL East experience obviously, though I'm not sure that matters much at this point. He's not the same guy. He hasn't been the same guy for two years now. There is no way I would guarantee Halladay anything — minor league contract or no contract, that's it — based on that look in September, there's no chance whatsoever I would guarantee him a rotation spot. Absolutely zero. If he wants to take a minor league deal and earn his way onto the roster, great. If not, oh well.
Ben asks: It's pretty staggering to think about all the pitching St. Louis has right now: Adam Wainwright, Lance Lynn, Michael Wacha, Joe Kelly, Shelby Miller, Trevor Rosenthal, Carlos Martinez, even Jaime Garcia. It's fair to say they'd benefit from trading one or two of those guys. If you were the Yankees GM, what would you think a fair package would be to trade for Lynn or Kelly? Would we possibly have the pieces to trade for Martinez or Rosenthal?
Definite no on Martinez and Rosenthal. As for Lynn or Kelly, I have to think a shortstop would be atop the Cardinals wishlist. It's hard to believe they did so well this season with a total zero at short in Pete Kozma. The Yankees don't have a shortstop to give up unless St. Louis is particularly high on Eduardo Nunez, which I doubt they are. Jon Jay had a better year than I realized, so Brett Gardner doesn't make much sense for them either. I'd have no trouble getting behind a Gardner for Lynn or (especially) Kelly trade, but that doesn't seem realistic at all. I'm not sure there's much of a fit here otherwise. The Cardinals are pretty stacked everywhere except short.