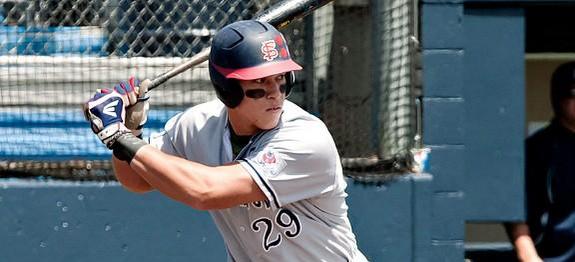 Aaron Judge | OF
Background
Judge is a Northern California kid who was born in Sacramento but grew up a few miles outside Stockton in a small town called Linden. According to the internet, only about 1,800 people live in the eight or so square mile town. Judge was a three-sport star at Linden High School (baseball, basketball, football) and was twice an All-League selection in baseball. He also earned All-American honors as a senior.
Prior to the 2010 draft, Baseball America (subs. req'd) ranked Judge as the 77th best prospect available in California. He was considered a better pitching prospect at the time and was selected in the 31st round by the Athletics. Judge declined to sign and followed through on his commitment to Fresno State, where he moved off the mound and into the outfield full-time. Most colleges recruited him as a tight end but baseball was his favorite spot, so he stuck with that.
As a freshman with the Bulldogs, Judge hit .358/.437/.465 with 12 doubles, two homers, 25 walks, and 42 strikeouts in 215 plate appearances. He also went 11-for-12 in stolen base attempts. The performance earned him some hardware, including being named to the Freshman All-American and Freshman All-Conference Teams. He was also named Conference Freshman of the Year.
Judge hit .308/.453/.458 with 14 doubles, four homers (including two in one game off Stanford ace Mark Appel), 48 walks, 42 strikeouts, and 13 steals in 15 attempts in 256 plate appearances as a sophomore, helping Fresno State to the Conference Tournament title and a NCAA Regional berth. He was named to the All-Conference Tournament Team as well as the All-Conference Team for the second straight year.
After the season, Judge spent the summer with the Brewster Whitecaps of the Cape Cod League, where he hit five homers in 32 games and was named the team's Citizenship Award winner for being a good teammate. Baseball America (subs. req'd) ranked him the sixth best prospect in the circuit. Judge was also one of eight players selected to participate in the TD Ameritrade College Baseball Homerun Derby in July, an event he won by going deep 16 times in three rounds.
Judge had his best season with the Bulldogs as a junior this past spring, hitting .369/.461/.655 with 15 doubles, 12 homers, 35 walks, 53 strikeouts, and 12 stolen bases in 14 attempts across 246 plate appearances. Fresno State disappointed overall and Judge was the best player on the team by a not small margin. Once again, he was named to the All-Conference Team.
Prior to this June's draft, Keith Law (subs. req'd) ranked Judge as the 17th best prospect available while Baseball America had him as the eighth best prospect in California and 30th best in the draft. The Yankees grabbed him with the second of their three first round picks, the 32nd overall selection. That's the pick they received as compensation for losing Nick Swisher to free agency. Judge signed for a slightly above-slot $1.8M — slot was just under $1.68M — the day before the July 12th signing deadline.
Pro Debut
Before he could ever play a game after signing, Judge suffered a quad strain and was shut down for the rest of the season. He was unlikely to get healthy in time to appear in any minor league games, so the club simply shut him down and decided not to push it. We're all still waiting for that first professional at-bat.
Scouting Report
Any conversation about Judge has to start with his size. He's listed at 6-foot-7 and 255 lbs., meaning he's taller than every non-Frank Howard outfielder in baseball history. Most reports I've found compare him physically to guys like Jimmy Graham and Blake Griffin, not baseball players. Judge is a very athletic for his size and is a good runner. It's not like he's some big lumbering guy who waddles around in the outfield. He's a good defender with a strong arm who played center in college but will likely wind up in right field down the road.
Judge's offensive calling card is his huge right-handed raw power, the kind of power that allows him to hit the ball out of any part of any park. He does not always tap into during games, however, because he tends to get under the ball and not create as much loft as he should. The coaches at Fresno State worked to get him more upright in his stance, which contributed to his increased power output as a junior. The power is legitimate 30+ homer type of stuff, but there is work to be done before he carries that over into games.
Despite a relatively short swing and a disciplined approach, Judge projects to be a .250-ish hitter who strikes out in a quarter of his plate appearances, or thereabouts. He has pretty long arms (obviously) and sets his hands up high, so that power comes with quite a bit of swing-and-miss ability. If he had better contact skills and a chance to hit for more average, he'd have been a top ten pick. Judge is what he is offensively, and that's a guy whose value at the plate will depend on his ability to tap into that power.
Video
There is whole bunch of video of Judge at YouTube and some at MLB.com as well. I can't find video of him pitching in high school, however. That's a shame.
2014 Outlook
I've always said that if you take a college hitter in the first round and are not comfortable sending him right to High Class-A in his first full professional season, you probably took the wrong guy. Judge spend three years at a major program in Fresno State and he was an everyday player as soon as he arrived on campus. Low-A Charleston would be a waste of time. He should start next year with High-A Tampa and could earn a midseason promotion to Double-A Trenton, though I don't think it's a slam dunk.
My Take
I love big hulking sluggers who swing for the fences and can hit the ball a mile, so Judge is right up my alley. Power in general is at a premium these days, especially right-handed power for the Yankees since Yankee Stadium helps their lefties so much. Judge has the ability to hit some dingers and he can contribute both on the bases and in the field as well — he's not some one-dimensional slugger who will be relegated to DH by time he's 27 or something. That's pretty big in my opinion. There are no position concerns. The Yankees have to work with him and help him unleash that power in games so he can realize his full potential, and that potential is exciting. Judge could be a true impact player if things work out. High risk, high reward, so on and so on.