On a cold day in February, I made a bet that I thought would be a sure thing. In a fit of Twitter arrogance, I threatened to eat my hat if Robinson Cano reached 80 walks. His previous career high had been 61.
@leokitty @joepawl If Cano walks 80 times this year, I will eat the hat I'm wearing in my Twitter avatar. Favorite this.

— Benjamin Kabak (@bkabak) February 14, 2013
How could things go wrong, I thought. The Yanks didn't have a great lineup entering the season, but they seemed to be able to offer up Cano enough protection that he wouldn't blow past his 2012 walk total. And the things went south in a hurry. Derek Jeter wasn't ready to return really at all this year while Curtis Granderson suffered two freak accidents. Kevin Youkilis and Travis Hafner were total busts, and Cano was left holding the Yanks' offense on his shoulders.
For a few months, things looked dicey. As Robbie emerged as the only real slugger in the Yanks' lineup, his walk totals rose precipitously. After walking only 18 times in April and May combined, Robbie drew 18 free passes in June, and this four-walk affair at the hands of Joe Maddon and the Rays seemed to represent my nadir. Would I be able to eat an inedible item made of sponge and wire?
From May 24 through July 28 — a span of 59 games — Cano drew 39 free passes, ten of which were intentional. That's a pace of over 100 in a 162-game season, and the hat seemed doomed. Even accounting for his slow start, Cano was on pace to draw 81 walks, and I figured all was lost. But then Alfonso Soriano arrived and Alex Rodriguez returned. It was all wine and roses from there.
From July 29 through the end of the season, Cano returned to his free-swinging ways. He drew just 13 walks while still hitting a robust .346/.391/.528. The intentional walk well fell dry as well since he now had protection in the lineup. Opposing mangers IBB'd Robbie just twice over the final two months of the season.
And so the hat was saved. Despite sweating out a tough summer, despite a short-lived Tumblr with hat recipes and an RAB Countdown, the hat has survived the winter. Robbie ended the year with 65 walks — a new career high but a far cry from the 80 he needed to achieve for us to see what happens when man eats toxic sponge. I'd say that's a season that went very, very right.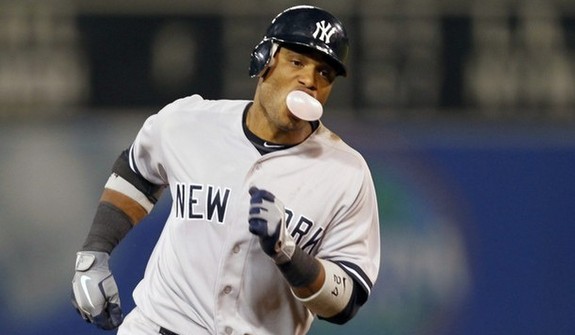 Outside of the walks, though, Cano's season was a bright spot. He hit .314/.383/.516 with 27 home runs and 107 RBIs. He played a spectacular second base and seemed to be a leader in the clubhouse when the top veterans were injured. After hitting 21 dingers prior to the All Star Break, he launched only six more longballs all year but still hit .331/.379/.494. He appeared on his fifth All Star game and placed fifth in the AL MVP voting.
What comes next though is more important than what he did. We've followed the saga of Robbie very closely. He's a premier offensive player who can man his position with the best of them. He's Jay-Z's first client and star in New York City. He's also turned 31 a little over a month ago and wants a long-term commitment with lots of dollar signs attached. The Yanks can't afford to let him go but may not want to pay. Yet for all the public posturing, they need Robinson Cano. I won't say I'll eat my hat if he doesn't sign with the Yanks; I've learned my lesson there. But I'd be very, very surprised if the team's best player in 2013 isn't wearing his Yankee pinstripes come April.