Thanks to all the injuries, the Yankees used a franchise record 56 players this season. Fifteen of those 56 players appeared in no more than ten games, which isn't much of a surprise. The last spots on the bench and in the bullpen were revolving doors all summer. Most of those miscellaneous players were awful, enough to help push the Yankees out of the postseason picture. Here are the worst players to walk through those revolving doors.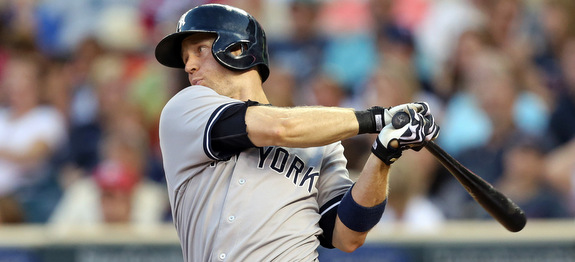 David Adams
The signs were there, we just didn't want to see them. The Yankees released the 26-year-old Adams in Spring Training to clear a 40-man roster spot for Vernon Wells (!), but no team took a chance on him and New York re-signed him to a minor league contract a week later. When Kevin Youkilis went down with his inevitable back injury, Adams got a chance to play third base on a regular basis. Things went quite well at first — 13-for-44 (.295) with two homers in his first eleven games — but they crashed in a hurry. Adams fell into a 4-for-51 (.078) slump and wound up back in Triple-A before resurfacing later in the season. Overall, he hit .193/.252/.286 (45 wRC+) in 152 plate appearances, though he did play solid defense at second and third bases. Adams had a pretty great opportunity this summer, but he couldn't capitalize.
Zoilo Almonte
Almonte, 24, got his chance when the Yankees finally got sick of Wells and benched him in mid-June. Zoilo's big league career started out well — he had three hits (including a homer) in his first start (video), reached base three times the next day, then doubled twice the day after the that — before he cooled off and got hurt. Almonte put up a .236/.274/.302 (55 wRC+) line with the one homer and three steals in 113 plate appearances before an ankle sprain effectively ended his season in mid-July (he did return in late-September, but played sparingly). The fun was short-lived.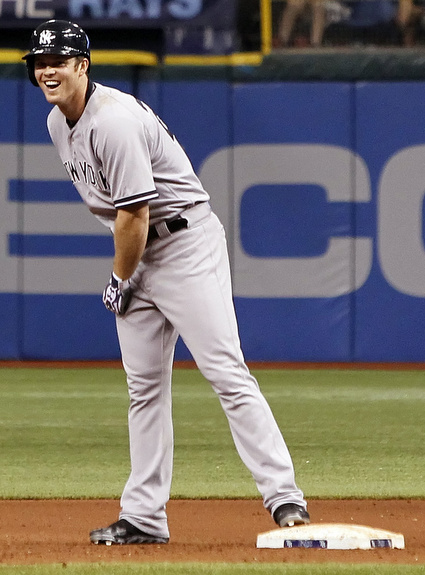 Brennan Boesch
You may not agree, but I think Boesch was a pretty significant loss this past season. The 28-year-old managed a .275/.302/.529 (124 wRC+) batting line with three homers in 53 sporadic plate appearances and appeared to be a perfect fit for Yankee Stadium's short right field porch, but he was sent to Triple-A Scranton when Curtis Granderson came off the DL (the first time). He lasted a little more than a week in the minors before suffering what proved to be a season-ending shoulder injury. The Yankees released him in mid-July when they needed a 40-man spot. Had Boesch been healthy, there's a good chance he would have been given the opportunity to play everyday following Granderson's second injury considering how poorly Ichiro Suzuki hit for a good part of the summer. Boesch is a flawed player but his lefty pop would have been useful. For shame.
Chris Bootcheck
Bootcheck, 35, emerged as the ace for Triple-A Scranton this past season (3.69 ERA and 4.20 FIP in 136.2 innings) and he managed to appear in one game with the big league team. On June 14th, he allowed one run on two hits and two walks in 1.1 innings against the Angels. Bootcheck got his chance because Adam Warren threw six innings of relief (in the 18-inning game against the Athletics) earlier on the road trip and wasn't going to be available for a few days, so the team needed a replacement long reliever. He was designated for assignment at the end of the trip when Warren was again available.
Reid Brignac
Is it possible to be a poor man's Brendan Ryan? Do those exist? If they do, I nominate the 27-year-old Brignac. He was with the Yankees from mid-May through mid-June, during which time he showed off a slick glove and hit an unfathomable .114/.133/.136 (-38 wRC+) with 17 strikeouts in 45 plate appearances. Brignac played 15 games in pinstripes and he reached base multiple times in only one of them. It was ugly.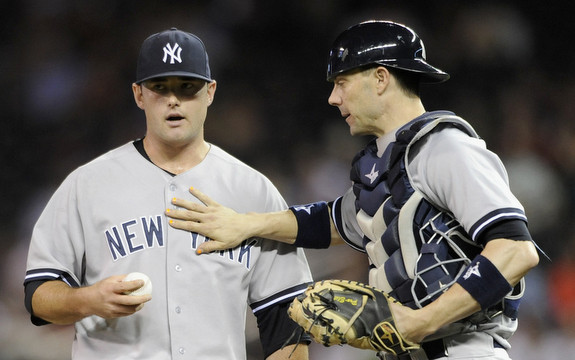 Preston Claiborne
For a few weeks, Claiborne looked like the next great homegrown Yankees reliever. He started his big league career with 14 straight walk-less outings and allowed just one run in his first 20 innings in pinstripes. Claiborne, 25, had settled into a seventh inning setup role, but he allowed 13 runs and 38 base-runners in his next 25.2 innings and earned a trip back to Triple-A. When he resurfaced in September, he allowed nine runs and four homers (!!!) in five innings. Fatigue was the oft-cited excuse for his fade, but Claiborne threw only 61.1 innings in 2013 after throwing 82 innings in 2012 and 81 innings in 2011. It's possible, sure, but I have a hard time buying it. Claiborne finished the season with a 4.11 ERA and 4.14 FIP in 50.1 innings, but outside of those first 14 appearances, he was very untrustworthy.
Luis Cruz
Cruz, 29, was the team's fifth different starting shortstop in their first 84 games, but he actually wound up playing more games at third (13) than short (five). An all-glove, no-hit type like Ryan and Brignac, Cruz hit .182/.224/.200 (13 wRC+) in 59 plate appearances while playing excellent defense after being picked up off the scrap heap. He was the best non-Ryan infield defender the team employed this past season, I thought. Cruz's season came to an end in late-July thanks to a knee sprain, and the Yankees eventually designated him for assignment to clear a 40-man spot for Reynolds.
Cody Eppley
Remember Eppley? He was actually on the Opening Day roster, believe it or not. His terrible Spring Training (12 runs in eight innings) carried over to the regular season, where he allowed four runs in 1.2 innings before being sent to Triple-A Scranton when Phil Hughes was ready to come off the DL in early-April. Eppley, 28, continued to stink in Triple-A (18 runs in 19 innings) and was eventually released to clear a 40-man spot for Claiborne. He was a nice middle relief find for the Bombers last season, but things went so wrong this year that he was pitching in an independent league by August.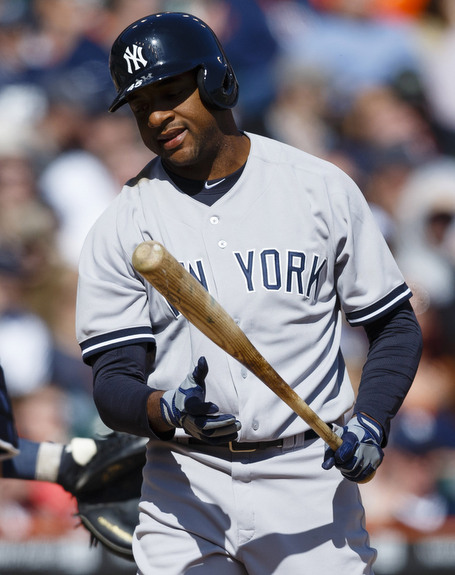 Ben Francisco
The Yankees took a "throw a bunch of stuff against the wall and see what sticks" approach to filling their right-handed outfield bat spot, eventually settling on the 32-year-old Francisco. He was released by the Indians in Spring Training and managed to beat out guys like Matt Diaz and Juan Rivera. Francisco lasted 48 team games, hitting .114/.220/.182 (13 wRC+) in 50 plate appearances overall while going 3-for-34 (.088) against southpaws. On the bright side, he did hit the team's shortest homerun of the season. I guess that's something. The Yankees designated Francisco for assignment on May 26th, when they claimed David Huff off waivers from the Tribe.
Alberto Gonzalez
Gonzalez, 30, had two stints with the Yankees this season. He appeared in three games in mid-May and ten more from late-June through mid-July. The Former Attorney General went 6-for-34 (.176) in his limited time, but he did go 2-for-4 with a double and three runs driven in during a game against the Twins on July 2nd (video). Gonzalez also offered a nice glove, though not as nice as Brignac's or Ryan's.
Travis Ishikawa
Yes, Ishikawa was a Yankee this season. They nabbed the 30-year-old off waivers in early-July, watched him go 0-for-2 with two strikeouts on seven total pitches in his only game in pinstripes, then designated him for assignment to clear a roster spot for Derek Jeter, all in the span of six days. When's the Yankeeography?
Corban Joseph
Joseph, 25, had two stints with the big league team in 2013, going 1-for-6 with a double, a walk, and a strikeout while starting both ends of a doubleheader against the Indians in mid-May. His season ended later that month, when he needed surgery to repair his shoulder. The Yankees removed Joseph from the 40-man roster last week, though he remains in the organization.
Brent Lillibridge
Part of that left side of the infield circus, the 30-year-old Lillibridge spent a little more than three forgettable weeks in pinstripes in late-July and early-August. He went 6-for-37 (.171) with eight strikeouts while playing okay defense in eleven games with the team, though unlike many other guys in this post, he did have the proverbial One Big Moment. On July 23rd against the Rangers, after Eduardo Nunez tripled in the tying run against Joe Nathan in the ninth inning, Lillibridge singled in Nunez for the go-ahead and eventual game-winning run (video). He drove in a run with a fielder's choice earlier in the game. Lillibridge was designated for assignment when Alex Rodriguez came off the DL.
Brett Marshall
This was a really bad year for Marshall, who had a poor season with Triple-A Scranton (5.13 ERA and 4.62 FIP in 138.2 innings) and didn't stand out in his three-appearance cameo with the big league team. The 23-year-old allowed six runs and 21 base-runners in a dozen garbage time innings, walking as many batters as he struck out (seven). He did manage to save the bullpen by holding the Red Sox to one run in 4.1 innings during a blowout loss in one of those appearances, however. Marshall also got to pitch in front of his family near his hometown in Houston during the final game of the season (video), so that was neat.
Jim Miller
Miller, 31, struck out 92 batters in 63.1 innings down in Triple-A this past season (3.55 ERA and 3.22 FIP), but he got hammered in his only big league game, allowing three runs to the Red Sox in a four-out appearance on September 7th. The Yankees were desperate for bullpen help at that point and he was a warm body. Apparently the team saw something they liked though, because they re-signed Miller to a minor league deal recently.
J.R. Murphy
The 2013 season was an overwhelming success for the 22-year-old Murphy, but not because of his big league performance. He hit .269/.347/.426 (117 wRC+) across two minor league level before joining the Yankees in September, when they added him to the 40-man roster because he was going to be Rule 5 Draft eligible after the season anyway. Murphy went 4-for-26 (.154) in 16 games during his late season cameo and looked fine defensively.

Thomas Neal
Neal, 26, was the organization's #Free[RandomGuy] this past season. You know what I mean, right? The random Quad-A player sitting in the minors who would be so much better than whoever they have at the big league level if they'd only give him a chance! Yeah, you know what I'm talking about. Anyway, Neal put up a .325/.391/.411 (130 wRC+) in 297 plate appearances for Triple-A Scranton before going 2-for-11 (.133) with really bad defense during a four-game cameo in pinstripes in mid-June. He was designated for assignment when Granderson came off the DL (the second time) and was subsequently claimed off waivers by the Cubs.
Chris Nelson
Nelson was something of a pioneer this past season. He was the first of many players the Yankees acquired in an effort to solidify the left side of the infield, coming over from the Rockies in a minor trade in early-May. Nelson, 28, played ten games in pinstripes, all at third base, and went 8-for-36 (.222) with eleven strikeouts at the plate. He actually went 0-for-10 in his first three games and 8-for-26 (.308) in his last seven. The team designated Nelson for assignment when they called up Adams, and he was then claimed off waivers by the Angels. Naturally, Nelson returned to the Bronx with the Halos in mid-August and hit two homers (including a grand slam) in one game against the Yankees. Go figure.
Mike Zagurski
I wish I had kept track of home many times Zagurski warmed up but did not appear in the game in September. The guy was up every game it seemed. Zagurski, 30, spent most of the year bouncing between organizations before getting the call as an extra lefty late in the season. In his only appearance with the team, he faced three batters and allowed two runs. That appearance made him the franchise-record 56th player used by the Yankees in 2013. Let us never talk of this season again.