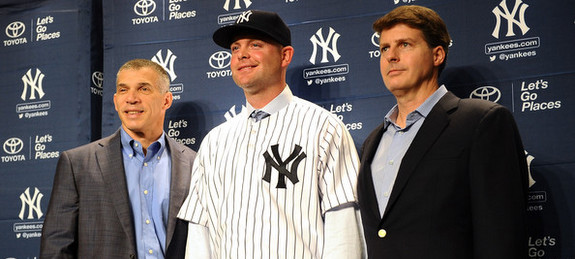 Boy have things changed since we last looked at the Yankees' payroll situation. They lost Robinson Cano and Curtis Granderson to free agency but responded with four significant signings (plus one smaller one) of their own. There was also the non-tender deadline, which brought about some change. These last few weeks have been quite busy for the Bombers.
Needless to say, the chances of the Yankees staying under the $189M luxury tax threshold next season have taken a big hit. The team has been talking about staying under the threshold (at every opportunity, it seemed) for a good two years now, plus just about every move they made was geared towards achieving that goal. Just look at the way they structured the money in the Vernon Wells trade last spring.
Here is an updated look at the team's payroll situation heading into next season. These are "luxury tax hits," not actual 2014 salary. The two can be different. For reference, here are Part One (January), Part Two (August), and Part Three (November) of the series.
Under Contract ($172.61M): Alex Rodriguez ($27.5M), CC Sabathia ($24.4M), Mark Teixeira ($22.5M), Jacoby Ellsbury ($21.9M), Brian McCann ($17M), Hiroki Kuroda ($16M),  Carlos Beltran ($15M), Derek Jeter ($12.81M), Ichiro Suzuki ($6.5M), Alfonso Soriano ($4M), Kelly Johnson ($3M), Brendan Ryan ($2M), Wells ($0)
Arbitration-Eligible ($14.8M projected): David Robertson ($5.5M), Brett Gardner ($4M), Ivan Nova ($2.8M), Shawn Kelley ($1.5M), Frankie Cervelli ($1M)
Pre-Arbitration-Eligible: Zoilo Almonte, Dean Anna, Manny Banuelos, Dellin Betances, Cesar Cabral, Jose Campos, Preston Claiborne, Ramon Flores, Shane Greene, Slade Heathcott, David Huff, Brett Marshall, Bryan Mitchell, J.R. Murphy, Eduardo Nunez, Vidal Nuno, David Phelps, Michael Pineda, Jose Ramirez, Austin Romine, Gary Sanchez, Nik Turley, Adam Warren
Potential Bonuses ($13.5M): Jeter (up to $7M based on awards), A-Rod ($6M for his 660th career homer), Kuroda (up to $500k based on innings)
Other ($12.085M): Benefits (approximately $12M), Kuroda's translator ($85k)
Yes, Kuroda's translator counts against the luxury tax, at least according to Dan Martin and Ken Davidoff. I know, it's silly, but it is what it is. Eight-five grand doesn't sound like much, but it is one month's worth of the league minimum salary. That means one fewer September call-up if the team wants to stay under the luxury tax threshold. Like I said, silly.
Anyway, add the guys under contract to the arbitration eligibles to the possible bonuses to the "other" and you get $212.995M. The 15 guys on the 40-man roster — there are 41 players listed above because the Beltran deal is not official yet, but they will have to make a move to accommodate him once the deal is final — but not on the active 25-man roster are usually estimated at $2-5M, so let's use the high end and go with $5M. Now we're up to $217.995M. The Bombers opened this past season at $228.1M and ended it at $236.2M, in case you're wondering.
Obviously, the Yankees are not getting under the threshold without A-Rod getting suspended for all of next season. Not unless they trade Teixeira and Ichiro or something. Subtract out Alex's salary and homer bonus and we're down to $184.495M. Basically $4.5M under the luxury tax. Feel comfortable saying Jeter won't win the MVP? I think that's a safe assumption — he hasn't won an MVP yet and is now coming off what amounts to a lost season at age 39. Eliminating the "win MVP" bonus from his contract frees up another $4M and brings us down to $180.495M.
What does that $180.495M buy the Yankees? Here is the projected 25-man roster as of right now:
Catcher

Infielders

Outfielders

Rotation

Bullpen

McCann
1B Teixeira
LF Gardner
Sabathia
Robertson
2B Johnson or ?
CF Ellsbury
Kuroda
Kelley
DH
SS Jeter
RF Beltran/Soriano
Nova
? (Warren)
 Beltran/Soriano
3B Johnson or ?
? (Phelps)
? (Huff)
?
? (Betances)
Bench
?
C Cervelli
OF Ichiro
?
IF Ryan
OF Wells
There are eight total ?s but we can eliminate four with internal solutions. Those are the guys in parentheses. Phelps, Warren, Huff, and Betances — Huff and Betances are both out of minor league options (can't go to Triple-A without passing through waivers) and that could give them a leg up when cut day comes around at the end of camp — will all earn something close to the league minimum, so that's another $2.2M or so spent right there with four ?s still to be answered.
I assume those four ?s will go to veteran players yet to be acquired. That would be ideal, anyway. I guess they could go with Cabral and Clairborne for those final two bullpen spots, or maybe re-sign Matt Daley, but that would be a really sketchy relief corps behind Robertson. The Yankees would have just $6.305M to fill those four holes ($189M – $180.495M – $2.2M), which isn't much. A big name starting pitcher like Masahiro Tanaka or Matt Garza or whoever isn't happening without going over the threshold. Ditto Omar Infante. We're talking $6.305M for a second/third baseman, a starter, and two relievers. Plus they'll need to leave a little something for midseason call-ups and additions. Gonna be tight.
I see only three ways the Yankees could realistically trim payroll. They could dump Cervelli and replace him with the cheaper Romine or Murphy, but if they were going to do that, they would have non-tendered Frankie last week. That would only save about $450k anyway. The other two ways to clear some payroll space are by trading Gardner and/or Ichiro. There is "significant interest" in Gardner and the team is shopping Ichiro, so the wheels are in motion. Saving even $3M by dealng Ichiro would be a win. They could replace him with Almonte at the league minimum and see basically no drop in production (Steamer and Oliver projections both have them as sub-1.0 WAR players in 2014, if you care). Zoilo would add some nice versatility to the bench as a switch-hitter as well, but I digress.
Obviously this whole exercise is just an estimate, a ballpark figure. We can only be so precise from the outside. The arbitration-eligible guys could come in at a higher or lower salary than projected, for example. Ditto the benefits package all 30 teams must pay. Maybe the Yankees are comfortable saying Jeter won't even finish in the top six of the MVP voting, nevermind win it. That would free up another $2M of potential bonus money. (I'm an idiot, disregard that last part.) There's plenty of wiggle room here, but I think we can say that while staying under the $189M luxury tax threshold is still possible, it will be very difficult to actually pull off following the team's recent moves.
According to David Waldstein, Hal Steinbrenner has given the okay to go over the threshold despite his recent public insistance that it remains their goal. Perhaps he's softened his stance given how much revenue declined from 2012 to 2013 ($58M in ticket sales alone). They have already spent as if A-Rod is being suspended, after all. The Yankees have some payroll space left before getting to $189M, but they also have some roster holes to address. Their next move will be telling — if they sign a starter to a big money deal, forget it. They're going over. If they sign someone cheap or shed salary in a trade, they might plan on seeing this thing through.