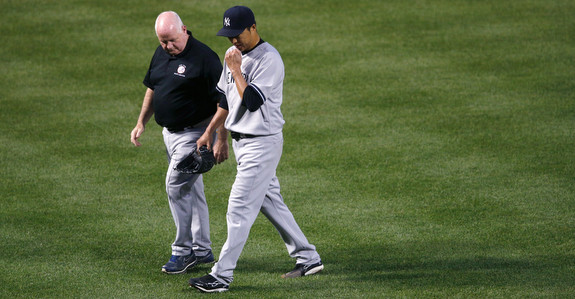 The Yankees came into the offseason needing at least two starting pitchers and so far they've added just one, re-signing Hiroki Kuroda to a one-year contract. He was the team's best pitcher in each of the last two seasons and makes perfect sense on a one-year deal, but he is also the second oldest starter in the AL behind R.A. Dickey. Age brings a bevy of concerns.
Chief among those concerns is injury … well, both injury and recovery time. Older players tend to take longer to heal, that's just the way the human body works. The Yankees have had a lot of health problems in recent years (both injuries and setbacks) thanks in part to their older roster. They've made their bed and have had to sleep in it when it comes to players getting hurt, and given their moves this winter, they're content with rolling the dice again in 2014.
Last week, Jeff Zimmerman at FanGraphs published his annual starting pitcher DL projections, which have been shockingly accurate over the years. It's not a specific injury projection (so and so will have a shoulder problem, etc.), just a projection of who will visit the DL next season based on their age and workload, as well as other factors like breaking ball usage and strike-throwing ability. It's complicated, so click the link for the full explanation.
The Yankees only have three starters locked into spots next season: CC Sabathia, Ivan Nova, and Kuroda. A bunch of young kids will compete for the fifth spot and that fourth spot figures to go to a pitcher to be acquired later. Not only are Sabathia (career-worst year in 2013), Kuroda (crashed hard late in 2013), and Nova (erratic has hell) performance concerns heading into next season, but they're also DL risks according to Zimmerman's data.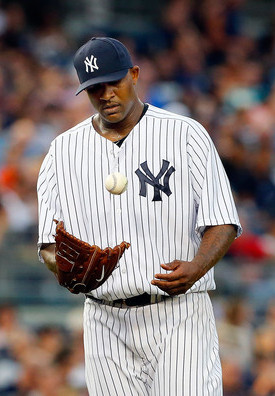 Sabathia: 47% chance of landing on DL
It wasn't too long ago that Sabathia was baseball's preeminent workhorse, and in some ways he still is — he is one of four pitchers to throw at least 200 innings in each of the last seven seasons (Justin Verlander, Mark Buehrle, and James Shields are the others). Over the last 26 months, however, CC has dealt with a torn knee menisicus, a groin strain, elbow stiffness, a bone spur in his elbow, and a hamstring strain. He has finished each of the last three seasons either injured or in need of offseason surgery. Sabathia is getting up there in years and he's thrown a frickin' ton of innings in his career, and he compounds the problem by not telling anyone he's banged up until it gets really bad (he pitched through the knee, elbow, and hamstring problems). It's no surprise his risk of landing on the DL is so high, 16th highest among the 128 projected pitchers.
Kuroda: 43% chance of landing on DL
Kuroda has avoided the DL since arriving in New York but he has dealt with fatigue late in each of the last two seasons, so much so that he stopped throwing his usual between-starts bullpen session in September. He had a shoulder problem in 2008, an oblique problem in 2009, and a concussion (hit by a line drive) in 2010. Kuroda has topped 195 innings in each of the last four seasons and 180 innings in five of his six seasons in MLB. His DL projection is the 34th highest thanks mostly to his age.
Nova: 41% chance of landing on DL
Coming up through the minors, Nova was a workhorse who rarely missed a start. He has been hurt in each of the last three seasons though, missing time with a forearm strain (2011), shoulder tightness (2012), and triceps inflammation (2013). That's three arm-related injuries in the last three years, albeit minor non-structural injuries that shelved him no more than a few weeks at a time. Nova has youth on his side, but his DL projection is still the 45th highest out of the 128 projected pitchers.
* * *
Now, obviously, every pitcher is an injury risk. It comes with the territory. Some are riskier than others for a variety of reasons. The pitcher most likely to land on the DL next season according to Zimmerman is Bartolo Colon (64%), which makes sense given his age, injury history, and general portliness. He's the only active pitcher over 60% (retired Andy Pettitte is at 63%). The pitcher least at risk is Madison Bumgarner (26%). The top free agent hurlers rank anywhere from not that risky (Ervin Santana, 34%) to moderately risky (Ubaldo Jimenez, 38%) to very risky (Matt Garza, 51%).
As for the Yankees, they have three of the 45 starters most at risk of visiting the DL next season, and that's on top of their performance concerns. The team does have some nice back-end depth in David Phelps, Adam Warren, Michael Pineda, and Vidal Nuno, but three of those four guys spent at least a few months on the DL this past season themselves. Only Warren made it through the entire year healthy. The Bombers not only need to add a starter, they need to add a durable innings guy they can count on to take the ball every fifth day.