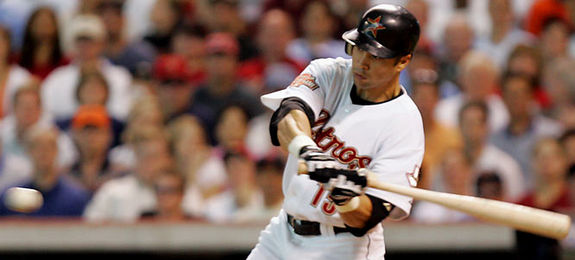 Mason asks: Watching the press conference I couldn't help but wonder what the Yankees' postseason history would look like had they signed Carlos Beltran back when he was a free agent coming from the Astros. It just seems inconceivable looking back that they wouldn't have brought him on. What changes if he is brought on in that offseason?
I've said this more than once and I still think it's true: passing on Beltran during the 2004-2005 offseason was the team's biggest mistake during the Brian Cashman era. I thought it was a no-brainer. Beltran was only 27 at the time and he was a 30/30-ish switch-hitter who got on base a ton and played very good defense in center. Bernie Williams was pretty much done and the team had no obvious long-term center field solution. He was perfect. The Yankees didn't sign Beltran that winter and instead spent their money on Randy Johnson, which was justifiable. Starting pitching was a huge need as well.
Anyway, it's impossible to say how things would have played out had they acquired Beltran instead of Johnson that winter, so this is nothing more than guesswork. The Yankees went to the postseason six times and won a World Series during the span of Beltran's seven-year contract with the Mets and it's not a guarantee he would have made things better. Remember, they were bounced from the postseason in 2005, 2006, 2007, and 2010 largely because the pitching stunk. The hitting was a problem in 2011 and maybe having him would have helped them beat the Tigers in the ALDS. Otherwise the pitching was never good enough for one big bat to make a real difference.
Had the Yankees signed Beltran back in the day, I'm pretty sure they would not have signed Johnny Damon the following the winter. Damon was very good in New York but Beltran greatly outproduced him from 2006-2009 (135 wRC+ and 22.9 fWAR vs. 116 wRC+ and 12.7 fWAR). I do think they would have still re-signed Hideki Matsui that winter since he was a True Yankee™ and the difference in annual salary between Damon and Beltran was only $4M. Not enough to throw a wrench into future deals.
Is the Bobby Abreu trade still made with Beltran? Probably, since both Matsui and Gary Sheffield were hurt. Damon was both healthy and productive in 2006. I don't think having Beltran would have changed Melky Cabrera's career path all that much aside from not getting the ill-advised call-up in 2005. There still would have been plenty of opportunity for him in 2006, which is when he played his way into a regular job (98 wRC+ and 1.6 fWAR, which he never repeated in New York). I don't think the outfield picture would have looked radically different from 2005-2008, it just would have been Beltran in center and Melky in left instead of Melky in center and Damon in left.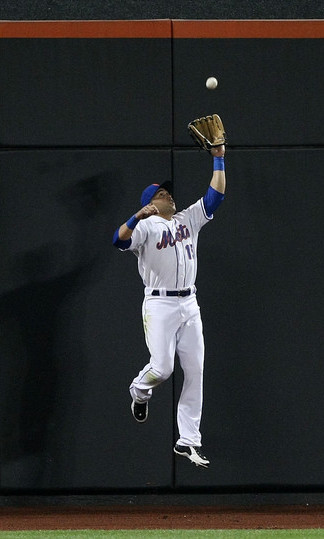 The 2009 season is where this hypothetical gets interesting. Beltran's knees started to give out that year and he missed close to three months in the middle of the season. He was healthy when September rolled around though, so the Yankees would have had him for their playoff push. That team was so good that I don't think losing Beltran for three months would have derailed them. They won the division by eight games, though they were four back on the day he got hurt (June 21st). Maybe that leads to Cashman making a deal at the deadline. Matt Holliday was the big name outfielder traded that summer, but lesser guys like Nate McLouth, Mark DeRosa, and Scott Hairston were also dealt. A trade for one of those guys would have changed things quite a bit both that year and in future years depending on the trade package.
Beltran missed most of 2010 with knee problems but was healthy for the second half and a potential playoff drive. The Yankees made the postseason by seven games that year, so losing him wouldn't have been a season-killer. Beltran was no longer a superstar at that time anyway. Going from him to say, McLouth for three months would have been a two or three win drop. That assumes McLouth would have been as terrible in New York as he was in Atlanta. The Rangers outscored the Yankees 38-19 in the ALCS that year and I doubt Beltran makes much of a difference. He was healthy in 2011 and could have made a difference in the ALDS, when New York lost three games to the Tigers by a total of four runs. Would that 2011 squad have beaten the Rangers in the ALCS or the Cardinals in the World Series? I don't think so. Ivan Nova and Freddy Garcia were the number two and three starters, remember.
Like I said earlier, this is all just guesswork. Beltran's career path would have changed completely had he signed with the Yankees back in the day — maybe he would have avoided the knee problems all together or maybe he would have been hurt even more. Maybe the team signs Damon and lets Matsui walk instead. Maybe they can't afford to trade for Abreu in 2006. Who knows? I thought the Yankees should have signed Beltran back in the day (especially after he offered to take a discount, geez) but I don't think we can simply assume the club would have been better off from 2005-2011 just because he was on the team. Way too many variables in play.