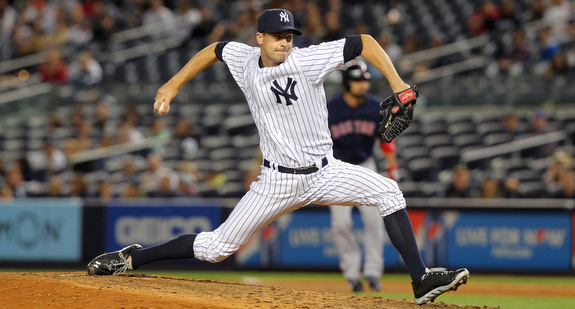 The Yankees have re-signed right-hander Matt Daley to a minor league contract, reports Matt Eddy. I assume he received an invitation to Spring Training as well. Daley was non-tendered earlier this month, but soon thereafter we heard the team had interest in retaining him as a non-40-man roster player.
Daley, 31, allowed two hits and zero walks while striking out eight in six scoreless September innings this past season. The Queens native was awesome in the minors, pitching to a 2.02 ERA (1.88 FIP) in 53.1 innings at three levels after returning from shoulder surgery. Daley has a 4.38 ERA (3.65 FIP) in 86.1 career big league innings, all with the Yankees and Rockies. The Bombers originally signed Daley soon after the surgery two offseasons ago and rehabbed him.
As of right now, the only players guaranteed to be in the bullpen next year are David Robertson, Shawn Kelley, and the recently signed Matt Thornton. The Yankees obviously like Daley, otherwise they wouldn't have signed him after the surgery and helped him rehab for two years. Depending on how the rest of the offseason shakes out, he could compete against kids like Dellin Betances and Jose Ramirez for a bullpen spot in camp.