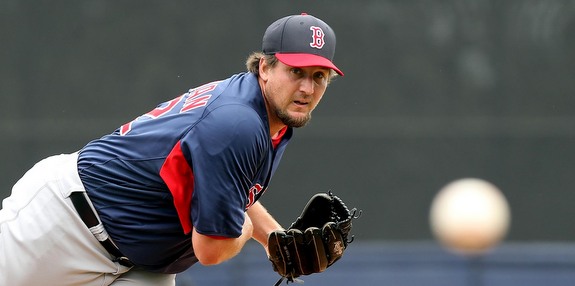 Outside of Matt Thornton and some minor league pickups, the Yankees didn't do much to improve their bullpen this past offseason. David Robertson will take over as closer but the team did not replace Mariano Rivera in the sense that they lost an elite reliever and didn't pick up anyone to take his spot. New York has a bunch of interesting young guys in camp and Joe Girardi always seems to cobble together a good bullpen out of nowhere, so it might not even be a problem.
The Yankees signed former All-Star closer Andrew Bailey to a minor league contract over the weekend, but that move is geared more towards 2015 than 2014. He is rehabbing from surgery to repair a torn shoulder capsule (and labrum!) and both Girardi and Brian Cashman confirmed that if he does pitch this year, it won't be until late-August or September. According to Andy Martino, the Yankees have been monitoring two other relievers who are returning from injury and could provide more immediate help:
It turns out the Yanks sent a scout to a recent showcase for former Phillies closer Ryan Madson, according to a source — and while impressed by Madson's arm after two years of rough recovery from Tommy John surgery, the team considered his asking price excessive.

The Yankees also continue to monitor another another former All-Star, Joel Hanrahan, who underwent Tommy John last year (the Mets have also watched him throw a bullpen session).  If Robertson is successful, a player like Hanrahan would probably serve as a setup man.
Madson is the rare Tommy John surgery failure story — he had the procedure two years ago and has not pitched since due to continued setbacks and complications. The 33-year-old has been working out for teams for a few weeks now and there have been no reports of his asking price, whatever it may be. After two lost years, I've been assuming he would have to take a minor league deal like Bailey. I guess he's shooting for more since he's in a better position to help a team right away.
Hanrahan, 32, not only had Tommy John surgery last May, he also had his flexor tendon repaired and bone chips removed from his elbow. They did all three procedures at once and while he is currently throwing off a mound, Hanrahan isn't expected to be game ready until May or June. There's a chance he will be ready sooner rather than later just because he's a one-inning reliever and won't have to get stretched back out like a starter.
Given his timetable and the nature of his injury, Hanrahan might be the best 2014 bullpen option among himself, Bailey, and Madson. We know Bailey won't be able to help until late in the year, if at all. Madson hasn't pitched in two years and since he's already had so many setbacks with the elbow, I don't think you can count on him to be healthy and productive until he's actually on a big league mound being healthy and productive. All three guys were elite when they were last healthy, but Hanrahan's injury is the least severe. (They're all severe, obviously.)
The Yankees have been signing injured pitchers and waiting for them to get healthy for years. They did it with Jon Lieber (worked out) and Octavio Dotel (didn't work out) back in the day and with David Aardsma (didn't work out) more recently. Bailey is the latest example and if Madson's demands remain excessive for a pitcher who hasn't pitched in two years, Hanrahan could be the next. With nothing but scraps left on the free agent market and teams not really looking to trade relievers at the moment, he is their best option for potential high-end bullpen help in the near future.