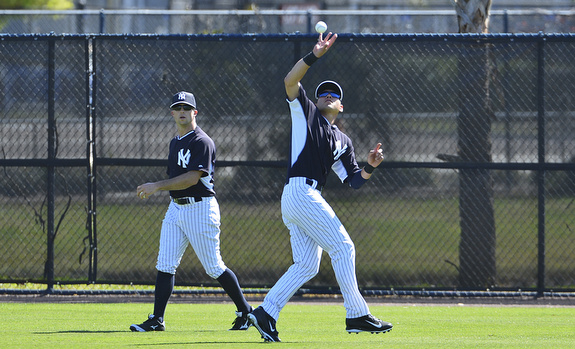 For all the talk about their shaky infield, the Yankees figure to boast one of the strongest outfield units in baseball this season. They have two legitimate starting caliber center fielders in Brett Gardner and Jacoby Ellsbury, as well as two veteran, middle of the order corner outfield bats in Alfonso Soriano and Carlos Beltran. Fitting all four guys into one lineup will take some creativity on Joe Girardi's part but nothing crazy.
Girardi confirmed earlier this week that Ellsbury will be his everyday center fielder because duh. They didn't give the guy $153M not to play center field. Since the Ellsbury and Beltran signings, I think the general assumption has been that Gardner will move back to left field everyday while Soriano and Beltran split time between right and DH. Obviously you want Gardner in the field for his defense, and considering their ages, giving Soriano and Beltran regular turns at DH makes sense.
It's a wonderful plan in theory, but it is a little more complicated than that. Soriano has never played right field in his entire professional career and neither he nor Beltran have spent much time at DH. In fact, they've combined to start only 36 games at DH since 2005. Aside from Soriano's return to New York in the second half last year, both guys spent the entirety of that 2005-13 period in the National League, so when they were in the lineup, they played the field.
"I don't know,'' said Soriano to George King earlier this week when asked about his spot in the lineup. "They said something about DH and left field. I want to be in the lineup, it doesn't matter where … If I am the DH I will have to make adjustments. When the team is playing defense I will have to find a way to keep my body warm and ready.''
Being the DH is tough, especially for a veteran player used to playing the field everyday. Baseball players are creatures of habit, and when the routine they've spent years crafting has to change, it can be a tough adjustment to make. That doesn't mean it's impossible, but it is something to consider. For all we know, both guys could make that adjustment immediately and make this a non-issue.
The right field thing is a little different, particularly for Soriano. Like I said, he's never played right field before, so if the Yankees do plan to use him and Beltran in what amounts to a right field/DH platoon, he'll have to learn the position in Spring Training after spending most of his career in left. Again, it's not impossible, but it is an adjustment that will have to be made by a veteran player with a routine already in place.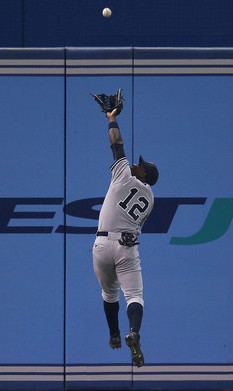 It's possible that Soriano will not have to make that adjustment, however. The Yankees could instead keep him in left field, where he's comfortable, and put Gardner in right field. Gardner has never played right field in his career either, but his athleticism and relative youth should make the transition easier for him than it would be for Soriano. His speed would also allow him to simply outrun his mistakes. Gardner has a better arm than Soriano and that should be considered as well — runners are going to go first-to-third on singles all day, everyday against Soriano.
"I played [left field] for a couple of years a few years ago. I feel comfortable over there," said Brett Gardner to Chad Jennings the other day when asked about moving out of center. "I told Joe I can play right too if he needs me to. I'll do whatever I'm needed to do to help the team win. Wherever I'm playing out there, wherever I'm hitting in the lineup, whatever he needs me to do, I'll be ready."
Gardner has already broached the idea of playing right field, so I assume he is on board with the idea. Aside from learning the position, the issue here is that right field in Yankee Stadium is tiny and it would be a waste to stick such a good defender there. There's more real estate to cover in left and that's where you want the rangier outfielder. That's not a deal-breaker but it is something to keep in mind.
If the Yankees want to keep Soriano comfortable and play him in left, the best solution might be a rotation based on whether the team is home or away. At home, Gardner could play left with Beltran in right. On the road, Soriano could play left while Gardner is in right. That way Gardner's range is used in Yankee Stadium's spacious left field and Soriano gets to play his usual position.
That arrangement does sound great in theory, but it is a little more complicated than it seems. How will Gardner handle shifting back and forth between positions? Most guys like to have one set position and know where they're playing everyday. Long homestands and road trips will also throw a wrench into things, especially if the team wants make sure Soriano and Beltran get regular turns at DH to stay fresh.
The Yankees are all but guaranteed to have an excellent outfield defense because of Gardner and Ellsbury, but it will be interesting to see how they handle the right field/DH rotation with Soriano and Beltran. Someone is going to wind up playing out of position most days, it's just a question of who.