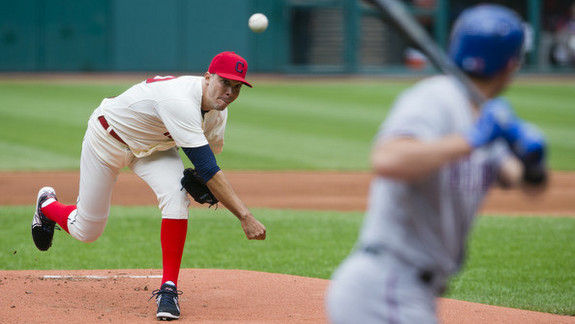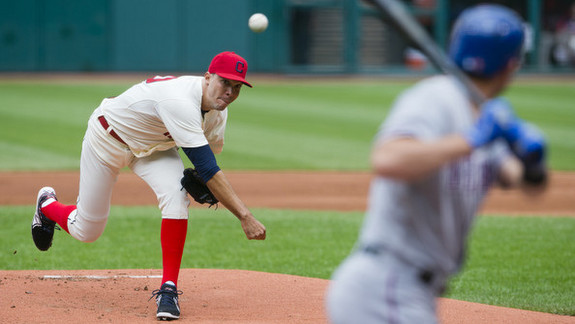 Everyone likes a shiny new toy. The Yankees have plenty of them this spring, having spent hundreds of millions on seven new players. But here's the thing about shiny new toys: no matter how many we have, we never mind having another.
The desire to sign Ubaldo Jimenez absolutely stems from the idea of acquiring another shiny new toy. Removing that aspect from the equation reveals reality. The Yankees don't need to sign Jimenez.
At the same time, there are practical reasons why signing Jimenez could benefit the Yankees now and in the future.
The Pineda factor
If the Yankees signed Jimenez, they would bring five surefire starting pitchers to camp. It would terminate the fifth starter battle, effectively ending Michael Pineda's chances of breaking camp with the team.
By all appearances, Pineda is ready to win a rotation spot. Given his youth and potential to help in 2015 and beyond, he is the ideal fifth starter candidate. Why remove him from the race, then?
Consider that:
1) Pineda has never thrown more than 171 innings in a season, and that came two full years ago. He threw just 40 last year. Coming off major shoulder surgery, can the Yankees count on Pineda for even 120 innings this year?
2) Five starters might come into camp, but what are the chances all five are healthy and effective come June 1? They'll need a sixth starter before long, whether that's due to injury or even Ivan Nova pitching like he did in 2012. Pineda will have opportunities.
3) If the Yankees don't need a sixth starter until, say mid-May, they might even eke out yet another year of control on Pineda. This is not a decisive factor by any means, but rather an added bonus.
The Yankees can manage Pineda's workload much more closely in AAA, where the results won't affect their playoff chances. They can pace him for 120 or 130 innings (if that's their goal for him) and adjust when he's needed in the majors.
In an ideal world, Michael Pineda breaks camp as the fifth starter and pitches like a No. 2 or No. 3 all season long. In reality, that's not at all likely. Adding Jimenez would hold back Pineda, but it might make his transition back to the majors a bit easier.
Warren, Phelps, Nuno
Even if the Yankees don't sign Jimenez, they have alternatives in case Pineda does indeed require more seasoning. Adam Warren, David Phelps, and Vidal Nuno all started games last year. Why not just use them?
None of them strikes me as a long-term starter on a first-division team. If needed to spot start four or five times during the season, they're fine. But are they guys capable of taking the ball every five days while facing off against AL East offenses?
Consider also the bullpen situation. Both Phelps and Warren have shown success in the bullpen, and could strengthen a unit that has just lost the greatest closer of all time. There are plenty of bullpen spots up for grabs this spring. It's doubtful any of the candidates fit the bill better than Phelps and Warren. Even if one of them does shine, there are four total spots up for grabs.
The man himself
It has become clear that Jimenez will not get an A.J. Burnett contract. Rumors swirled that he was willing to take three years and $39 million, but he might not get even that much. What seems more realistic is the Kyle Lohse special, three years and $33 million.
That price seems reasonable for a 30-year-old who just put up the best strikeout rate of his career. Jimenez started slowly, which was concerning after his nosedive in 2012. But he came back strongly and looked straight dominant in the second half. He might not be an ace, but in this situation he wouldn't need to be one, nor would he get paid like one.
Three years seems a reasonable commitment. The Yankees will almost certainly need another starter next year, assuming Hiroki Kuroda retires. Jimenez could give the Yankees another decent starter while they clean up the mess on the farm.
Do the Yankees need to sign Ubaldo Jimenez? Absolutely not. That's money they could spend elsewhere, namely the infield, even if they don't spend it until mid-season. (Because it's tough to spend money now when you can count the remaining infielder free agents on one hand.)
But if Jimenez falls into their laps for three years and $33 million?
Even ignoring the shiny new toy aspect, it's something they'd have to consider.