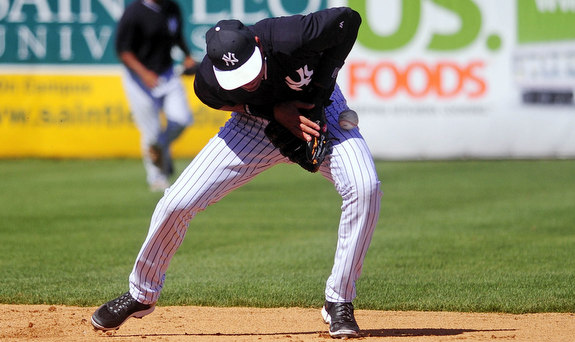 I suppose the silver lining of last season's terrible offense was a strong team defense. The Yankees employed guys like Ichiro Suzuki, Chris Stewart, Lyle Overbay, Luis Cruz, Alberto Gonzalez, Reid Brignac, and Brendan Ryan as regulars at various points of the year, guys who can't hit but can play some solid defense. The club sported a collective +12.5 UZR and +21 DRS in 2013, rates that are only slightly above-average (13th and 10th in MLB, respectively) on a team-wide scale.
The roster has turned over substantially this past offseason, especially on the position player side. That should greatly improve the lineup, but it will also impact the team defense. Some of the players the Yankees acquired over the winter are very good defenders but others simply are not. Not every player the team added is a two-way threat. Far from it. Let's look at where the Yankees are vulnerable in the field thanks to subpar defenders.
The Infield
Last month I detailed how the team's ground ball heavy pitching staff is not a good mix for their generally shaky infield defense, particularly at the non-first base spots. Mark Teixeira is a stud in the field and I have no reason to think a wrist injury will severely compromise his glovework. Maybe he'll lose a step or two or some hand-eye coordination with age, but I don't think the injury will have a huge factor on his defense.
Derek Jeter has moved around well in the field and on the bases this spring following all the leg injuries, but he's still a negative on defense. We all know that. Brian Roberts has looked surprisingly agile during Grapefruit League play, so maybe he'll be a positive in the field, at least while he's healthy. Kelly Johnson comes into the season with only 118 career innings at third base and only 18 innings at first base, where he's expected to be the starter and backup, respectively. He's muffed a few hard-hit balls in camp so far, the kind that earned the position the nickname the "hot corner."
The backup plans aren't much better. Eduardo Nunez is inconsistent at best and an unmitigated disaster at worst defensively, and Scott Sizemore is coming off back-to-back left ACL surgeries. He hasn't played enough in camp for us to get an idea of how he's moving in the field. The various scouting reports indicate Dean Anna is an adequate to solid defender. Teixeira should be fine at first but all of the other infield spots come with defensive questions. I think the Yankees would be pretty happy if the infield graded out as a league average unit come the end of the season.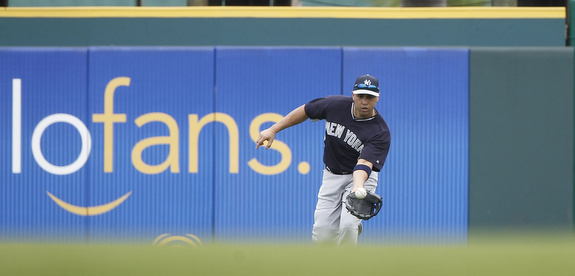 Right Field
As of right now, it seems like the plan is to have Alfonso Soriano and Carlos Beltran split right field and DH duties most of the time in 2014. There have been some rumblings Brett Gardner could wind up in right with Soriano in left, but that seems unlikely to happen. The Soriano/Beltran timeshare in right field appears to be the way things are heading.
Aside from one defensive inning in right field during Game Five of the 2003 World Series, Soriano has never played the position. Moving over there at 38 years old may not be an easy transition, and that doesn't even consider his weak throwing arm. Runners will be going first-to-third on him all day. Beltran was once a top flight defender but he has slowed down considerably with age and injury, to the point where he's graded out as a below-average defender over the last few years by the various defensive stats. Regardless of whether Soriano or Beltran starts, the Yankees will have a subpar gloveman in right.
It's not all bad though. First and foremost, right field in Yankee Stadium is pretty small, so there's isn't much ground to cover in the first place. Two, with Gardner in left and Jacoby Ellsbury in center, Ellsbury figures to shade towards right to help cover the gaps. Three, Ichiro will almost certainly come off the bench as a defensive replacement for right field whenever the game is close. Even if Ichiro is traded or released or whatever, Zoilo Almonte can do the same job. Whenever they're in right though, both Soriano and Beltran will be liabilities.
Outfield Arms
I mentioned this with Soriano in right, but it's worth pointing out the Yankees have some weak outfield arms in general. Beltran's is by far the best and might be the team's best right field arm since Raul Mondesi way back in the day. Ellsbury's arm is laughably weak and downright Damon-esque while Gardner's is solid at best. Not particularly strong but accurate. Soriano's arm is both weak and not accurate while Ichiro's strong arm plays down because he takes forever to get rid of the ball. Gardner and Ellsbury more than make up for their arms with their range, but don't expect to see many plays at the plate this summer. Beltran's the only regular with a quality arm.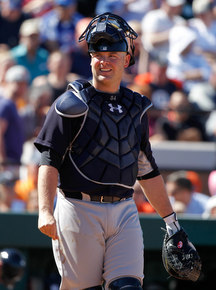 Brian McCann's Arm
McCann does a lot of things well, specifically hit and frame pitches. He is also said to be very good at blocking balls in the dirt and working with pitchers. The one thing McCann does not do well is throw. Last season he threw out only 24 of 100 attempted base-stealers, below the 27% league average. The year before it was 22%, and in case you're thinking this might be related to his October 2012 labrum surgery, McCann threw out only 24% of base-stealers from 2006-11. He's simply not good at shutting down the running game.
In order to compensate for McCann's arm, the pitcher will have to make sure to pay attention to runners on first base. CC Sabathia should have it the easiest as a left-hander, but runners have been successful in 70% of their stolen base attempts the last three years. Hiroki Kuroda has held runners to a 62% success rate since coming to New York and Ivan Nova has held them to a 63% success rate in his relatively short big league career. Masahiro Tanaka … who in the world knows. Frankie Cervelli has an excellent arm (after some mechanical tinkering last spring) but McCann is going to be the starter because he does so many things well. One of those things is not throwing and it's something the Yankees will have to deal with this summer. It's the essence of taking the bad with the good.
* * *
The Yankees have premium defenders at first base and in both left and center fields. The rest of the team will probably be net negative in the field, which is not ideal in an offensive ballpark in a tough division with a sketchy middle relief crew. This club is going to have to out-hit and out-pitch their defensive shortcomings in 2014.