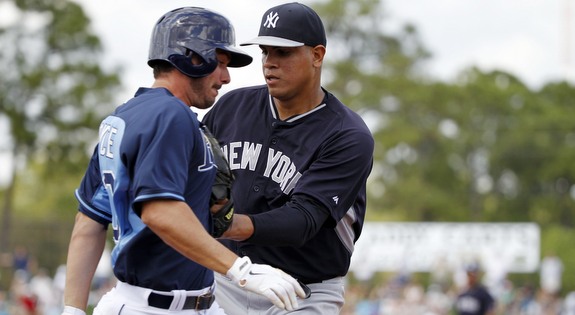 Sounds the alarms, the Yankees have lost two games in a row. Oh, wait, it's still Spring Training? Disregard. They lost 5-4 to the Rays this afternoon mostly because Robert Coello allowed four runs (two homers) in his one-third of an inning of work. That dude's having a brutal spring (48.60 ERA). Adam Warren allowed a run in 2.1 innings while Dellin Betances chucked 1.2 scoreless frames. He's up to 5.1 scoreless innings in camp, which is pretty much exactly what he needs to do to win a bullpen spot.
Here's the box score. Eduardo Nunez had a big day at the plate, going 3-for-3 with a double. Brett Gardner (1-for-3), Ichiro Suzuki (1-for-3), Kelly Johnson (0-for-2), Austin Romine (0-for-3), and J.R. Murphy (0-for-3) also played. Yangervis Solarte went 1-for-3 and lowered his spring batting average to .667. The Yankees didn't send many regulars down to Port Charlotte for the game at all. Here is the rest from a slow day in Tampa.
Mark Teixeira took some live batting practice but only saw five pitches and was pretty annoyed. Yesterday's session was cancelled because no one was available pitch. "I thought I was going to get a lot more work the last few days, but I just do what I am told," he said. [Chad Jennings, Andrew Marchand]
Alfonso Soriano has a first base mitt and he's been working out at the position. He doesn't expect to play much there, it's more about increasing his versatility in case of emergency. [Jennings]
This is your nightly open thread. This afternoon's game will not be replayed anywhere but MLB Network will show the Dodgers and Reds live later tonight. The Knicks and Nets are both playing as well, ditto the (hockey) Rangers and trade deadline pickup Martin St. Louis. Talk about anything and everything right here. Enjoy.