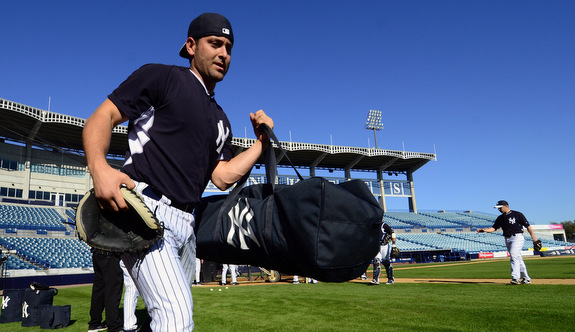 As Spring Training winds down, expect there to be a small run of transactions as teams finalize their rosters. Out of options players will be dealt, veterans on minor league contracts will be released so they find a big league job elsewhere, all sorts of stuff. Two years ago the Yankees pounced on this late-spring market to get Chris Stewart from the Giants, for example.
The Rangers have suffered a ton of injuries in recent weeks, losing guys like Jurickson Profar and Derek Holland long-term. Others like Yu Darvish, Matt Harrison, and Elvis Andrus are banged up and expected to miss Opening Day. Starting catcher Geovany Soto will miss 10-12 weeks after having surgery to repair a torn meniscus early this week, meaning Robinson Chirinos and J.P. Arencibia will be their catching tandem at the start of the season.
According to Buster Olney, the Rangers called around to check in with clubs with extra catchers, including the Yankees and Frankie Cervelli. They are far from the first team to show interest in him this spring. With the bullpen more or less sorted out — we don't know the exact names yet, but there are plenty of candidates to choose from — the Yankees figure to seek an infielder in any trade involving Cervelli, especially with Brendan Ryan's back acting up. Therein lies the problem:


Those are the infielders on Texas' 40-man roster. The non-roster guys are pretty bad, as non-roster guys tend to be. Andrus, Profar, Adrian Beltre, Prince Fielder, and Mitch Moreland are not worth talking about for obvious reasons. It would be nice to have a true backup first baseman, but Moreland doesn't make much sense for the Yankees, especially not with a $2.65M salary. He doesn't fit the roster well.
That leaves journeymen Andy Parrino and Adam Rosales, as well as actual prospect (!) Luis Sardinas. Both Parrino and Rosales are cut from the no hit, good glove cloth, but with Andrus and Profar hurt, the Rangers need both of them. Sardinas, 20, hit .288/.342/.348 between High-A (96 games in 2013) and Double-A (29 games) last year and is slated to return to Double-A this year. Baseball America (subs. req'd) ranked Sardinas as the team's seventh best prospect a few weeks ago and said he has the contact and defensive chops to play short everyday, as long as he improves his plate discipline and gets stronger.
Given the infield situation, it makes sense for the Yankees to look at acquiring a young infielder. I can't imagine the Rangers (or any team) would give up a prospect of Sardinas' caliber for an out of options catcher — Stewart-for-George Kontos is a nice estimation of Cervelli's trade value, no? — though I suppose they may be desperate in the wake of Soto's injury. It doesn't hurt to ask. Sardinas would not improve the 2014 Yankees though, and probably not the 2015 team either. As Olney says, there isn't much of a fit here even though Texas needs a backstop. They don't have the infield depth to give up because of their own injuries. It seems like Cervelli's value to the team is greater than anything the they could get in a trade.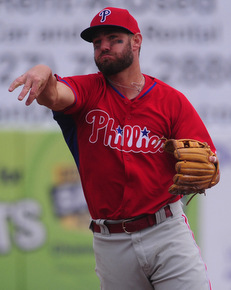 In other news, Joel Sherman says the Yankees are not interested in infielder Kevin Frandsen, who recently elected free agency after being outrighted by the Phillies. He forfeited $900k in salary by doing that. Might end up regretting that one. I wrote about the 31-year-old Frandsen as a trade target last summer, mostly because he can fake the three non-shortstop infield positions and hit southpaws (career 108 wRC+). Is he better than Dean Anna and Yangervis Solarte? Eh, maybe. Is it worth a 40-man roster spot to find out? I don't think so.
The Ryan injury made the need for another infielder a little greater, but the Yankees brought in Solarte and specifically Anna for this very situation. Cervelli to Texas for an actual infield prospect would be great but it just seems so very unlikely. At the same time, another veteran journeyman like Frandsen might not be worth the trouble. The Yankees stocked up on similar players this winter and while there's never any harm in adding another body, there's no desperate need for a player of that caliber. Despite their recent history of late spring moves, I would be surprised if the Bombers make a trade or some kind of notable infield addition in the next six days.