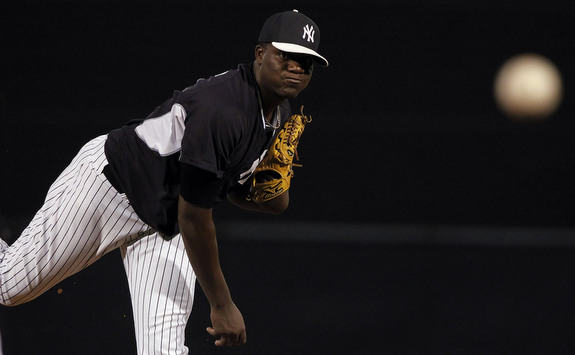 The fifth starter competition takes another step forward this afternoon, as Michael Pineda makes his second Spring Training start and third overall appearance. He was reportedly very impressive in his first outing and slightly less so last time out, though he was hardly bad. Pineda will get stretched out a little bit more this afternoon, probably up to four innings and 60-65 pitches, so it'll be good to see how he holds up later in games. He was hitting a wall around the 70-pitch mark during his Triple-A stint last summer.
The Red Sox are up from Fort Myers for this afternoon's game, so I hope you're ready for some over-analyzed Grapefruit League action. If you can't beat 'em on March 18th, when can you? Boston didn't bring any of their top players, with only Jackie Bradley Jr., Jonny Gomes, Xander Bogaerts, and David Ross coming close to qualifying as regulars. Left-hander Felix Doubront will be on the mound. Here is Joe Girardi's starting lineup:
LF Brett Gardner
SS Derek Jeter
RF Carlos Beltran
1B Mark Teixeira
DH Alfonso Soriano
C Frankie Cervelli
2B Brian Roberts
3B Kelly Johnson
CF Ichiro Suzuki
SP Michael Pineda
Available Pitchers: RHP David Robertson, LHP Fred Lewis, RHP Shawn Kelley, RHP Matt Daley, and RHP David Herndon are all scheduled to come out of the bullpen. RHP Jim Miller, RHP Yoshinori Tateyama, RHP Chris Leroux, and RHP Danny Burawa are the extra arms.
Available Position Players: C Austin Romine, 1B Jose Gil, 2B Eduardo Nunez, SS Dean Anna, 3B Zelous Wheeler, LF Yangervis Solarte, CF Adonis Garcia, and RF Zoilo Almonte will be the second string off the bench. C John Ryan Murphy and OF Antoan Richardson are also available.
It's cloudy and cool in Tampa but there is no rain in the forecast after yesterday's downpour. Hooray for that. First pitch is scheduled for 1:05pm ET and you can watch live on YES, ESPN, and MLB.tv. Enjoy the game.