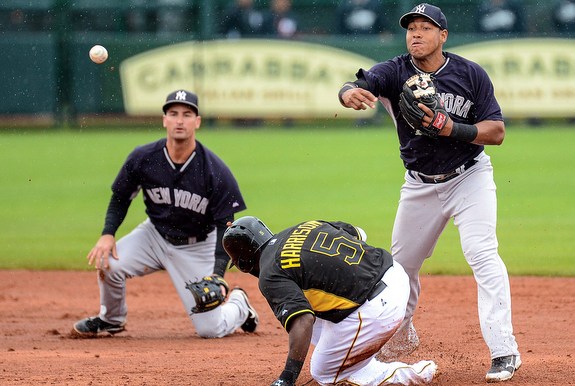 The Yankees have finalized their bench for the start of the 2014 season and it does not include Eduardo Nunez. Joe Girardi announced on Saturday that utility man Yangervis Solarte has won the final open roster spot. The team will need to make a 40-man roster move to accommodate him sometime before Tuesday's season opener. Nunez will go to Triple-A Scranton.
Solarte, 26, could have opted out of his minor league contract if he did not make the team. He hit .429/.489/.571 with two homeruns in 47 plate appearances this spring while playing second base, shortstop, third base, and left field. Solarte hit .282/.332/.404 in 263 games in the hitter-friendly Pacific Coast League over the last two seasons while in the Rangers organization.
Nunez, 26, hit .265/.280/.388 with one homer in 50 plate appearances this spring. He blew a golden opportunity last season, hitting only .260/.307/.372 in 336 plate appearances while Derek Jeter and Alex Rodriguez were on the DL. As you know, his defense has long been an issue. The Yankees seemed to grow tired on Nunez over the winter, signing players like Solarte, Dean Anna, and Scott Sizemore to directly compete with him.
Solarte will join Anna, Frankie Cervelli, and Ichiro Suzuki on the bench. There isn't much (any?) offensive firepower there but Cervelli's bat has been promising between injuries the last two years and, if nothing else, Anna knows how to work a walk and put together good at-bats. I thought the Yankees would take Nunez for a few reasons, mostly because he's already on the 40-man roster and would be the easy move. I also didn't think they'd buy into Solarte's spring, but here we are.
Brendan Ryan will open the season on the DL with a back problem and earlier this week Brian Cashman confirmed he will miss more than the minimum 15 days. Anna and Solarte had to compete for a bench spot this spring, and now they have to continue competing to stay on the team once Ryan returns. Getting the big leagues is the easy part. Staying there is much harder.