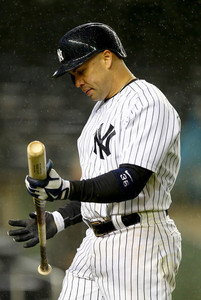 After these last few seasons, I find it very hard not to assume the worst when it comes to injuries. It's not because of the Yankees either. Pitchers are dropping like flies these days, but every Tommy John surgery starts out as a twinge or some forearm tightness. Not many guys have hurt their elbow and avoided the zipper lately. Ivan Nova and Jose Campos are among its casualties. Mark Teixeira's and Jose Bautista's wrist problems turned into surgery in much the same way.
So, forgive me for being worried the Yankees may soon lose Carlos Beltran for an extended period of time. He hurt his elbow taking swings in the batting cage between at-bats the other night, and while it was initially called a hyper-extension, an MRI revealed an old bone spur that just started to give him trouble. Bone spurs have a way of hiding until you move your body in some random everyday way and they rub up against stuff. The human body is weird like that.
"I just was taking swings in the cage and felt a sharp pain," said Beltran to Chad Jennings. "Took another one and felt the same. Told [Joe Girardi] that I wasn't going to be able to continue … I took many swings, but those two that I took there was a sharp pain that I felt that I just couldn't continue … I just hope it just goes away … I'm hoping for the best."
Beltran received a cortisone shot yesterday and he's going to rest two or three days to see if that helps. From what I understand, the cortisone shot will reduce any inflammation, which could allow the spur to go back to being unnoticed. If the shot doesn't work, however, Beltran will need surgery and will miss what I assume is several weeks. Brian Cashman told Jennings he's unsure if it would be season-ending, if that makes you feel any better. At some point though, either in the coming weeks or long after he's retired, Beltran's going to need the surgery.
The Yankees sunk three years and $45M into the 37-year-old Beltran this past offseason because they needed someone just like him, a proven middle of the order bat with power and patience from both sides of the plate. Someone who they knew could handle New York and big pressure situations. For the first few weeks of the season, Beltran was exactly that, hitting .327/.368/.673 (175 wRC+). Then he flipped over the wall in Tampa and hasn't hit a lick since. Maybe he jammed something during the fall, maybe the timing is pure coincidence. For whatever reason, he stopped hitting.
Despite that recent lack of production, losing Beltran to surgery would be a huge blow. Huge. He adds an impossible to replace element to the lineup with his professional at-bats and ability to hit for both average and power. Beltran's literally the only guy on the roster who can do both. Ichiro Suzuki will probably see more playing time as soon as his back heals up, but if Beltran were to miss a significant amount of time, the best possible solution may be to play Alfonso Soriano in right and let Derek Jeter spend more time at DH, allowing Brendan Ryan to play shortstop and improve the defense. The Yankees can't field worth a damn and they don't have a bat to replace Beltran. Replacing Jeter with Ryan in the field is an upgrade, especially given the ground ball heavy pitching staff.
The Yankees have had their seemingly perpetual issues with runners in scoring position in 2014, but the offense has been effective both recently (4+ runs in seven straight games) and overall this season (4.45 runs per game). Removing Beltran from the equation will hurt the lineup, especially if the Yankees do shift Jeter to DH and play Ryan more often. Hopefully the cortisone shot will work and he can return to the lineup within the next few days. I am expecting the worst though. A bone spur in a hitter's elbow strikes me as something that will require surgery sooner rather than later.