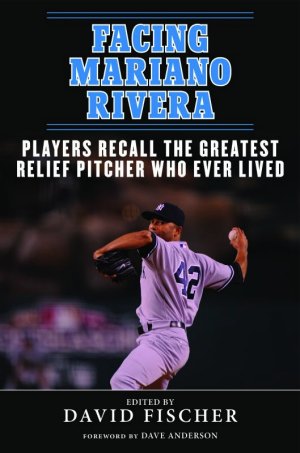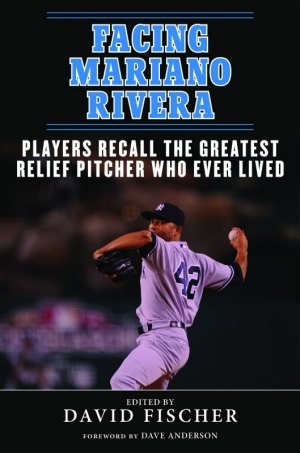 We had a full year to gush over Mariano Rivera's greatness. It didn't seem like long enough. And it still feels wrong that he's not closing the door this year.
During that year we saw fans show their appreciation. Teams honored Mo with ceremony after ceremony, paying tribute with gifts as though he were an ancient king. Most pervasively, we saw the media stumble over themselves to gush about Mo.
His peers talked about his greatness, but it felt as though we didn't hear enough of their stories. What did it feel like to stand there in the batter's box against Rivera?
We get answers in the recently published book, Facing Mariano Rivera, edited by David Fischer. It contains stories of nearly 100 opponents who faced Rivera. (It also contains contributions from guys like Paul O'Neill, Derek Jeter, Robinson Cano, and other teammates who never faced him, plus a number of pitchers and managers.) If you've ever wondered what it's like to stand in the box and know what pitch is coming, and still not be able to hit it, this book will help get you there.
There is, to be sure, plenty of fluff praise for Rivera, the standard praise of his composure and class. But nearly every player says one thing that really stands out, that helps you more fully understand the opponents' mindsets when they faced Rivera – with the game close enough for him to be in there, but still seemingly out of reach.
Here are two of my favorite excerpts:
Tim Salmon
Salmon debuted in 1992, when I was 10, thus at the very peak of my baseball card collecting phase. We all chased after his rookie card, and I'm fairly certain that we all had at least one. It really is no surprise that baseball cards lost all value when internet commerce was even in its infancy.
In his fourth season, Salmon accomplished something that at the time was insignificant. He recorded the first hit off of Mariano Rivera. He in fact recorded two that day, including a double. In his third at-bat he walked, which ended Mariano's day. That was in 1995, when Rivera was still a starter.
In 13 at-bats after that, including postseason, Salmon went 0 for 13.
A lot of closers grunt and snort and spit, they scowl at you, and throw the ball under your chin, trying to intimidate you, which makes you want to bear down and beat them all the more. Mariano was never like that on the mound. He was pleasant; his demeanor was disarming, it was life facing an old friend. I think that works to his advantage. Hitters don't have that extra motivation you might have against guys you despite who are flaunting their stuff and pointing to the sky and talking trash.
Edgar Martinez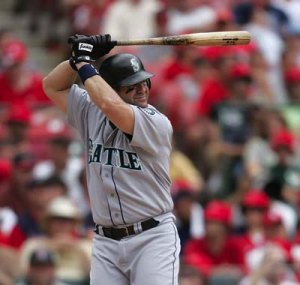 Mo faced 1,013 different hitters during his career. Who was the toughest of them all? When asked last spring, Mo didn't hesitate when he answered.
The toughest – and thank God he retired – (former Mariners DH) Edgar Martinez. Oh my God. I think every pitcher will say that, because this man was tough. Great man, though – respected the game, did what he had to do for his team. That's what you appreciate about players, when a player come and do what is right for the game of baseball, for his team and teammates.
Martinez must have traumatized Mo when the latter was a rookie in 1995. In 7 PA he went 6 for 7 with two homers, a double, and a walk. Even when Mo was Mo in 1996, Martinez went 2 for 2 with two doubles. After that Martinez went 3 for 10 with three walks, two intentional. He was on an 0 for 6 slide against Rivera before he singled on August 14, 2004, the last time the two faced each other.
Just how badly did Mo want to beat Martines?
I think what makes him great is his command and his location; knowing where to throw the pitch. A good example is when I faced him in the 2000 American League Championship Series. I made the last out of the game. He got me out with a sinker inside. I never remember him throwing me a sinker before. that was the first tim I ever saw a sinker from him. He knew when to change his plan, when to go with something completely new, something different that you're not expecting.
If you're missing Mariano, and I sure am, this book is a nice little reminder of the greatness we witnessed night in and night out for so many seasons. You can flip around and read stories at random. I've been trying to find as many current players as possible, reading their stories when the Yankees face them this year.
Hardcover price: $17.71 – Click here to buy it on Amazon
Kindle version: $11.99 – Click here to buy it and start reading right now
There is something of a graphical element, since the book contains breakdowns of every hitter's at-bats against Mo, so the hardcover might be better. But if you're using Kindle on a tablet, it should render just fine.