Only six questions this week — not including yesterday's Mark Teixeira question — but they're good ones. Remember to use the Submit A Tip box in the sidebar to send us anything throughout the week.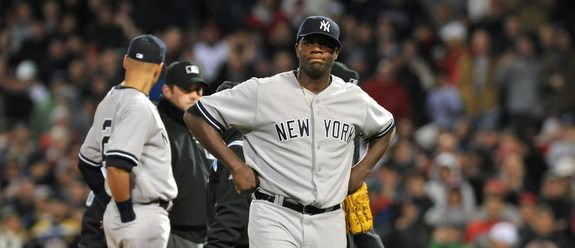 Mads asks: Might the injury to Michael Pineda be a blessing in disguise? If the Yankees were to make it deep into the playoffs, he would still be available to them, since he hasn't reached his innings limit. So it might not be so bad that he is out for a couple of weeks.
Maybe. We said the same thing about Bartolo Colon's hamstring injury a few years ago, but he came off the DL and wasn't nearly as effective. He admitted to being apprehensive about cutting it loose after getting hurt. There's always a chance Pineda will come off the DL and not be the same pitcher, so who knows if he'll even be worthy of a rotation spot late in the season? His injury is a concern given its proximity to his surgically repaired shoulder too. The Yankees definitely needed to monitor Pineda's workload this season but now it's out of their hands for at least a few weeks. It might help keep him fresh deep into September and possibly October, sure, but there's also a chance it completely derails his season.
Dan asks: Looking back on it now, since we have at least a little bit of a contribution to point to from Pineda, and also the hope of more to come, would you prefer the deal that brought in Pineda over the failed one for Cliff Lee the year before? I mean, Zach McAllister still was sent away in a complete waste of a trade for Austin Kearns, and David Adams is still David Adams. I don't really know to be honest. Is it still too early to tell?
As the story goes, the Yankees and Mariners had agreed to a trade that would have sent Lee to New York back in July 2010. Jesus Montero, David Adams, and Zach McAllister were the package going to Seattle. However, Adams was still on the mend from his traumatic ankle injury at the time, and the Mariners balked once they reviewed his medicals. They asked for Eduardo Nunez instead and the Yankees weren't happy they reneged after essentially having a handshake agreement in place. They said no and that was that.
The Yankees had the best record in baseball at the time of the non-trade and they had just won the World Series the year before, so they were still a league superpower with legit championship aspirations. They eventually lost the ALCS to Lee and his new Rangers teammates. Obviously we have no idea how things would have played out had the Yankees landed the southpaw, but I don't think it's unreasonable to say their chances of winning the World Series would have gone from very good to super duper good.
Because of that, I would have rather made that deal than the Pineda deal. It doesn't have anything to do with Pineda's shoulder and his recent back issue. The Yankees were on the cusp of a second straight AL pennant without Lee and he could have put them over the top. I'm in favor of adding the impact player when you're that close to a title. Lee would have only been a rental and Pineda may potential be a good long-term piece for the Yankees, but flags fly forever. Remember: we're tryin' to win a ring around here.
Kerwin asks: Can you explain why CC Sabathia has such a distaste for Jackie Bradley Jr.? Is there history between the two?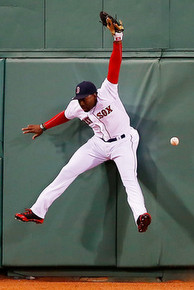 Hah, I have no idea but it seems mostly harmless and kinda funny. I think it stems from Opening Day 2013, when Bradley went 0-for-1 with two walks against Sabathia. CC appeared to call him a "punk ass motherf**ker" after striking him out in a game later in the season, and since them he's always seemed to have disdain for Bradley. Last week Sabathia hit him with a pitch — it looked like a breaking ball that got away, so not intentional — and then gave him a mouthful after Bradley stared him down. I don't know how or why it started, but Sabathia's beef with Bradley seems like a real thing. For what it's worth, Bradley is 0-for-8 with those two walks and five strikeouts against CC, so maybe the big lefty is in his head.
New Guy asks: Any updates on Andrew Bailey? I know he's a David Aardsma type reclamation project, but man. Sure would be nice if he could give the pen a boost later in the year.
The last update I saw on Bailey came way back in the middle of March, when it was reported he was playing catch from 90 feet and hoped to stretch it out to 120 feet within the next week. Hopefully he's done that by now. Bailey had his shoulder capsule repaired in late-July and it comes with a year-long rehab process. Usually longer, but maybe his rehab will be shorter because he's only a reliever. The Yankees have maintained that if he does pitch this year, it probably won't be until September. The structure of his contract — minor league deal with a club option for 2015 — indicates the signing was made with an eye on next year, similar to the Jon Lieber and Aardsma signings a few years ago.
Chris asks: Any thought at a run at Mark Buehrle? He would come cheaper than Cliff Lee. No?
I have to imagine Buehrle would come cheaper, yes. He's off to a very strong start this year (2.25 ERA and 3.21 FIP), but he'll revert back to the same ol' Mark Buehrle once his 2.6 HR/FB% rate returns to its career norms (~10%). His strikeout and walk rates are the same as they always were. Buehrle is owed $18M this season and $19M next season, so he's not cheap, plus the Blue Jays have made it clear they don't like trading within the division unless they're blown away. Maybe that isn't the case with Buehrle and they'd just be happy to shed his salary. Buehrle isn't great but he's pretty reliable and would be an upgrade for the Yankees. I just don't know if acquiring him from an AL East rival is all that realistic.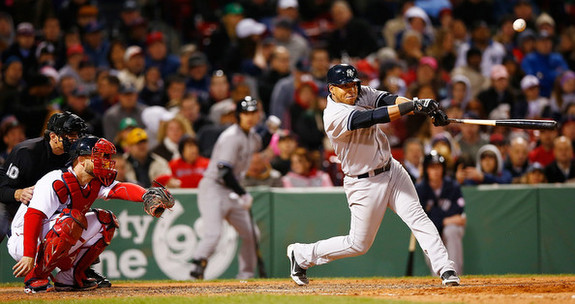 Donny asks: After seeing Yangervis Solarte go through his first mini-slump of the season and reading/hearing analysts describe teams pitching him differently with more offspeed stuff, it got me wondering: what does the pitch f/x data look like now compared to the beginning of the season? Does this data support those analyses? Or is this simply a hot bat normalizing to the player Solarte actually is?
Anecdotally, it seemed like Solarte was starting to see more offspeed pitches in the middle of last month, after teams got a look at him and realized they would need something more than a fastball to get him out. After going 12-for-28 (.429) to start the season, Solarte has gone only 12-for-51 (.235) since. The good news is that he is still walking and making contact — 2/2 K/BB in the first eight games, 11/10 K/BB since — so he hasn't been completely lost at the plate.
Yangervis played 22 games prior to last night — couldn't wait around for the various PitchFX sites to update overnight, so last night's game is not included in the table below — and let's break his season down into two seven game segments and one eight game segment to see how he's being pitched. Courtesy of Brooks Baseball:
All Counts

Solarte Ahead

Pitcher Ahead

FB%
OFF%
FB%
OFF%
FB%
OFF%
Games 1-7
51.2%
48.8%
75.0%
25.0%
22.2%
77.8%
Games 8-14
66.4%
33.6%
89.5%
10.5%
57.6%
42.4%
Games 14-22
68.2%
31.8%
69.8%
30.2%
61.0%
39.0%
Obligatory reminder that we are talking about very small samples here, so don't take these numbers to heart. We're just looked at them for fun.
Anyway, contrary to the theory that he was seeing more offspeed stuff, pitchers have generally thrown Solarte more fastballs as the season has progressed. The pitch type linear weights at FanGraphs show Yangervis has been most effective against curveballs and sliders and least effective against the various fastballs (four-seamer, two-seamer, sinker, cutter), so I guess it makes sense that pitchers are throwing him fewer breaking balls in recent weeks. Solarte has trouble with the heat, it seems. What did we ever do before we could look this stuff up? Hooray facts.