Got eight questions for you this week, some with long-ish answers and some with short answers. If you want to send us anything, mailbag questions or otherwise, use the Submit A Tip box in the sidebar.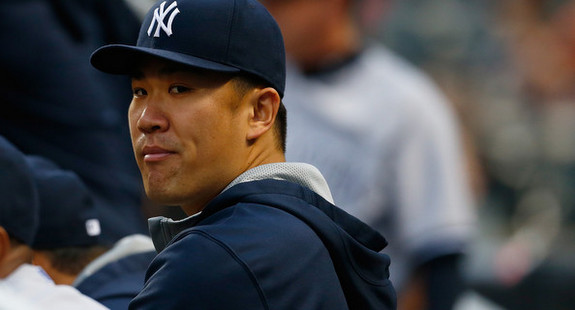 JoeyA asks: How much would TANAK get on the open market RIGHT NOW. My guess: more than 7/155.
Yeah, I'm pretty sure Masahiro Tanaka would fetch more than seven years and $155M right now. He's legitimately pitching like an ace (2.17 ERA and 2.81 FIP) because he doesn't walk anyone (1.09 BB/9 and 3.1 BB%) and he misses a ton of bats (10.24 K/9 and 29.5 K%). Tanaka's been durable throughout his career, he's adjusted to the different ball and five-day schedule just fine, and he's only 25 years old. Plus he's a stone cold killer on the mound. Absolutely nothing rattles him. He would be a seriously hot commodity on the open market now that he's shown he can handle MLB.
Tanaka's contract (not counting the release fee) is already the fourth largest pitching contract in baseball history. I don't think he'd get Clayton Kershaw money (seven years, $215M) if he was a free agent right now, but Felix Hernandez (seven years, $175M) and Justin Verlander (seven years, $180M) money seems very doable. That said, none of those three were free agents, they all signed extensions. Tanaka would be able to create a bidding war, so maybe $200M isn't out of the question. I think Max Scherzer's headed for $200M this winter and he turns 30 in July. Wouldn't you rather have Tanaka's age 25-31 seasons over Scherzer's age 30-36 seasons?
Stephen asks: CC Sabathia's xFIP is 3.14, good for 21st in the bigs. Since the purpose of xFIP is to normalize home run rates, do you see a large regression coming for the big guy? How is it possible for a guy with his peripherals to be this bad? Tanaka is actually leading the xFIP leaderboard, due to his bloated HR rate. Is it possible that he's going to get even better as the season progresses?
I am absolutely not a fan of xFIP because it does normalize homer rates to the league average. Why are we doing that, exactly? We know pitchers give up homers at different rates so why would we expect them to regress back to the rest of the league? You're better off comparing a pitcher's homer rate to his recent performance.
For example, Sabathia has a 23.3% HR/FB rate this year, which is way higher than last season (13.0%) and the last three seasons (11.3% from 2011-13). At the same time, he's given up some serious bombs this year — Hit Tracker says eight of Sabathia's ten homers allowed were "no doubters" or had "plenty," basically meaning they were crushed. One was "just enough" and barely got over the wall. The other was Wil Myers' inside the park homer — and that indicates hitters are squaring him up well. The 23.3% HR/FB rate is insane (would be the highest in MLB history by a mile) and I would expect it come down some, but given the swings hitters are taking against him, I wouldn't be surprised if he was a true talent 15-16% HR/FB guy now, especially in Yankee Stadium. The AL average is 9.4% this year and it feels like it would take a miracle for Sabathia to get his homer rate down that far at this point of his career. Long story short: I'm not an xFIP fan at all.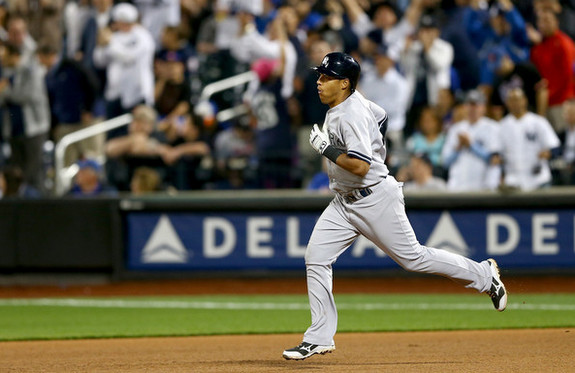 Spencer asks: I know it's a tad premature, but how does the contract Yangervis Solarte has work? Does he become a free agent this year? Also, suppose he has the same slash line as he has now at the end of the season what would you sign him for?
This is the first time Solarte has been in the big leagues, so the Yankees still have his full six years of team control. Assuming he never goes back to the minors, he'll earn something close to the league minimum from 2014-16, then go through arbitration from 2017-19. Solarte can not qualify for free agency until after the 2019 season at the earliest, when he will be 32 years old.
As for signing him long-term … I think it might be too early for that. Solarte's been awesome, don't get me wrong, but given his out of nowhere emergence from mediocre minor league journeyman to impact big leaguer, I think you need to see if he does it again next season before committing real money to him. If he'd agree to something like five years and $10M after the season (say $550k, $750k, $1.5M, $2.9M, $4.3M from 2015-19), then hell yeah, do it. He might jump at the guaranteed payday after toiling in the minors so long. At worst he'd be an expensive bench player four years down the line. The Yankees have a ton of money and can roll the dice by waiting a year to see if this is the real Solarte though.
Chris asks: Any thoughts at a run at Mike Moustakas? He's off to an awful start and they are talking of sending him back to the minors.
I think the Yankees should call and ask, sure. Moustakas is off to a dreadful start (53 wRC+ going into last night's game) and he simply can't hit lefties, either this year (.198 wOBA) or throughout his relatively short big league career (.267 wOBA), so he's basically a platoon player. He does have left-handed pop and he's made himself into a strong defender at the hot corner, plus he is only 25 and it wasn't that long ago that he was considered one of the ten best prospects in baseball. Maybe hitting coach Kevin Long can help him take him to the next level like he did Robinson Cano and Curtis Granderson (and Solarte?).
The Royals are not the cellar-dwellers they once were, or at least they aren't acting like that anymore. They're trying to win right now, this year, before James Shields leaves as a free agent. I don't think they'll trade their starting third baseman — they have some internal candidates to replace him, so trading Moustakas is not necessarily a crazy idea — for a handful of prospects. They'll want help for the big league team in return. Kansas City could probably use another outfielder and another starting pitcher. There's no way I'd give up Brett Gardner for Moose Tacos and I doubt Zoilo Almonte or Ichiro Suzuki would cut it. As for the pitching, hah. The Yankees have zero to spare. He's worth a phone call but I'm not sure there's a good trade fit at this moment.
Mike P. asks: Under the new replay system, let's say the HQ in New York tells the umpires a batter is safe at first, but the umpires watch the scoreboard replay and think he's out. Do they have to follow the call from NYC or can they make their own judgment?
It's all done in the Midtown office, the reviews and the decision. They just relay the call through the headsets. I don't believe the on-field umpires have the authority to make the call either once it goes to review, that would defeat the purpose.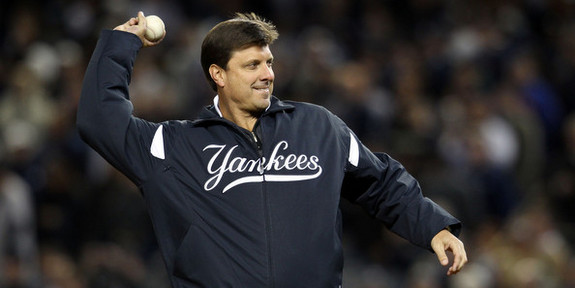 Daniel asks: You mentioned being sort of iffy on the decision to give Tino Martinez a plaque. Are there any of the other plaques or retired numbers that you disagree with or that at least are strange to you?
Here's the list of monuments, plaques, and retired numbers. None of them stand out to me as odd but most of those guys played or managed or whatever long before my time. I think there's a "feel" element to this stuff. You can't just set some arbitrary WAR threshold and say guys over this number get a plaque, guys over this number get their number retired, so on and so forth. The guy has to feel like he belongs in Monument Park. You know I mean. Tino was awesome for the Yankees for six years, but was he an all-time great Yankee? Not a chance. I think others like Willie Randolph, Bobby Murcer, and Joe Gordon (Hall of Famer!) are more deserving of plaques. That's just my opinion though. Everyone is welcome to feel differently.
Dan asks: Do you think Peter O'Brien has reached his top level this season? He got a quick promotion. If he keeps hitting like he did in High-A could he make it to AAA this year?  
O'Brien was promoted quickly because he spent the second half of last season in High-A as well, it wasn't just a few weeks early this year. That said, yes I definitely think another promotion may come later this season. Not right away, O'Brien needs some time to catch his breath and get comfortable in Double-A, but in August or so? Sure, bump him up if he's still raking. Guys like him — drafted as a college senior, ton of power, lots of strikeouts, never walks, still trying to find a position — are the ones teams should promote aggressively because you're not going to know what you have until he gets to the highest levels of the minors. He's not someone like, say, Luis Torrens, who is trying to learn to catch high-end velocity and get through the grind of a full season. Give O'Brien like two months in Double-A then see where he's at.
Kevin asks: Why not try Gary Sanchez at third at least part-time? They seem pretty set with Brian McCann and John Ryan Murphy behind the plate. 
Sanchez still needs to work on his catching and I mean just about everything. Footwork, receiving, throwing, the whole nine. I think they should let him focus on improving behind the plate because that is where he's most valuable. Who's to say McCann won't be a full-time DH and Murphy won't be a bust by time Sanchez is ready? We're still a long way away from worrying how he fits onto the roster and I think the odds of him being traded are much higher than the odds of him wearing pinstripes for more than a few weeks. When he gets to Triple-A and it looks like he might be ready to help the MLB team, that's when I'd worry about his position. For now, leave him behind the plate and let him learn.