Even though it is not really the halfway point of the season, there is no better time to review the first half than the All-Star break. This week we'll hand out some simple and straightforward grades, A through F, for the catchers, infielders, outfielders, rotation, and bullpen. These grades are totally subjective. We started yesterday with the catchers, now let's move on to the infielders.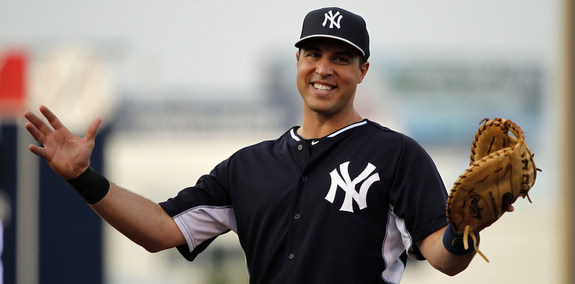 Mark Teixeira — Grade B (A+ for Foul Territory)
There were a lot of questions about the infield coming into the season in general, but especially Teixeira. The Yankees' first baseman missed almost all of last season due to a tendon sheath injury in his wrist that eventually required surgery, and wrist surgery can be very problematic even after the player has been cleared to play. Remember, Teixeira started Spring Training late and has still felt soreness during the season. It has caused him to miss a game or two here and there. (His only DL stint was hamstring related.)
Despite that, Teixeira has been the team's most consistent and productive power hitter this summer, coming into the All-Star break with a .241/.341/.464 (120 wRC+) batting line with a team-leading 17 homers. His power output (.222 ISO) is right in line with his last full healthy season (.224 ISO in 2012), which is definitely encouraging after the wrist surgery. Most importantly, he's done most of his damage against right-handed pitchers (130 wRC+), who used to give him the most trouble. Is he Teixeira of old? No, of course not. That guy isn't coming back. But he's returned to his pre-surgery ways and been a much-needed force in the middle of the lineup.
Weirdly enough, the biggest issue for Teixeira this season has been his defense. He's already committed six errors this season, his most since 2004, and while errors are not the best way to evaluate defense, most of them were plays we're used to seeing Teixeira make. I think his scooping at first has been fine. It's the hard-hit balls he used to turn into outs that are now eating him up. I think it's a combination of rust from the lost 2013 season and a decline in his skills. Either way, Teixeira has definitely been a positive for the Yankees this year, especially when you consider he's coming off major surgery.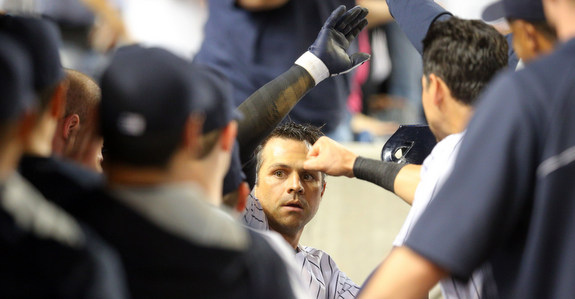 Brian Roberts — Grade C
There was no way the Yankees were not going to have a massive drop off in production at second base this year. Robinson Cano was the best player at the position last year and has been for several years running, so by definition he is irreplaceable. Roberts was not exactly a popular choice as Cano's replacement given his long injury history and the fact that he wasn't all that productive even when healthy ways. The Yankees love veterans though, especially AL East proven guys.
Roberts has remained remarkably healthy so far this year — he missed a handful of games with a back issue in April, but that's it — while being more than a total zero at the plate. His .241/.306/.376 (87 wRC+) batting line comes with the occasional homer (five), the occasional stolen bases (seven), the occasional walk (8.4%), and always a very long at-bat (4.04 pitches per plate appearance). Roberts has been fine defensively at second if not an asset. He's a perfectly capable stopgap and No. 9 hitter who has been asked to bear more responsibility. Will Roberts hit a wall later in the year after not playing a full season since 2009? I have a hard time thinking his second half will be better than his first, honestly.
Derek Jeter — Grade C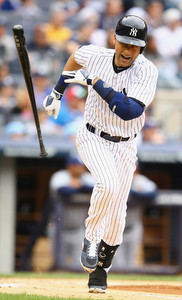 Like Teixeira, Jeter was coming off a major injury. He missed just about all of last season with a series of leg problems, including a twice-fractured ankle. Add in the fact that he is a 39-year-old shortstop — a demographic that is not well-represented throughout history — and things were definitely stacked against the Cap'n coming into 2014.
Jeter's season has been underwhelming statistically but I don't it's worst case scenario stuff. Like I said, a 39-year-old shortstop coming off a major leg injury could have been really, really ugly. Jeter is hitting .272/.324/.322 (80 wRC+) overall, so his power is non-existent, but he does rank third among qualified AL shortstops in OBP and is only five points away from leading. Is it vintage Jeter? Absolutely not. But relative to the league average shortstop (.308 OBP and 87 wRC+), he's been passable.
Defensive is another matter. Jeter's glovework has never been good and at this point he's barely mobile. The old "he makes the plays on the balls he gets to" rhetoric doesn't even apply anymore. He's booted more grounders and made more offline throws this season than I can ever remember. Inside Edge data says he has converted only 46.2% of "likely" plays into outs, which are defined as plays that would be make 60-90% of the time on average. He hasn't make anything tougher than an "even" play (40-60%) either. It's been ugly.
The total package, offense plus defense, has not been good for the Yankees this year. At the same time, I'm generously giving Jeter a C instead of a D or F because he has played better than I expected coming off the ankle injury at his age. Maybe I'm just a giant homer. The Cap'n has not been good this season though, certainly not by his standards, but it could have been much worse given everything that happened last year.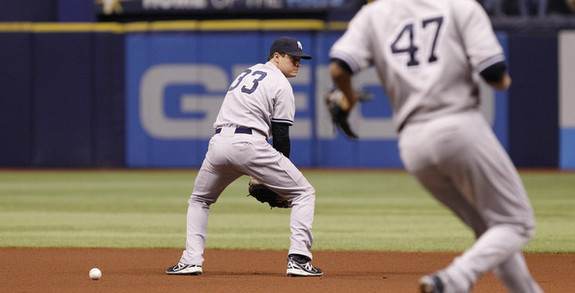 Kelly Johnson — Grade D
The Yankees have put Johnson in a tough spot for most of the year — playing once or twice a week, usually at an unfamiliar position like first or third base — but, at the same time, he knew what he was walking into when he signed as a free agent over the winter. He has hit .214/.299/.380 (87 wRC+) with six homers in 211 plate appearances, including a disappointing 83 wRC+ against righties and an even more disappointing 87 wRC+ at Yankee Stadium. Five of his six long balls have come in the Bronx.
Johnson's defense has been a problem, though again, he has mostly played out of position — he came into the season with only 18 innings at first base and 118 innings at third base. He has spent 199.2 innings at first and 255.1 innings at third this year, committing nine total errors and not looking particularly graceful either. Johnson was a shrewd signing and a wonderful fit for the roster on paper — left-handed hitter with power who can play the three non-shortstop infield positions as well as left field — but it just hasn't worked out halfway through the season.
Yangervis Solarte — Grade B
Man those first eight or so weeks were fun, weren't they? I like to think I'm well-versed in the minor leagues but even I had not heard of Solarte before the Yankees signed him as a minor league free agent over the winter. It goes without saying that no one expected to take over as the starting third baseman for the first eight weeks of the season, during which he hit .299/.368/.458 (128 wRC+) in 229 plate appearances. Solarte was a godsend for a beleaguered offense.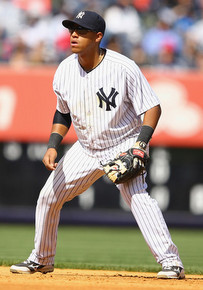 The Solarte Partay came to crashing halt after that, unfortunately. He has hit .111/.238/.130 (10 wRC+!) in 63 plate appearances since, earning him a demotion to Triple-A Scranton. Yangervis has owns a .255/.338/.382 (101 wRC+) line in 288 trips to the plate overall and holy crap, no one expected that. Even if he never hits again, those first eight weeks made the signing more than worth it. That's even considering Solarte's occasionally shaky defense. He was a great story and a tremendously productive player into early-June. His days as a useful MLB player may have already come to an end, but boy did Solarte contribute in a big way when given an opportunity early this season.
Brendan Ryan — Grade C
Giving Ryan two years plus a player option this past offseason definitely flies under the radar as a lolwtf offseason move. I mean, yeah, I get it. Jeter was a major question mark, but geez. Ryan spent the first five weeks of the season on the disabled list with a back injury, and he's nothing more than a no-bat (.235/.273/.255, 43 wRC+ in 55 PA), good but no longer elite glove infielder who plays maybe once a week. It's far from the best use of the roster spot, but the Yankees are stuck with him. It's just a weird fit. Even weirder are all those times Ryan played first base while Jeter manned short. He's fine as the 24th man on the roster. Just a pricey and not at all versatile (in terms of bringing different things to the table) insurance policy for Jeter in his final season.
Zelous Wheeler, Dean Anna, Scott Sizemore — incomplete
These three guys have combined for 61 total plate appearances — Anna has the most at 25 — and have hit a combined .232/.246/.438. Most of the power production comes from Wheeler, who has hit two homers in his 20 plate appearances. He is currently with the team in that revolving door 25th man spot while Sizemore is stashed in Triple-A awaiting an injury. Anna has already been designated for assignment (to make room on the roster for Zelous) and claimed off waivers from the Pirates. I wonder how many more guys will cycle through this role in the second half.
* * *
There were some serious concerns about the infield coming into the season. Teixeira and Jeter were huge question marks following their injuries and the same was true of Roberts given his history. Johnson was the sure thing on the infield at the start of camp. The defense has been hideous — Yankees' pitchers have a .258 BABIP on ground balls, the seventh highest in baseball (league average is .244), and even more grounders would sneak through for hits if not for the club's aggressive shifting — and that was fairly predictable.
The infield has, by and large, been more productive than I expected, mostly because Solarte was awesome for a while and Teixeira has shown no lingering issues with the wrist when it comes to raw production. Roberts is the new Lyle Overbay — the best of all the bad players and therefore giving off the appearance of being good — and Jeter's Jeter. He's untouchable. The Yankees have some internal options who may improve the infield, namely Triple-A Scranton second baseman Rob Refsnyder, but either way  it's clear they could use some help in the second half. Beefing up third base is an obvious upgrade area.