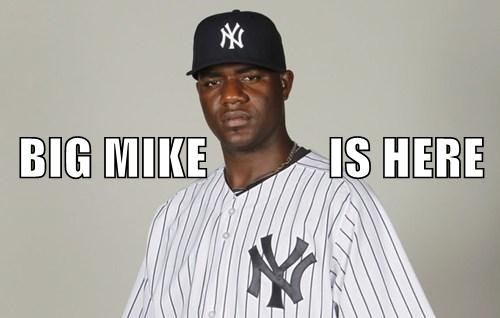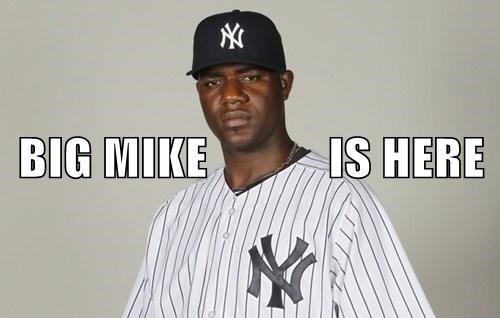 After 111 days on the shelf with a muscle problem in his shoulder, Michael Pineda returns to the Yankees' rotation tonight. He only started four games before getting hurt and only three were real, full starts. The fourth was cut short by the pine tar incident, as I'm sure you remember. Pineda was excellent in those four starts, allowing four runs total and looking very much like the pitcher the Yankees acquired three years ago.
A lot has changed since Pineda last pitched. The Yankees have turned over basically half their roster — Alfonso Soriano, Brian Roberts, Kelly Johnson, Matt Thornton, and Preston Claiborne all played in Pineda's last game before the injury — and they went from a postseason hopeful with two 25-year-old aces to a wildcard long-ish shot struggling to score more than three runs a game. Welcome back, Big Mike. Now put the team on your back. Here is the Orioles lineup and here is the Yankees lineup:
LF Brett Gardner
SS Derek Jeter
CF Jacoby Ellsbury
1B Mark Teixeira
DH Carlos Beltran
3B Chase Headley
2B Stephen Drew
RF Martin Prado
C Frankie Cervelli
RHP Michael Pineda
It's cloudy, hot, and humid as hell in Baltimore, so a typical day, basically. Tonight's game is scheduled to start a little after 7pm ET and you can watch on YES locally and ESPN nationally. Enjoy.
Updates: Chris Leroux was designated for assignment to clear both a 25-man and 40-man roster spot for Pineda, the Yankees announced … Hiroki Kuroda is starting Sunday, not Monday. He's getting only six days of rest instead of seven … Joe Girardi said the team expects to be able to activate Brian McCann (concussion) off the disabled list on Saturday, the first day he is eligible.