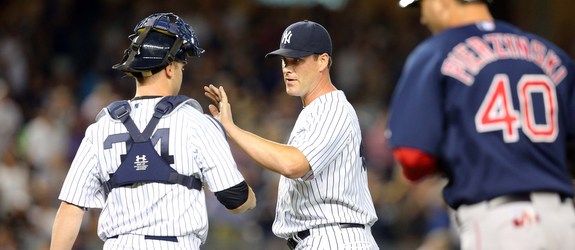 The Yankees have sent left-hander Matt Thornton to the Nationals via trade waivers, the team announced. Washington claimed him and the Yankees simply did not pull him back, so it's a straight waiver claim. Thornton and the $4.5M or so he is owed through next season go to the Nationals for no return. Jon Heyman first reported the news. Ken Rosenthal says New York is working on other moves and may reallocate that money elsewhere.
Rich Hill was called up to replace Thornton, say the Yankees. He'll join David Huff to give Joe Girardi two lefty relievers. Hill signed a minor league deal with the Yankees a few weeks ago after being released by the Angels. He made four appearances with Triple-A Scranton and is a pure specialist thanks to a funky sidearm motion. Think Clay Rapada. The Yankees are currently carrying an eight-man bullpen out of necessity — their starters aren't pitching deep into games at all — but swapping out one lefty specialist for another doesn't really change their depth.
Thornton, 37, had a 2.55 ERA (2.73 FIP) in 24.2 innings across 46 appearances this year, so Girardi was wisely using him as a matchup guy. Left-handers hit .237/.306/.250 against him with a 17.2% strikeout rate. Thornton had good numbers overall but he allowed half of the runners he inherited to score since June 1st and his 7.8% swing-and-miss rate ranks 179th out of the 217 relievers to throw at least 20 innings this year. Letting a soon-to-be 38-year-old lefty specialist who relies primarily on his fastball, can't gets swings and misses, and is owed ~$4.5M makes sense.
The Yankees do have some lefty relief depth in the minors, most notably Tyler Webb and Jacob Lindgren. Webb has climbed from High-A Tampa to Triple-A Scranton while holding lefties to a .190/.248/.270 batting line in 2014. He has an 81/18 K/BB in 57.1 innings overall. Lindgren was just drafted in June and has a 30/4 K/BB in 13.1 pro innings. He was just promoted to Double-A Trenton. I suspect Hill is just keeping a spot warm for Lindgren, who could be called up when rosters expand in September, after he gets a few more minor league innings under his belt.
The Yankees haven't had much luck giving multi-year contracts to lefty relievers these last few years, though unlike Damaso Marte and Pedro Feliciano, they were able to move Thornton to another team before it got ugly. This move is about the Yankees feeling they can better use that $4.5M elsewhere on the roster given the left-handed bullpen options they have in the upper minors. That's all. How they spend the savings now is what will be really interesting.