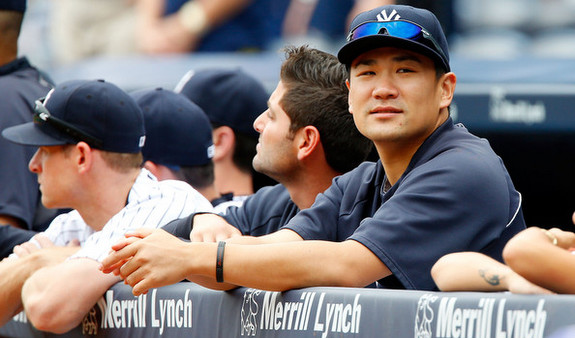 The Yankees continue to fade out of the postseason race, but at least there is some good news on the injury front. Also some bad news, but whatever. Here are a few injury updates, courtesy of Bryan Hoch, Chad Jennings, George King, and Mark Feinsand.
Masahiro Tanaka (elbow) threw 45 pitches across three simulated innings yesterday, saying afterwards that everything went fine and he feels strong. He will throw a bullpen session in the coming days, and after that the Yankees will decide whether Tanaka will throw another simulated game or pitch in an Instructional League game in Tampa. It's entirely possible he will rejoin the rotation after that. "I think he wants to feel that he can go home and have a normal offseason and he can be healthy and come back," said Joe Girardi. "I do believe it's important to him."
Brett Gardner (abdomen) underwent an MRI and was diagnosed with a mild strain. There is no timetable for his return right now and it's possible his season is over. "We're not sure exactly when we'll get him back," said Girardi. "He does feel better. He'll see the doctor again tonight and then we'll try to make some decisions on when he'll start doing some baseball activities … I'm not sure when we'll get him back. It is a concern of mine. We'll continue to talk to the doctors, measure how he feels and how he's improving and go from there."
Martin Prado (hamstring) is not improving. His mild strain hasn't gotten any worse — he did play two games over the weekend — but it just isn't getting any better right now. "There's concern about him playing on that, where he could really make it worse in his hamstring to where it becomes a serious issue," said Girardi. "It's still bothering him. Even though I told him to guard it — and he did a good job — there's concern."
David Phelps (elbow) will throw a bullpen session on Wednesday and is likely to be activated on Friday, in advance of the team's doubleheader against the Orioles. He feels great and is ready to go. The Yankees are bringing Phelps back as a reliever.
Frankie Cervelli (migraines) is on medication and resumed working out Monday. He should be available soon. "I got treatment and I'm back. Doctors say we have to make sure it doesn't come back, but I feel good so I think I am going to play soon," he said.