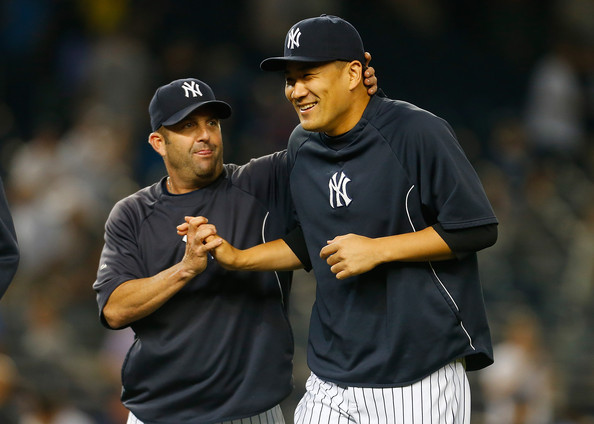 When the offense doesn't perform, who do you blame?
The hitters? Sure, they're overpaid bums. But they have guaranteed contracts worth millions. Getting rid of them is rarely feasible.
Not content with this reality, we turn our ire to the hitting coach. If the hitters didn't hit, surely we can blame the guy who coaches them.
The Yankees did just that, dismissing Kevin Long last week despite the year remaining on his contract.
Did Long deserve the axe? Survey fans and you'll find little dispute. For the second straight year the offense dumpster dived for runs. Isn't the hitting coach the obvious problem?
In some cases, perhaps. But Long worked exceedingly well with the team since taking over as hitting coach in 2007. Only three times during Long's first six years did the Yankees not lead the league in runs.
2008: When injuries just devastated the offense.
2011: When they scored eight fewer runs than the leading Red Sox
2012: When they scored four fewer runs than the leading Rangers (and 37 more than the next-highest team)
Wait a minute, you might say. How can you credit Long with the offense's performance? The Yankees employed really good hitters.
You don't say.
Let's look at 2012, the last year the Yankees featured a dominant offense. Did Long help produce a career year from Robinson Cano? Did his work lead to yet another solid year from Nick Swisher? How much did he work with Eric Chavez and Raul Ibanez, and did the results on the field reflect that work?
From the stands and our couches we just can't know this. What we do know is that the Yankees lost two of their best hitters (by OPS+) to free agency following the 2012 season. Their fourth-, fifth-, and sixth-best missed most of 2013 with injuries. After the 2013 season they lost their best hitter. They also lost Curtis Granderson, one of the top four or five hitters on a team that was either first or second in runs scored during his tenure.
How is any of this the hitting coach's fault?
Take a look at the 2014 Yankees hitters and ask yourself: which of these guys severely underperformed expectations?
Brian McCann immediately comes to mind. Even with world-class defense behind the plate, his 94 OPS+ isn't even close what the Yankees signed up for. While his .232 average looks pathetic, McCann's lack of patience ruined him. With even his career-average walk rate his OBP would have been more than 30 points higher. Don't get me started on BABIP (and as Mike says, don't blame that on the shift, since teams have been shifting on McCann for years).
So maybe we can blame Long for McCann's putrid performance throughout 2014, second half power numbers excepted.
Mark Teixeira? Hard to blame the hitting coach for a guy coming off serious wrist surgery. Derek Jeter? Hardly. Beltran? Again, the guy was hurt — and was doing just fine until he got hurt. Ichiro? Brian Roberts? Alfonso Soriano? Please. You need only look at the age columns on their Baseball Reference pages to understand their numbers.
Given this it might seem as though blaming Long is more an act of scapegoating than actual fault-finding. But then I read this and wonder what the hell he's thinking.
He talked about this two years ago where you said you weren't going to become the Bronx Bunters, but the way the offense is trending now, do you have to start thinking about doing more things differently?

Kevin Long: "No we're not constructed like that. (GM Brian Cashman) doesn't get a whole lot of speed guys. He goes out and gets guys that can hit the ball out of the park. I don't think hitting the ball out of the park was as much of an issue as the other things. We had about 150 home runs [147 to be exact]. At one point it didn't even look like we'd get close to that. We did hit some home runs and we did some things (in the second half), but it's more about the little things. Executing and not missing a pitch when you need to. And I'm going to go to baserunning again — we have to better there, we have to better with men in scoring position.
Did Long even look at the players Cashman handed him in 2014? Did he expect McCann and Beltran to return the offense to its homer-mashing glory of 2012? I found this comment completely out of touch with the reality of the 2014 Yankees. And yeah, the Yankees had 147 homers, which was pretty much average.
If you hit 245 home runs, 31 more than any other team, as the 2012 Yankees did, you might not have to play much small ball. You can do things the way you always have. When you're right in the middle of the pack, though, changing your approach might make some sense. Don't you think?
Yes, this is just an interview and might not be reflective of Long's actual work with the hitters. But that doesn't make it any less off-putting. (And blaming the baserunning is an unnecessary, finger-pointing aside.)
Another factor, one we are again unable to fully discern: did the 2014 Yankees buy into Long's style? In the past Long had big fans in Swisher, Granderson, and Alex Rodriguez. None were on the 2014 Yankees. Did the new guys buy in, in the same way the old guys did?
Take one hitting coach and put him into two different situations. You'll see different results. It's not as though he's teaching these guys how to hit. They've been doing that all their lives. What he does is help them work through issues as they crop up. If the players don't buy into the coach's system, then he's doomed from the start.
For Kevin Long, the 2007 through 2012 Yankees were a completely different situation than the 2013 and 2014 Yankees. Perhaps the new personnel didn't work for him in the way the previous personnel did.
Whatever the case, it's difficult to fault the Yankees for firing Long. They stand to lose little by finding a new hitting coach. It's not like replacing the GM, where you put an entire new system and vision in place for the organization. There are plenty of qualified coaches out there, and players are used to working with many different hitting coaches throughout their careers.