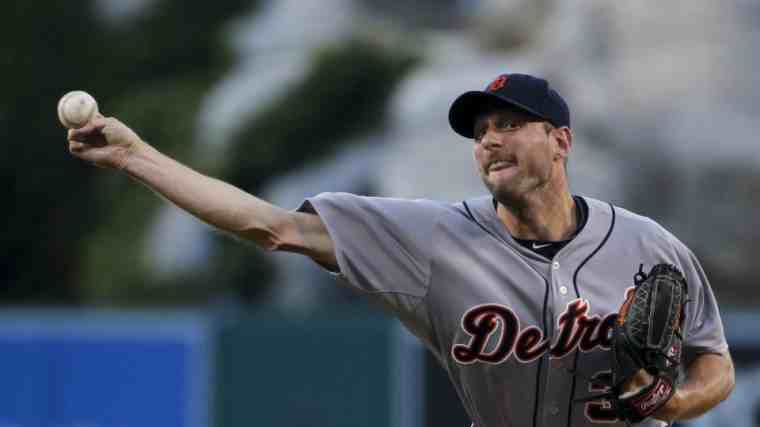 Pay close attention to the wording of this quote, which surfaced in a story earlier this month about the Yankees and the free agent market, via Mark Feinsand of the Daily News:
According to a source, the Yankees have no plans to pursue either [Max] Scherzer or [Jon] Lester, the top two free agents on the market this winter. Shields, the third-best free-agent starter, is also off the Bombers' radar, as is Sandoval, the Giants' postseason hero who was given a $15.3 million qualifying offer by San Francisco before Monday's deadline.
What it doesn't say: That the Yankees have plans not to pursue these players.
Currently I have no plans to leave the house today. But if I open the fridge to make lunch and see that we're out of turkey, I'll probably visit the grocery story. The circumstances changed.
If I had plans not to leave the house, well, maybe I scrounge up something else for lunch. I really didn't want to leave the house for whatever reason, so the circumstances changing doesn't phase me. Perhaps I even accounted for there not being turkey in the fridge and adjusted accordingly before even opening the fridge.
It therefore comes as little surprise* that Jon Heyman reports that the Yankees might indeed pursue Scherzer. Between Masahiro Tanaka's elbow and CC Sabathia's knee, not to mention his recently declining performance, the Yankees have huge question marks atop the rotation. Scherzer, the top-ranked free agent per MLBTR's list (and predicted to land on the Yankees), could help carry the load if Tanaka and Sabathia falter.
*For a number of reasons.
Scherzer, the No. 11 pick in the 2006 draft, took a big step forward in 2012. While his ERA was right in line with his career average, his strikeout rate jumped to 11.1 from his 8.7 career average. He's averaged more than 10 strikeouts per nine innings since. That set him up for his Cy Young season in 2013, followed by another high quality season in 2014.
Let's dig in.
Ace in His Prime
It took a while for him to blossom, but Scherzer as a bona fide ace at this point in his career. After cruising to the AL Cy Young Award in 2013, capturing 28 of 30 first place votes, he followed up with a solid season and a fifth place finish in the Cy Young voting.
From a fielding independent perspective, Scherzer's 2014 was every bit as good as his 2013. His strikeout, walk, and home run numbers remained consistent. In 2014 he made one more start than in 2013, which accounts for the 5.2-inning discrepancy. The most noticeable difference was — you must have guessed it at this point — his BABIP: .259 in 2013 vs .315 in 2014. While the .259 figure is unsustainably low, the .315 number is a bit above both his career and the league averages.
That is to say, even if he doesn't have another monster 2013 season in him, he seems capable of exceeding his 2014 performance in the future. Entering his age 30 season, there's every chance he has one big Cy Young season left in his arm.
Where Scherzer ranks among MLB pitchers, 2013-2014
| | | |
| --- | --- | --- |
| IP | 434.2 | 6th |
| K% | 28.3% | 3rd |
| ERA | 3.02 | 11th |
| FIP | 2.79 | 6th |
He's not Clayton Kershaw. He's not Felix Hernandez. But he's in the conversation with pretty much everyone else.
The Necessary Durability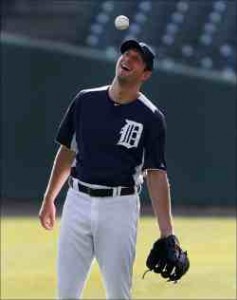 Early in his career, Scherzer looked like he might have injury troubles. A bout of biceps tendinitis towards the end of college hurt his draft stock. Considered the top right-handed pitching prospect before the 2006 season, he was the sixth one selected in the draft. (Although can we even count the Pirates' absurd decision to draft Brad Lincoln fourth?)
Shoulder inflammation caused Scherzer to miss time in 2008 and 2009, which perhaps led the Diamondbacks to trade him to the Tigers in exchange for Edwin Jackson and Ian Kennedy (from the Yankees, who received Curtis Granderson).
From there, though, Scherzer's injury slate is as clean as you can expect from a pitcher. The shoulder problem cropped up in 2012 — the Tigers termed it fatigue — but it has had seemingly no long-term effects. Scherzer hasn't been on the DL since the start of the 2009 season.
Scherzer also has relatively little mileage on his arm, at least when compared to other free agent pitchers. From Heyman:
One reason they like Scherzer is an unusual lack of wear and tear on his arm. For instance, he didn't reach 1,230 innings until he was 29, compared to 26 for Sabathia, and an amazing 24 by Tanaka, who obviously started young.

Among the top free-agent pitchers, Scherzer has thrown by far the fewest pitches, with 20,954, to 26,321 for Lester, and 29,461 for James Shields.
Fly Ball Pitcher in a Small Park
If there is any negative to Scherzer, beyond the standard risk of a long-term contract to a 30-year-old, it is his fly ball tendencies. In 2013 and 2014 Scherzer had the 10th lowest ground ball rate in the majors. That might have worked well at Comerica — rotation-mate Justin Verlander induced the 17th-fewest ground balls in that span — but Yankee Stadium is a different story entirely.
Would it be sensationalist of me to point out that Phil Hughes induced the sixth-fewest ground balls in 2013-2014? That worked very well for him at Target Field, even got him a couple of down-ballot Cy Young votes. I needn't even describe his performance at Yankee Stadium the year prior.
No, Scherzer will not go from Cy Young candidate to Phil Frickin Hughes just because he's moving to the same park where Phil failed. But it's something to consider.
Contract Estimates
As the #1 ranked free agent on basically everyone's lists, Scherzer is due for quite a payday. This contract will set Scherzer, and his children, and probably his grandchildren, for life. Scherzer already rejected six years and $144 million from the Tigers. So how much more will he get?
Bowden is uncanny with his picks, and seven years at $27 million per year seems well within the realm of possibility. The last free agent starter of Scherzer's caliber was Zack Greinke, who got six years at $24.5 million per year following the 2012 season. Perhaps the presences of Lester and Shields will keep Scherzer's price closer to $175 or $168 million, but it's hard to bet against the higher number at this point.
In Conclusion
The Yankees need pitching. The only starters they can reasonably pencil in on Opening Day are Michael Pineda, David Phelps, and Shane Greene. Sabathia's knee could blow out in Spring Training. So could Masahiro Tanaka's elbow. Since Phelps and Greene are better suited to depth roles, rather than being relied upon, bringing in two pitchers might be necessary for the Yankees this off-season.
If they want the best, Scherzer is there for the signing. It would bump up their payroll a couple orders of magnitude higher than the $189 million goal they failed to reach last off-season. But as FanGraphs writer Kiley McDaniel heard from a Yankees source: "they could break even financially with a $500 million payroll expenditure (including luxury tax)."
Missing the postseason two straight years has undoubtedly hurt the bottom line. If the Yankees are ready to spend money in order to make money, they might not have any better place to invest than Scherzer.