Pitchers and catchers are set to report to Spring Training this Friday, though several Yankees players are already in Tampa preparing for the season according to reporters on site. It's the guys you'd expect to show up to camp early — rehabbing players (Ivan Nova), players new to the organization (Nathan Eovaldi), and players trying to win a job in camp.
The Yankees don't have many open roster spots, at least not on paper, but that doesn't mean jobs aren't up for grabs in Spring Training. Sometimes the job on the line is being the first guy called up when the inevitable injury strikes. Just look at Preston Claiborne two years ago. He didn't win a spot on the Opening Day roster, but he put himself on the call-up map with a strong showing in camp. So, with Spring Training set to start later this week, let's preview New York's position battles.
Sixth Starter
Candidates: Adam Warren, Esmil Rogers, Bryan Mitchell
Every team needs a sixth and seventh and occasionally even eighth starter during the season, and the Yankees are more likely to need spare starters than most teams because of the injury risk in the rotation. Warren and Rogers were both told to come to Spring Training ready to work as starting pitchers and Mitchell has been a starter his entire minor league career. You don't have to try real hard to envision a scenario in which one of these guys is in the rotation come Opening Day.
Warren did very nice work as a short reliever last year but came up through the minors as a starter. Rogers has both started and relieved in the past, and he worked as a swingman last year. Mitchell is a rookie with just a big league cup of coffee under his belt. Warren and Rogers are all but certain to open the season on the 25-man roster in some capacity and I'm sure the Yankees want both to be relievers. That means everyone in the rotation is healthy. Mitchell would go back to Triple-A to bide his time in that scenario.
If someone does get hurt in Spring Training and the Yankees do need a replacement starter, I think it would come down to who has the best camp. Not necessarily statistically, but who shows the Yankees they have the best chance of turning over a lineup three times. My guess is Warren would get the first chance to start if necessary, but I'm not all that confident in that pick. I am confident these guys are ahead of scrap heap signings Scott Baker and Kyle Davies on the rotation depth chart, however.
Seventh Reliever
Candidates: Lots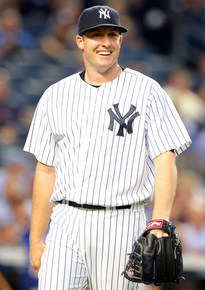 In a perfect world, Warren and Rogers would be in the Opening Day bullpen alongside Dellin Betances, Andrew Miller, David Carpenter, and Justin Wilson. (Rogers would presumably be the long man in that scenario.) The seventh bullpen spot is wide open and the Yankees have no shortage of candidates on the 40-man roster: Danny Burawa, Jose DePaula, Chris Martin, Branden Pinder, Jose Ramirez, Chasen Shreve, and Chase Whitley. We should probably include Mitchell in there as well. Non-40-man roster candidates include Jacob Lindgren and Andrew Bailey.
At least one of those extra guys is going to make the roster as the seventh reliever. If Warren and/or Rogers are needed in the rotation, several of the extra arms will make the Opening Day roster to fill out the bullpen. And since there are so many viable seventh reliever candidates, I think it will come down to Spring Training performance. I don't think handedness will matter one bit. And remember, just because someone wins a job in Spring Training, it doesn't mean they keep it forever. If, say, Martin wins the last bullpen spot but has a 6.00 ERA two weeks into the season, the Yankees will swap him out for someone else. The seventh bullpen spot is always a revolving door.
Backup Catcher
Candidates: Austin Romine, John Ryan Murphy
Technically, this is a competition since nothing is final, but it's widely believed Murphy will be the backup catcher come Opening Day. Everything points in that direction. Romine wasn't all that impressive during his extended stint as Chris Stewart's backup in 2013, and when the team needed a long-term fill-in for Frankie Cervelli last summer, Murphy got the call ahead of Romine. And, when they needed a third catcher after rosters expanded it September, it was again Murphy over Romine. That doesn't mean Romine has nothing to play for in camp, of course.
"I want it. I want to go out there and prove to them that I want it. That's why I'm here early and I just want to hit the ground running and go after it and bust my ass to make the team," said Romine to Mark Feinsand last week. "(There are) a little more doors opening up with Cervelli gone now. Whatever happens, happens. I'm going to show them I want this."
Romine is out of options, meaning he can't go to Triple-A without first passing through waivers. That could happen but the Yankees have to proceed as if it won't. That's why they signed Eddy Rodriguez to a minor league deal. Even if he can't beat out Murphy for the backup job, Romine is auditioning himself for other teams this spring, teams that could claim him off waivers before the start of the season or look to acquire him in a minor trade. This is the definition of a healthy competition, even if the job is basically Murphy's to lose.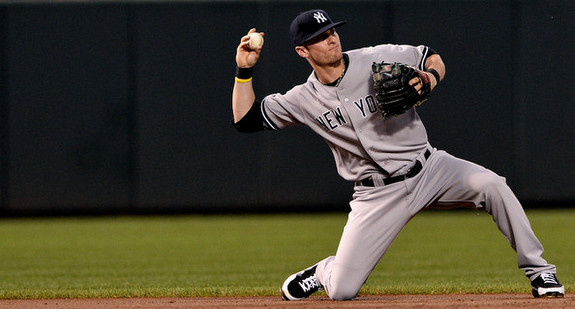 Last Bench Player
Candidates: Brendan Ryan, Jose Pirela, Rob Refsnyder
This is basically a "can either Pirela or Refsnyder convince the Yankees they're better off paying Ryan his $2M salary to not play for them?" competition. I'm guessing no — Ryan's ability to play shortstop is a hard to find skill with real value — but you know how it goes. Stranger things have happened. For what it's worth, Brian Cashman insists Refsnyder will get a chance to win a job in camp.
"I can't tell you he's not Major League ready just yet," said Cashman in a radio interview earlier month, according to Brendan Kuty. "The bottom line is, he'll go into camp, and he'll compete, and he'll have a chance to potentially earn a spot on the roster … We're all going to see that develop in Spring Training."
The Yankees could opt for Pirela's versatility or Refsnyder's bat over Ryan's defense, especially since Stephen Drew can cover Didi Gregorius at shortstop. There is a legitimate baseball reason to keep Ryan though. We can't forget that. Depth at shortstop is necessary. Either way, we're talking about the 25th man on the roster. This isn't a decision that will make or break the season.