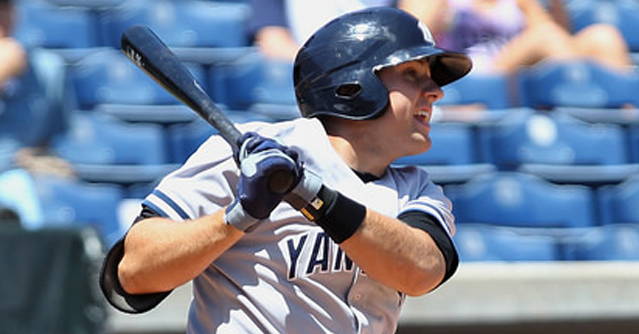 A few days ago the Yankees announced their list of 26 non-roster Spring Training invitees, so they'll have a whopping 66 players in big league camp this year when you include the guys on the 40-man roster. The crop of non-roster invitees is pretty standard in the sense that some are top prospects, some are journeymen on minor league contracts, and some are spare bodies who will help carry the workload in March. Extra arms, extra catchers to catch bullpens, that sort of thing.
Some of the non-roster invitees are more interesting than others, of course, and there are several other players who are notable because they did not receive an invitation to big league camp this year. We're all jonesin' to see OF Aaron Judge and 1B Greg Bird and RHP Luis Severino in action in the coming weeks, but here are three other non-roster invitees I'm looking forward to seeing. And, on the flip side, here are three guys we somewhat surprisingly won't get to see in camp.
Notable Invitee: RHP Andrew Bailey
The Yankees signed Bailey to a minor league contract last offseason knowing he likely wouldn't pitch in 2014 following shoulder capsule surgery. The move was geared towards 2015, and, after Bailey suffered a few setbacks last summer, the Yankees opted to decline is 2015 club option (reportedly worth $2.5M or so) and instead re-signed him to another minor league contract.
Bailey is supposedly healthy now — "He's in a throwing program, and there's been nothing adverse reported from him," said assistant GM Billy Eppler to Chad Jennings recently — and will get a chance to show what he can do post-capsule surgery in camp. Torn shoulder capsules are very serious and there's a really good chance Bailey will never get back to where he was from 2009-13 (2.64 ERA and 3.13 FIP), but that doesn't man he can't help. Instead of being a shutdown late-inning guy, maybe he's only a serviceable reliever. That's still useful. Spring Training will give us a chance to see if Bailey has anything left.
Notable Omission: 3B Eric Jagielo
Jagielo, the team's first of three first round picks in the 2013 draft, did not get an invitation to Spring Training. Judge, the team's second first rounder that year, did get the invite. (The third first rounder, LHP Ian Clarkin, is a Single-A pitcher less than two years removed from high school, so he understandably didn't get an invite to camp.) Judge has obviously passed Jagielo as a prospect but it's still surprising the team didn't give a recent first rounder — a polished college hitter at that — an invitation to big league camp.
Now, it's important to note this could be health related. Jagielo took an errant pitch to the face in Instructional League back in late-September and suffered fractures that required surgery. He didn't suffer a concussion and there was no other neurological damage. Jagielo was expected to need 4-6 weeks to heal from the injury, but, since it's a head injury, the Yankees could never be too careful. Jagielo's recovery might be going slower than expected and that could be why he didn't get the invite to camp.
If that's not the case, Jagielo was simply the victim of a number's crunch. Not only will Chase Headley and yes, Alex Rodriguez, get work at third base in camp, so will Brendan Ryan, Jose Pirela, Nick Noonan, Jonathan Galvez, and Cole Figueroa as well. Maybe even Stephen Drew. "There's a limited number of at-bats and innings to hand out in Spring Training. You don't want to water it down," said Eppler to Jennings. It's understandable yet still a bit of a bummer Jagielo wasn't invited to camp if he is indeed healthy and over his facial injuries.
Notable Invitee: RHP Nick Goody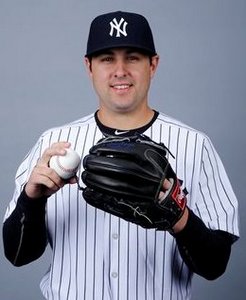 The Yankees have built quite a bit of bullpen depth this offseason, and that's all on top of the bullpen prospects they have in the minors. RHP Nick Rumbelow, LHP Tyler Webb, RHP Wilking Rodriguez, RHP Diego Moreno, and LHP Jacob Lindgren are all Triple-A relievers coming to camp as non-roster players. Goody has been lost in the minor league bullpen shuffle so to speak because he's only thrown 66 innings since being the team's sixth rounder in 2012. You can blame Tommy John surgery for that.
Goody, 23, returned with his new elbow in the middle of last season and had a 4.60 ERA (3.63 FIP) in 31.1 innings with High-A Tampa and Double-A Trenton, showing the control problems (10.7 BB%) that typically plague a pitcher soon after having his elbow rebuilt. He still missed bats though (32.9 K%), and he was dynamite before getting hurt, putting up a 1.29 ERA (1.76 FIP) with excellent strikeout (40.4 K%) and good walk (8.2 BB%) rates in 35 innings from 2012-13.
Goody is a short little righty (listed at 5-foot-11 and 195 lbs.) with a low-to-mid-90s heater and a sharp low-80s slider, and he was projected to be a quick moving strikeout artist before blowing out his elbow. All the bullpen depth means he may not get to MLB this summer — I expect Goody to start the season with Double-A Trenton — but he's someone who could be on the map for 2016. He's a nice little relief prospect and I think he'll sneak up on some people and open eyes during Grapefruit League play in March.
Notable Omission: RHP Johnny Barbato
Acquired from the Padres for Shawn Kelley a few weeks ago, the 22-year-old Barbato had a 2.87 ERA (3.31 FIP) with a 25.6 K% and 7.8 BB% in 31.1 innings for San Diego's Double-A affiliate last season. He missed the second half with an elbow strain that did not require surgery. Eppler told Jennings that Barbato is healthy and even pitched in Instructional League for the Padres in the fall, so it doesn't seem like he was excluded from camp for health reasons. It appears he was another victim of the numbers crunch.
Despite his strong performance last year, Barbato will likely return to Double-A this season because there doesn't figure to be any room for him at Triple-A. At least on Opening Day. Like Goody, he is probably looked at as more of a 2016 bullpen candidate than a 2015 bullpen candidate, yet one is going to big league camp and one isn't. Weird. I just figured the Yankees would invite Barbato to camp after getting him in a trade for a real live big leaguer. But I suppose there just aren't enough innings to go around.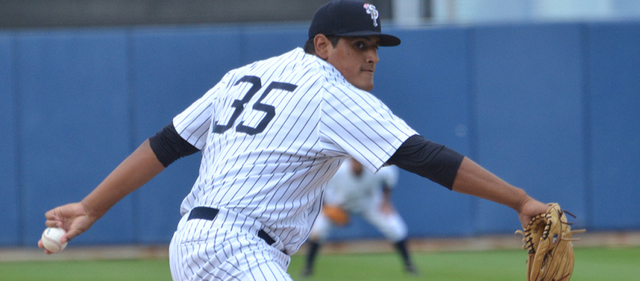 Notable Invitee: LHP James Pazos
Even before signing Andrew Miller and trading for Justin Wilson and Chasen Shreve, the Yankees had built up a healthy amount of left-handed bullpen depth. Lindgren is the most notable as last year's top draft pick, and Webb put up unignoreable numbers at three levels last year, but Pazos shouldn't be overlooked either. In fact, after the Yankees let Matt Thornton go on waivers last August, both Brian Cashman and Joe Girardi mentioned Pazos by name when discussing the club's lefty bullpen depth.
The 23-year-old Pazos was New York's 13th round pick in 2012 and he had a 2.42 ERA (2.38 FIP) with a ton of strikeouts (27.4 K%) and perhaps a few too many walks (9.1 BB%) in 67 innings split between High-A Tampa and Double-A Trenton last year. According to PitchFX data from the Arizona Fall League, he averages 94 mph with his fastball and the low-80s with his slider, so he's not some soft-tosser. A hard-throwing lefty who has had success at the Double-A level is always worth keeping an eye on.
Notable Omission: RHP Mark Montgomery
Three years ago, Montgomery was the top relief prospect in the organization after a ridiculous 2012 season in which he posted 1.41 ERA (1.56 FIP) with a 40.2 K% and 9.1 BB% in 70.1 innings with High-A Tampa and Double-A Trenton. Then he suffered a shoulder injury in the middle of the 2013 season and hasn't been the same guy since, mostly because his once low-90s fastball is now more mid-80s, and his trademark slider simply isn't as effective.
Montgomery was invited to big league camp in both 2013 and 2014, but he didn't get an invite this year because he's not nearly the same level of prospect anymore. Jagielo and Barbato appear to have been squeezed out by the numbers crunch. That's not the case here. Montgomery's stuff hasn't been the same since the shoulder injury and he's not much of a prospect anymore. That's baseball. And that's why you need a deep reserve of relievers.