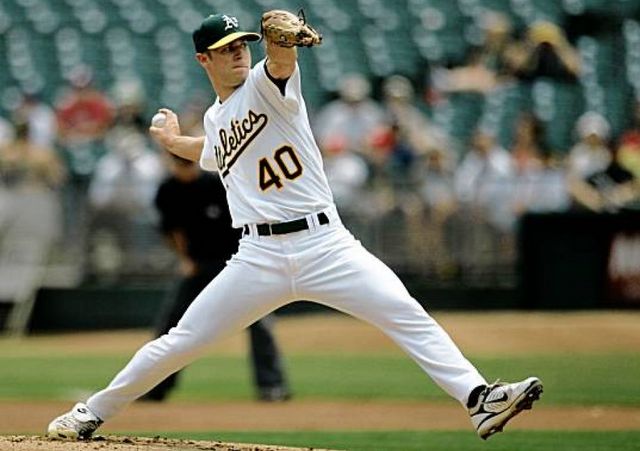 Okay, I'm really bad at this. I promised to post these monthly looks back through the MLB Trade Rumors archives early in each month, preferably during the first week, yet I completely forgot about March. Never did it. Time to correct that now. Better late than never, right?
As a reminder, I'm not here to make fun of Tim and everyone else at MLBTR. They're all great. I'm just having a little fun by looking back at rumors that didn't come to fruition (as well as those that did!) with the benefit of hindsight. We're going seven years back in time, so now it's time to dive into the March 2008 archives. March isn't a great month for trade and free agent rumors, so most of the Yankees-related nuggets were speculation. Away we go…
Tyler Kepner of The New York Times explores the relative surprise that Robinson Canó has been considering his draft position and reputation as a prospect, and details how frequently the Yankees almost dealt him before he made the big club.  Canó was nearly dealt for Alex Rodriguez, Carlos Beltrán, and Randy Johnson in different instances. 
It seems like there's a "he was almost traded as a prospect" story for every great player. Mariano Rivera was almost traded for Felix Fermin. Rivera and Jorge Posada were almost traded for David Wells. Andy Pettitte? He was in more trade rumors than I could possibly remember in the 1990s. Prospects get mentioned in trade rumors. That's part of baseball. Every so often one of those prospects develops into a great big leaguer, like Rivera or Posada or Cano.
Robbie was not a highly touted prospect — he never once made a Baseball America top 100 list — because he wasn't a great athlete, didn't have much power, and earned a reputation for being lazy. Not a silly "he jogs to first on ground balls" kind of lazy reputation either. Cano had conditioning issues and didn't put in any extra work while in the minors. He did a complete 180 in 2005 or so, becoming a fitness machine and a workaholic, reportedly because A-Rod got on his case a bit.
Anyway, trading Cano seems ridiculous given what he turned into, but back from 2002-04, I don't think any of us would have thought twice about it. He was a good prospect with flaws, not a great prospect, and someone who eventually hit on the best case scenario because he matured as a person. That doesn't mean teams should hang on to every prospect just in case, of course. It just makes me wonder about someone like, say, Mason Williams, who clearly doesn't lack the physical gifts to be an impact player, just the maturity.
He says Paul Konerko "remains quietly available," and expresses the opinion that the Mets or Yankees could both use him.  Rosenthal believes Chicago's biggest need is starting pitching.
Just to make it clear, this was not an actual rumor, it was Ken Rosenthal speculating. Konerko, who had just turned 31, hit .259/.351/.490 (116 OPS+) with 31 home runs in 2007, which is good but down from the .291/.372/.540 (132 OPS+) with 39 homers he averaged from 2004-06. He then hit .240/.344/.438 (103 OPS+) with 22 homers in 2008, the third year of his five-year, $60M contract.
Had the Yankees traded for Konerko prior to the 2008 season and he did something like that, we all would have hated him. The "he can't handle New York" stories would have been everywhere. Konerko presumably would have split time at first base and DH with Jason Giambi in 2008 before taking over as the regular first baseman in 2009, which potentially means no Mark Teixeira. That sure would have changed a lot, eh?
Of course, Konerko shook off that down 2008 season to hit .277/.353/.489 (114 OPS+) with 28 homers in 2009 and then a monster .312/.393/.584 (160 OPS+) with 39 dingers in 2010, the final year of his contract. Assuming all of that had happened in New York — a big assumption, I know — I wonder what kind of contract offer the Yankees would have made him after 2010. Konerko eventually sign a three-year, $37.5M deal to return to the White Sox in real life, though for some reason I think he would have ended up with more from the Yankees.
The Yankees are eyeing southpaw relievers Damaso Marte and Brian Fuentes, who've seemingly been on their radar for months.  Fuentes makes $5.05MM this year, Marte makes $2MM this year with a $6MM club option for '09.

…

Troy E. Renck of the Denver Post has an update to Cafardo's Yankees/Fuentes item.  Renck says that while the Yanks have scouted Fuentes, Rockies' GM Dan O'Dowd says there's "zero chance" of a trade at this time.  I imagine he wants to see a healthy Luis Vizcaino before considering it.
The Yankees went about ten years without a reliable lefty reliever after Mike Stanton was allowed to leave as a free agent, and I feel like Marte and Fuentes were the two names they were most connected to during that time. They eventually did get Marte — World Series hero Damaso Marte to you! — in 2008, though Fuentes remained nothing more than rumor fodder.
The nugget about Vizcaino was interesting. He had an okay year in New York in 2007 (4.30 ERA and 4.42 FIP) and turned that into a two-year, $7.5M contract with Colorado after the season. Best of all? The Yankees got a draft pick out of it! Vizcaino was a Type-B free agent under the old system and he rejected arbitration, giving the Yankees the 44th overall pick in the 2008 draft. (The Rockies didn't have to give up a pick since he was a Type-B, not a Type-A). That pick didn't work out (Jeremy Bleich), but still, it was neat. Those were the good ol' days, when a decent middle reliever got you a supplemental first round pick.
Hounded by the Yankees-centric media, however, the soon-to-be free agent surely launched a jolt of pain through Yankees Nation when he was asked if he likes New York.

His response?  "It's all right," he said.

Sabathia continued to maintain with reporters that "in a perfect world," he would want to stay with Cleveland.  After all, "I've been here since I was 17."
This was the first time CC Sabathia and the Yankees were mentioned in the same rumor. Johan Santana had been traded to the Mets just a few weeks earlier and everyone shifted focus to Sabathia, an impending free agent. The Yankees later admitted that was their plan too — they passed on Johan so they could sign Sabathia after the season, an incredible gamble that paid off handsomely. I know CC ain't all that good now, but man, he was a beast from 2009-12.
Also, the one thing I remember most about the Yankees' pursuit of Sabathia as a free agent was how everyone tried to come up with reasons why he wouldn't want to come to New York. He's from the West Coast, he liked hitting in the NL, that sort of stuff. In this MLBTR blurb, Sabathia gave the answer he was supposed to give — what's he supposed to say, "I can't wait to leave the Indians" when he's still with the Indians? — but it was spun into "Sabathia doesn't want to be a Yankee" stories. Ah, the internet.
According to a source of Susan Slusser of the San Francisco Chronicle, "the Yankees have apparently expressed interest in Rich Harden."  Slusser believes the A's would demand full price for Harden, perhaps asking for Ian Kennedy and young pitchers.
Man, Rich Harden was a boss back in the day. He had "best stuff in MLB" type of stuff. Mid-90s fastball, Tanaka-esque splitter, filthy slider … he was absurd. I'm trying to think of a modern day equivalent and I'm coming up empty. Andrew Cashner maybe?
Anyway, Harden was only 26 in March 2008 and his injury problems were just starting to set in. He made only nine starts in 2006 due to an elbow sprain and seven appearances (four starts) in 2007 due to a shoulder sprain. That said, he went into the 2008 season with a career 3.60 ERA (3.55 FIP) in 464.2 innings — that worked out to a 124 ERA+ back then (I miss offense) — and had insane stuff, so everyone was projecting ace-caliber production should he stay healthy.
The Yankees never did trade for Harden and he sure pitched like an ace in 2008 — 2.07 ERA (2.95 FIP) with 181 strikeouts in 148 innings. That's a 210 ERA+ (!) and 30.4 K%. Ridiculous. The Athletics traded him to the Cubs in July 2008 for four players, most notably a middling catcher prospect named Josh Donaldson, and Harden threw only 315.2 more big league innings in his career after 2008. He had all sorts of shoulder trouble and eventually tore his capsule. Shame.
I remember being all in Harden during the 2006-08-ish period. I loved his stuff. Loved loved loved it. I'm much more apprehensive nowadays when it comes to pitches with injury concerns, especially arm injuries, even if they haven't had surgery. That doesn't mean I would avoid them at all costs, but the rumor says the A's wanted "full price" for Harden, and while I was definitely open to that back then, it would be an easy no for me these days.