For the first time in several years, the Yankees made sweeping changes to their coaching staff this past offseason. Joe Girardi returned despite a second straight postseason-less year, but hitting coach Kevin Long did not. The base coaches were also shuffled around. It all adds up to a new-look coaching staff that still features some familiar faces. Let's look at the coaching staff heading into the new season.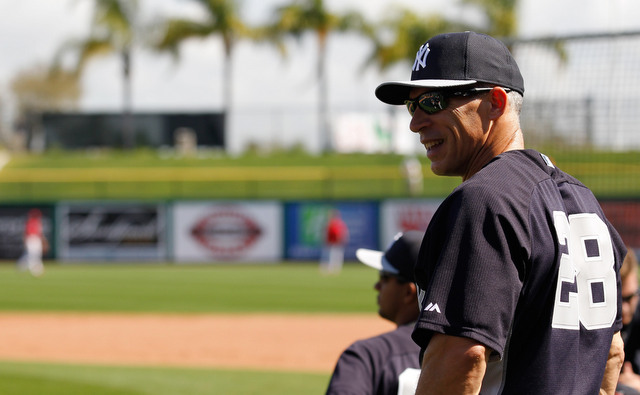 Joe Girardi: More Responsibility Than Ever Before
It goes without saying that being a big league manager comes with a ton of responsibility. Managers don't just bring in relievers or wait for the thumbs up to ask for instant replay. We see a very small part of what managers actually do. Most of their work happens behind the scenes, in the clubhouse or on the field hours before or after first pitch. They have 25 players and 25 egos to manage. More than that when you include support staff.
Girardi is about to enter his eighth season as Yankees manager and over these last seven years we've learned a lot about him as an on-field strategist. He's very good at ensuring his hitters get the platoon advantage — the Yankees had the platoon advantage in 62.9% of their plate appearances the last three years, sixth best in baseball. Girardi is also very meticulous with his bullpen and making sure his relievers are rested.
This season, the Yankees heaped more even more responsibility on Girardi's shoulders by building what amounts to a pitching and defense team. They built up a ton of bullpen depth and are counting on Girardi not only deploying his relievers in the best way possible, but also ensuring they are rested for the long season. That's the formula. Scratch out a few runs, then turn it over to Girardi and the bullpen. He won't have many opportunities to platoon his hitters this season though, with only Chris Young and Garrett Jones on the bench as usable platoon bats.
Girardi is also going to have to manage the Alex Rodriguez circus. That hasn't been too crazy in Spring Training, but it will be once the regular season starts, at least at first. Trips to visiting parks will be headaches. Girardi and the Yankees dealt with this when A-Rod returned in 2013 and that went about as well as everyone could have hoped, so hopefully the chaos will be kept to a minimum. Either way, Joe's got his work cut out for him in 2015, on and off the field.
Larry Rothschild: The Fixer
The Yankees hired Rothschild during the 2010-11 offseason and since then they've handed him several project pitchers. He's been able to fix some (Brandon McCarthy) but not all (A.J. Burnett). This year, Rothschild will be tasked with not only helping Nathan Eovaldi take a step forward in his development, but also implementing a plan to keep Masahiro Tanaka and CC Sabathia healthy. Right now, that plan seems to be extra rest whenever possible early in the season. And, of course, the Yankees will look to acquire McCarthy-esque pitchers at a discount price during the season and hope Rothschild turns them into top shelf producers. The Yankees seem to have had two or three pitchers kinda come out of nowhere to contribute each year under Rothschild. They'll need him to do it again in 2015.
Jeff Pentland & Alan Cockrell: It Was Him, Not Us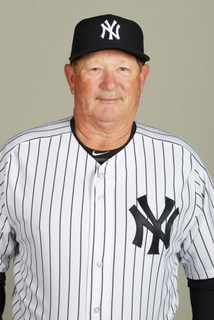 When the Yankees missed the postseason for the second straight year in 2014, someone was going to take the fall. And once Brian Cashman signed his new contract, Long was the obvious scapegoat. He was fired in October and eventually replaced by not just one hitting coach, but two. Pentland is the hitting coach and Cockrell is the assistant hitting coach. It's a two-man job these days.
Simply put, Pentland and Cockrell will be asked to show Long was the problem with the offense the last two years, not the team's collection of aging, past-prime hitters. The hitting coach duo has to get Mark Teixeira and Brian McCann to overcome the shift, coax a productive year out of soon-to-be 38-year-old Carlos Beltran, convince Stephen Drew he isn't a true talent .162 hitter, get Brett Gardner to repeat last year's power output, and help Didi Gregorius take a step forward. Nice and easy, right? Good luck, fellas.
Gary Tuck: Catching Instructor Extraordinaire
Tuck, the Yankees' bullpen coach, has long been regarded as an excellent catching instructor. The Yankees value defense behind the plate very much, so while Tuck is the bullpen coach first and foremost, part of his job this year will be developing the glovework of either Austin Romine or John Ryan Murphy, whoever wins the backup catcher's job. The pitchers are Rothschild's responsibility. Tuck is in charge of the catchers.
Tony Pena & Joe Espada: Base Coaches
In addition to firing Long, the Yankees also fired first base coach Mick Kelleher and shuffled around their coaching staff. Rob Thomson moves from third base coach to bench coach, Pena moves from bench coach to first base coach, and Espada moves from the front office to third base coach. Thomson had a knack for bad sends — I blame some of that on the offense, Thomson had the push the envelope on occasion to score runs — and hopefully Espada is an upgrade there. We really don't know what to expect from him though. Evaluating base coaches is pretty tough, but that doesn't mean they aren't important. They're important enough that the Yankees remade the staff to get new ones this winter.