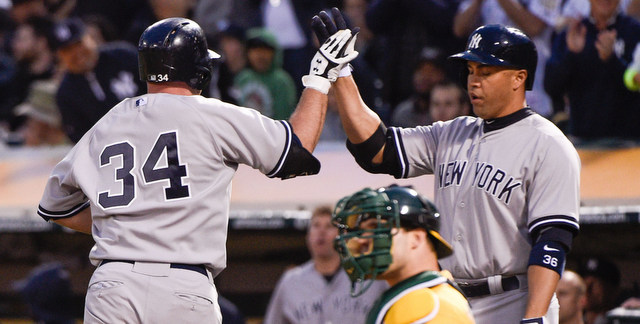 The only thing that sucks worse than a Yankees loss is waiting until late at night for a Yankees loss on the West Coast. The Yankees have dropped the first two games of this four-game series to the Athletics — which team is in first place and which one has the worst record in the league again? — and we've had to wait until the wee hours of the morning for both games to go final. Blah.
Anyway, the Yankees have lost two straight and 12 of their last 16 games, yet they somehow aren't buried in the AL East. Quite the opposite in fact. The division is just that bad. Still, the Yankees can't keep losing at this pace. The offense, the defense, and the pitching has let them down in not so equal parts. Start righting the ship with a win tonight, mmmkay? Here is the A's lineup and here is the Yanks' lineup:
CF Brett Gardner
3B Chase Headley
DH Alex Rodriguez
1B Mark Teixeira
C Brian McCann
RF Carlos Beltran
LF Ramon Flores
SS Didi Gregorius
2B Jose Pirela
RHP Nathan Eovaldi
It's cool and foggy in Oakland tonight, though there is no rain in the forecast. First pitch is scheduled for 10:05pm ET and can be seen on YES locally and MLB Network nationally. Try to enjoy the game.
Roster Move: As expected, Slade Heathcott (quad) was placed on the 15-day DL and Flores was called up from Triple-A Scranton.
Injury Updates: Jacob Ellsbury (knee) is working out in a pool and getting treatment. That's about it … Garrett Jones is dealing with plantar fasciitis but it's manageable … Gregorio Petit (hand) has started taking batting practice … Brendan Ryan (calf, hamstring) has started playing in Extended Spring Training games.