The Yankees and Royals continues their series with a dreaded Saturday night game (man I hate those) later today. Until then, here are some miscellaneous links to help you pass the time.
Jim Leyritz invited to Old Timers' Day
For the very first time, Jim Leyritz has been invited to Old Timers' Day, according to George King and Steve Serby. Apparently Leyritz ran into Jennifer Steinbrenner over the winter and that got the ball rolling. "I don't want to think the Yankees define who I am, but I spent 11 years there, it was my family. To be back and part of that family, I can't tell you what it means to me. I am so pleased it's finally happening," said Leyritz.
Leyritz hit one of the biggest home runs in franchise history in Game Four of the 1996 World Series, when he tied the game with a three-run shot off Mark Wohlers in the top of the eighth. That homer altered the course of two franchises. Of course, Leyritz has had ugly off-the-field issues since the end of his playing career, most notably facing DUI and manslaughter charges following an accident in 2010. He was acquitted and ended up serving one year probation, plus he settled a civil suit with the family of the woman who was killed for six figures.
Yankees lend their arms to Tommy John surgery research
Over the last year or so, the Yankees have been bit by the Tommy John surgery bug like just about every other team. Last April they lost Ivan Nova to the zipper, Masahiro Tanaka is trying to avoid surgery for his partial ligament tear, and a few days ago Chase Whitley suffered an elbow injury that may require Tommy John surgery. Top prospects Ty Hensley and Domingo German had their elbows rebuilt earlier this year as well.
In an effort to help find a way to reduce torn elbow ligaments, the Yankees and several other teams have participated in biomechanical research conducted by MLB and American Sports Medicine Institute, according to Mike Vorkunov. Here are the details:
Last March, in eight spring training camps around baseball, including the Phillies and Yankees, 80 pitchers — 40 with no history of ulnar collateral ligament reconstruction and 40 with one — were stamped with 23 reflective markers and threw 10 fastballs at full effort as 10 cameras tracked and analyzed their movement.

It was the first attempt by Major League Baseball, the players association and ASMI to learn if there was a bio-mechanical underpinning to pitchers that eventually had to have Tommy John surgery and those that had avoided it to that point.

The study found no link. The results were hardly dispositive and the research itself was just an initial step for the group.
Another study — this one spanning five years — started this spring and will monitor pitchers with five organizations fresh out of the draft. The Mets are participating in that but it's unclear if the Yankees are as well. "That the elbow ligament, when it tears, is the end result of multiple processes. We're not going to find one unifying theory. My guess is it's multiple factors," said Dr. Gary Green, MLB's chief medical officer. The league is also looking into less invasive ways to repair a partial tear, like Tanaka's. Check out the article, some interesting stuff in there.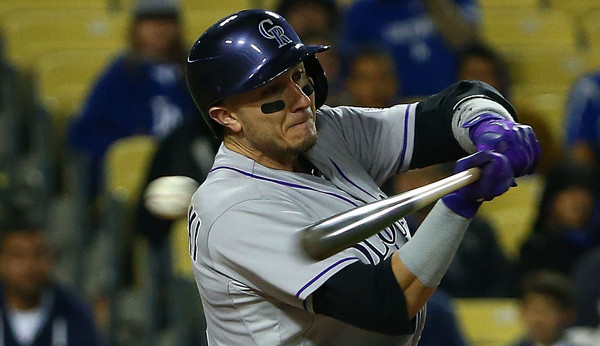 Tulowitzki will not request a trade from Rockies
Well this is interesting. Troy Tulowitzki told Thomas Harding will not request a trade from the Rockies after meeting with his agent a few days ago. "Whatever happens on the Rockies' end happens, but for me to sit here and try to force my way out of here, that's not the case," said Tulowitzki. "I don't think it's fair to my teammates and the relationships I've built here to take that route." (Tulowitzki left last night's game with a quad injury, by the way.)
I'm not normally a conspiracy theorist, but I get the feeling there is much more going on here behind the scenes. Perhaps Tulowitzki asked the Rockies for a trade but agreed to not make it public, not only to avoid bad PR, but to also avoid killing the team's leverage in trade talks. If other clubs know Tulowitzki demanded a trade out of Colorado, they're going to make nothing but low-ball offers. The Rockies' hands would be tied. The Yankees supposedly don't have interest in trading for Tulowitzki, but, either way, my guess is this will not be the last time his name pops up in some sort of trade rumor.
Surprise! Infield shift usage is up in 2015
This should come as no surprise. According to Pat Graham, use of the infield shift is up considerably around baseball this year. It's up nearly 33% (!) in fact. The Rockies and Diamondbacks, two teams with new GMs after not being known as very stat savvy in recent years, have increased their shift usage the most from 2014 to 2015. The Yankees used the shift as much as any team in baseball last year and the same is true this year. They seem to get burned by it constantly, but who really knows? Shift usage and success is very tough to evaluate based on the little freely available data we have.